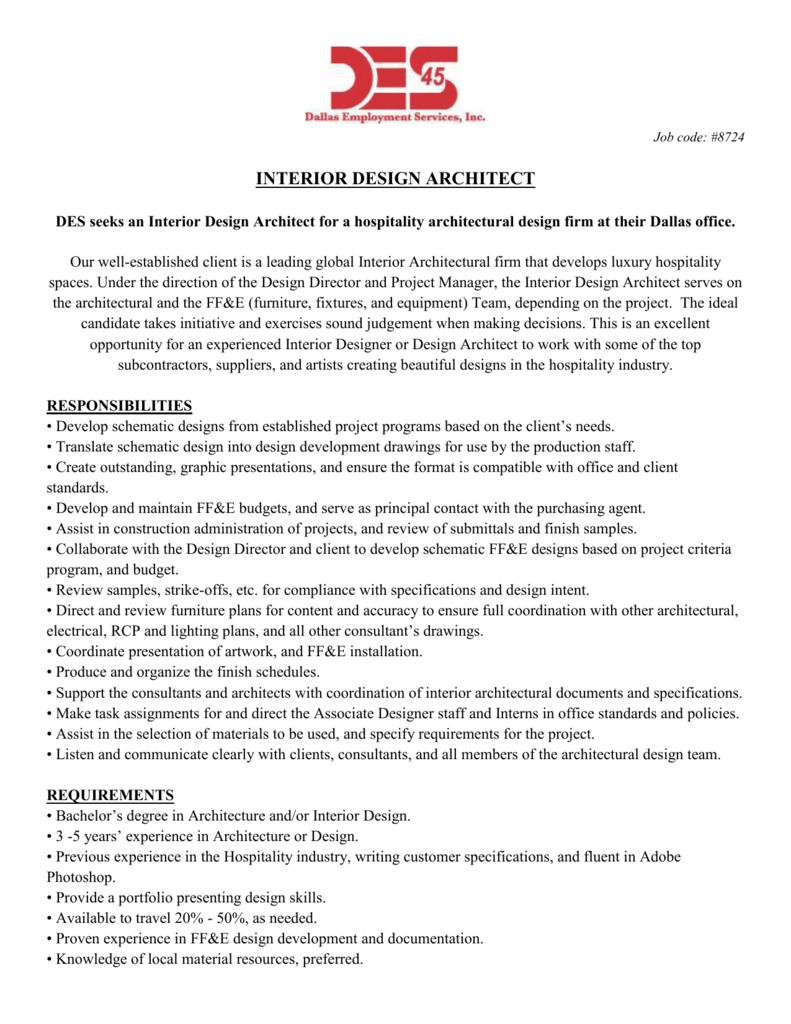 Job code: #8724
INTERIOR DESIGN ARCHITECT
DES seeks an Interior Design Architect for a hospitality architectural design firm at their Dallas office.
Our well-established client is a leading global Interior Architectural firm that develops luxury hospitality
spaces. Under the direction of the Design Director and Project Manager, the Interior Design Architect serves on
the architectural and the FF&E (furniture, fixtures, and equipment) Team, depending on the project. The ideal
candidate takes initiative and exercises sound judgement when making decisions. This is an excellent
opportunity for an experienced Interior Designer or Design Architect to work with some of the top
subcontractors, suppliers, and artists creating beautiful designs in the hospitality industry.
RESPONSIBILITIES
• Develop schematic designs from established project programs based on the client's needs.
• Translate schematic design into design development drawings for use by the production staff.
• Create outstanding, graphic presentations, and ensure the format is compatible with office and client
standards.
• Develop and maintain FF&E budgets, and serve as principal contact with the purchasing agent.
• Assist in construction administration of projects, and review of submittals and finish samples.
• Collaborate with the Design Director and client to develop schematic FF&E designs based on project criteria
program, and budget.
• Review samples, strike-offs, etc. for compliance with specifications and design intent.
• Direct and review furniture plans for content and accuracy to ensure full coordination with other architectural,
electrical, RCP and lighting plans, and all other consultant's drawings.
• Coordinate presentation of artwork, and FF&E installation.
• Produce and organize the finish schedules.
• Support the consultants and architects with coordination of interior architectural documents and specifications.
• Make task assignments for and direct the Associate Designer staff and Interns in office standards and policies.
• Assist in the selection of materials to be used, and specify requirements for the project.
• Listen and communicate clearly with clients, consultants, and all members of the architectural design team.
REQUIREMENTS
• Bachelor's degree in Architecture and/or Interior Design.
• 3 -5 years' experience in Architecture or Design.
• Previous experience in the Hospitality industry, writing customer specifications, and fluent in Adobe
Photoshop.
• Provide a portfolio presenting design skills.
• Available to travel 20% - 50%, as needed.
• Proven experience in FF&E design development and documentation.
• Knowledge of local material resources, preferred.
• Able to identify opportunities for improvement and assume responsibility.
• Must be self-confident, self-motivated, and possess a professional demeanor at all times.
• Strong written, verbal, and interpersonal communication skills.
• Able to work well under pressure in a fast paced environment and exercise sound judgment and discretion.
• Excellent organizational skills and capable of prioritizing and multi-tasking.
• Able to work both independently and as a team player.
Job code: #8724
DES, Inc. is an equal opportunity third party and does not discriminate against candidates on the basis of race, gender, disability, veteran
status or other protected characteristics. If you require application assistance, please call our office at 214-954-0700.