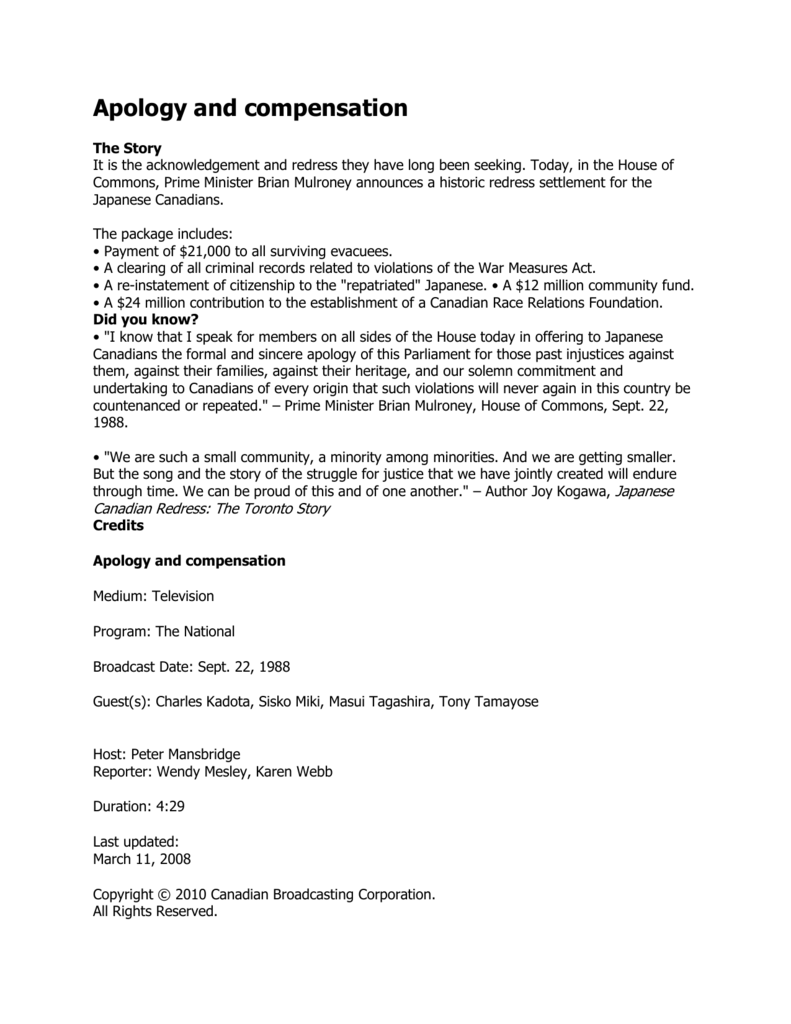 Apology and compensation
The Story
It is the acknowledgement and redress they have long been seeking. Today, in the House of
Commons, Prime Minister Brian Mulroney announces a historic redress settlement for the
Japanese Canadians.
The package includes:
• Payment of $21,000 to all surviving evacuees.
• A clearing of all criminal records related to violations of the War Measures Act.
• A re-instatement of citizenship to the "repatriated" Japanese. • A $12 million community fund.
• A $24 million contribution to the establishment of a Canadian Race Relations Foundation.
Did you know?
• "I know that I speak for members on all sides of the House today in offering to Japanese
Canadians the formal and sincere apology of this Parliament for those past injustices against
them, against their families, against their heritage, and our solemn commitment and
undertaking to Canadians of every origin that such violations will never again in this country be
countenanced or repeated." – Prime Minister Brian Mulroney, House of Commons, Sept. 22,
1988.
• "We are such a small community, a minority among minorities. And we are getting smaller.
But the song and the story of the struggle for justice that we have jointly created will endure
through time. We can be proud of this and of one another." – Author Joy Kogawa, Japanese
Canadian Redress: The Toronto Story
Credits
Apology and compensation
Medium: Television
Program: The National
Broadcast Date: Sept. 22, 1988
Guest(s): Charles Kadota, Sisko Miki, Masui Tagashira, Tony Tamayose
Host: Peter Mansbridge
Reporter: Wendy Mesley, Karen Webb
Duration: 4:29
Last updated:
March 11, 2008
Copyright © 2010 Canadian Broadcasting Corporation.
All Rights Reserved.