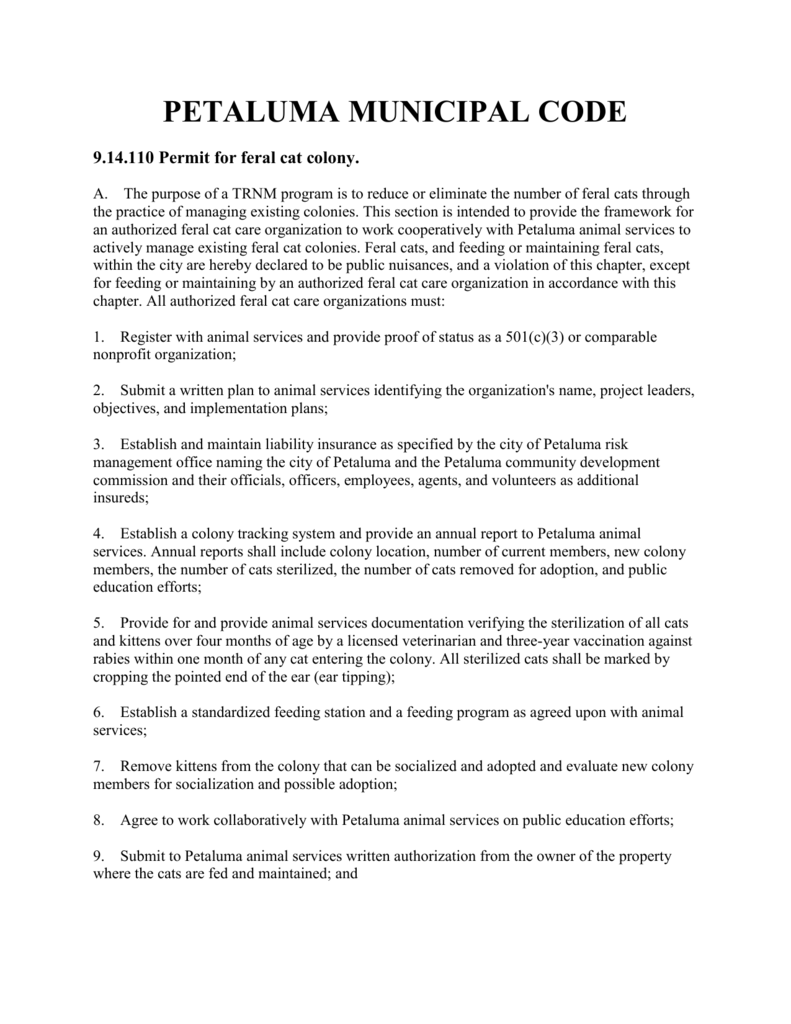 PETALUMA MUNICIPAL CODE
9.14.110 Permit for feral cat colony.
A. The purpose of a TRNM program is to reduce or eliminate the number of feral cats through
the practice of managing existing colonies. This section is intended to provide the framework for
an authorized feral cat care organization to work cooperatively with Petaluma animal services to
actively manage existing feral cat colonies. Feral cats, and feeding or maintaining feral cats,
within the city are hereby declared to be public nuisances, and a violation of this chapter, except
for feeding or maintaining by an authorized feral cat care organization in accordance with this
chapter. All authorized feral cat care organizations must:
1. Register with animal services and provide proof of status as a 501(c)(3) or comparable
nonprofit organization;
2. Submit a written plan to animal services identifying the organization's name, project leaders,
objectives, and implementation plans;
3. Establish and maintain liability insurance as specified by the city of Petaluma risk
management office naming the city of Petaluma and the Petaluma community development
commission and their officials, officers, employees, agents, and volunteers as additional
insureds;
4. Establish a colony tracking system and provide an annual report to Petaluma animal
services. Annual reports shall include colony location, number of current members, new colony
members, the number of cats sterilized, the number of cats removed for adoption, and public
education efforts;
5. Provide for and provide animal services documentation verifying the sterilization of all cats
and kittens over four months of age by a licensed veterinarian and three-year vaccination against
rabies within one month of any cat entering the colony. All sterilized cats shall be marked by
cropping the pointed end of the ear (ear tipping);
6. Establish a standardized feeding station and a feeding program as agreed upon with animal
services;
7. Remove kittens from the colony that can be socialized and adopted and evaluate new colony
members for socialization and possible adoption;
8.
Agree to work collaboratively with Petaluma animal services on public education efforts;
9. Submit to Petaluma animal services written authorization from the owner of the property
where the cats are fed and maintained; and
10. Provide within ten days all colony records to a Petaluma animal control officer for
inspection in response to a complaint or alleged violation of law.
B. This section is not intended to prevent a private party from asserting any legal rights to
enjoin or seek damages resulting from the feeding of feral cats that adversely affects such
person's property interests.
C. The city may abate a public nuisance created by feral cats by seizing the feral cats on public
property by any means of abatement in accordance with Title 9 of this code or any other law.
D. Notwithstanding anything in this section to the contrary, feeding feral cats is prohibited and
a public nuisance:
1. In or within the Petaluma Wetlands, located along the Petaluma River. For purposes of this
section, the Petaluma Wetlands are bordered by the Petaluma River on the southwest, and
Lakeville Highway to the north and east, and the length of the Petaluma Wetlands is from the
Petaluma Marina to and including the Petaluma holding ponds.
2.
Inside any city park.
3. Feeding feral cats or otherwise caring for a feral cat colony without written permission from
the owner of the land where the cats are maintained or fed.