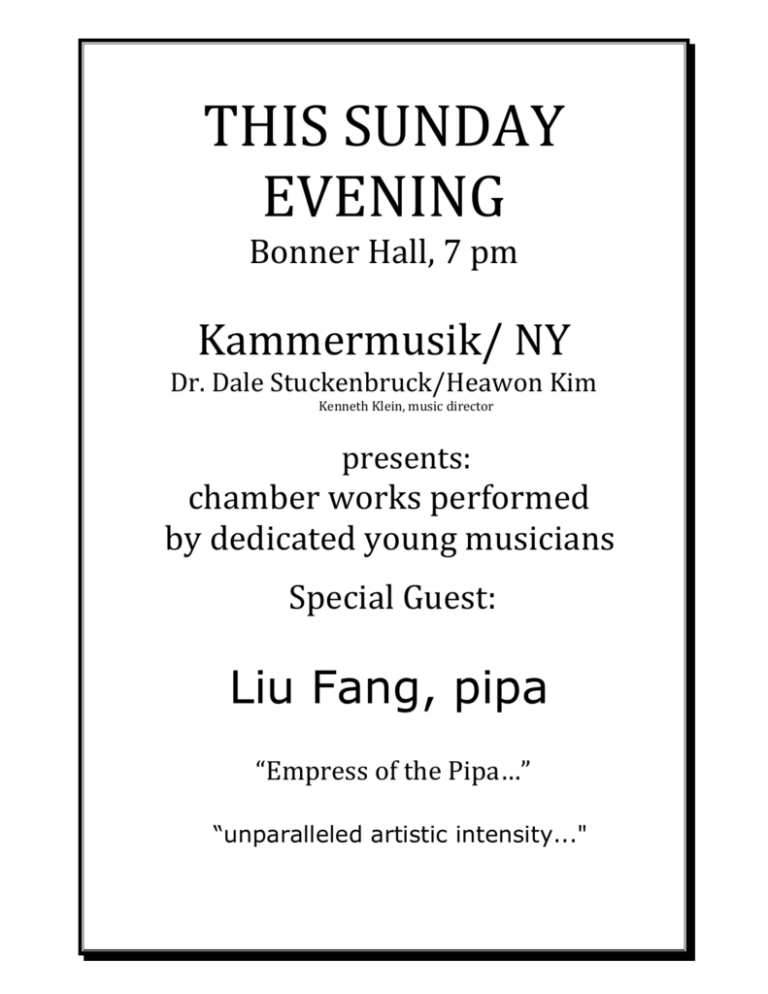 THIS SUNDAY
EVENING
Bonner Hall, 7 pm
Kammermusik/ NY
Dr. Dale Stuckenbruck/Heawon Kim
Kenneth Klein, music director
presents:
chamber works performed
by dedicated young musicians
Special Guest:
Liu Fang, pipa
"Empress of the Pipa…"
"unparalleled artistic intensity..."
Sonata I in G major
Andante
Allegro assai
Allegro
Suite Para Cuerdas
Adagio con espressione
Trio in D minor, Op. 32
Allegro moderato
Suite, Op. 71
Allegro moderato
Concerto for 3 Violins,Op. 88
Allegro moderato
Giuseppe Tartini
(1692-1770)
Joshua Wang, Jimin Lee
Jaydn Mardi, Setphanie
Guaman CLeber Guaman-violins,
Justin Koe, Rainer DeLalio
–cellos
Shiori ChazonoDale Stuckenbruckconductors
Andrew Koe, violin
Kyra Koe, cello
Ellin Cowie, piano
Erin Lyons, violin
Emily Li, violin
Connor Cowie, piano
Cleber Guaman, Emily Li
David Katzman--violins
Connor Cowie, piano
Suite for Piano Quartet, Op. 51
Moderato
String Quartet in F major
Allegroi moderato,
tres doux
Quintet in A major for piano
and strings, D. 667 violin,
Ladislav Gabrielli
(1851-19??)
Anton Arensky
(1861-1906)
Moritz Moskovski
(1854-1925)
Ferdinand Thieriot
(1838-1919)
Fortunato Luzzato
Maurice Ravel
(1875-1937)
Erin Lyons, Zachary
Mezzo-violins
Nora Koe, viola
Dale Stuckenbruck, cello
Franz Schubert
(1797-18278)
viola, cello and bass
Allegro vivace
Hyunju Ji, violin
Andrew Koe, viola
Kyra Koe, cello
Shiori Chazono, bass*
Heawon Kim, piano
INTERMISSION
Wild Geese Descending onto a
Sandy Beach
Singing Fisherman on a
Homebound at Sunset Journey
Chinese, Anonymous
Liu Fang, pipa
Chinese, Anonymous
Liu Fang , guzheng
Dale Stuckenbruck,
musical saw
Lunar New Year
Mo Li Hua-Chinese
Ye Lai Xiang
Butterfly Lovers
Ye Lai Xiang, Li Jin Guang
Chen Gang and He Zhanhao
Arranged by Shiori Chazono
Kammermusik Ensemble
Liu Fang, pipa
Jiayi Chen, guzheng
We are very grateful for the coachings given by Shiori Chazono,
Hyumju Ji, Jennifer Hsu, Tammy Hensrud, Heawon Kim , Liu Fang,
and Dale Stuckenbruck.
We gratefully acknowledge the use of Bonner Hall and the facilities
of the Waldorf School of Garden City.
Liu Fang, pipa & guzheng
Montreal resident Liu Fang has achieved an international reputation for her
masterful and deeply spirited pipa playing. Born in 1974 in Kunming in the
Chinese province of Yunnan, Liu Fang began studying the pipa at the age of
six and gave her first public performance as a pipa soloist when she was
nine. In 1985, she played for Queen Elizabeth during Her Majesty's visit to
China. Honoured with several provincial and national prizes, Liu Fang
graduated from the Shanghai Conservatory of Music, where she also studied
the guzheng, a Chinese zither. Since moving to Canada in 1996, Liu Fang has
built a remarkable artistic profile by captivating audiences and critics with
the richness and grace of her playing as well as her wide ranging repertoire.
Celebrated in the press as the "divine mediator" (World, 2006), "without
question the greatest ambassadress of the art of the pipa in America and
Europe" (La presse, 2002) and "the empress of pipa" (L'actualité, 2001), Liu
Fang is known as "possessing virtuoso technique, grace and a unique
empathy toward the music she plays – whether it is a traditional and folk
tune or a modern Western composition" (All Music Guide, 2003). Her playing
is described as "Masterful, graceful and riveting" (BBC, 2004).
Liu Fang is most well-known for her virtuosic and expressive interpretation of
traditional pipa and guzheng music from the classical and folkloric traditions.
Deeply rooted into the tradition, yet with a distinctive personal style, Liu
Fang is able to transmit in an erudite and significant way the beauty and the
richness of this ancient music as well as the subtle sonorities of the
instruments by the power and sensibility of her play. having given concerts
all over the world and performing solo recitals at prestigious venues and
festivals such as the Théâtre de la Ville in Paris, the Philharmonic Hall of
Liège, Belgium (2006), BBC concerts in London (2003, 2007), the Bath
International Music Festival (2004) and the York Early Music Center (2008),
the TFF Rudolstadt 2006 and the WOMAD Festival in the UK (2004) and
Spain (2006), Festival des musiques du monde les suds à Arles (France), to
mention but a few.
Among the numerous solo recitals, concerto performances and concerts at
festivals throughout Canada, the U.S., Europe and South America, Liu Fang
has premiered new compositions by a number of accomplished composers.
In fact, she has appeared in the spectacular world premier of R. Murray
Schafer's opera The Palace of the Cinnabar Phoenix, playing outstanding
solos on both the pipa and the guzheng. She has also collaborated with
traditional master musicians from various traditions. She performed two
concerti for pipa and orchestra (the "Ghost opera" by celebrated Tan Dun
and the "King Chu Doffs his Armour" by Zhou Long) with the Moravia
Symphony Orchestra in Prague (1999), and in November 2003 she
performed with the orchestre des pays de Savoie in France improvised music
in Gustav Mahler's "Liede der Erde" (Song of the Earth) and was highly
praised (in Le Monde de la Musique, No. 282). Recently Liu Fang performed
with the renowned Nouvelle Ensemble Moderne and SMCQ in Montreal, the
Alcan string quartet in Quebec, and the Quartetto Paul Klee Venezia and
Xenia Ensemble in Italy, and the Spiegel String Quartet in Belgium. Since
last year she has been collaborating with Malcolm Goldstein, an
internationally
renowned violin
maestro, on new and
improvised music.
Liu Fang has also
made numerous
national and
international radio
recordings and
television
appearances, given
performances
recorded for films, and
released 11 CDs. Liu
Fang has been invited as one of the featured artists (including also the world
renowned Russian violinist - Vadim Repin) by BBC World Service for the
concert on November 7, 2003 dedicated to World AIDS Day. The recording of
this concert has been broadcasted in all of the 43 World Service Language
Services with the current World Service audience across all platforms in the
region of 150 millions. On November 16, 2005, Liu Fang was invited to
perform at the concert dedicated to the 60th anniversary of UNESCO in Paris.
Liu Fang has been awarded a number of grants by the Canada Council for the
Arts. On June 5th, 2001, she received the prestigious Future Generations
Millennium Prize from the council. In the jury's words: "Liu Fang's mastery of
the pipa and the guzheng has established her international reputation as a
highly talented young interpreter of traditional Chinese music. She aspires to
combine her knowledge and practice of eastern traditions with western
classical music, contemporary music and improvisation, thereby creating new
musical forms, uniting different cultures and discovering new audiences."
On Auguest 4, 2006, Liu Fang received the prestigious l'Académie Charles
Cros award.