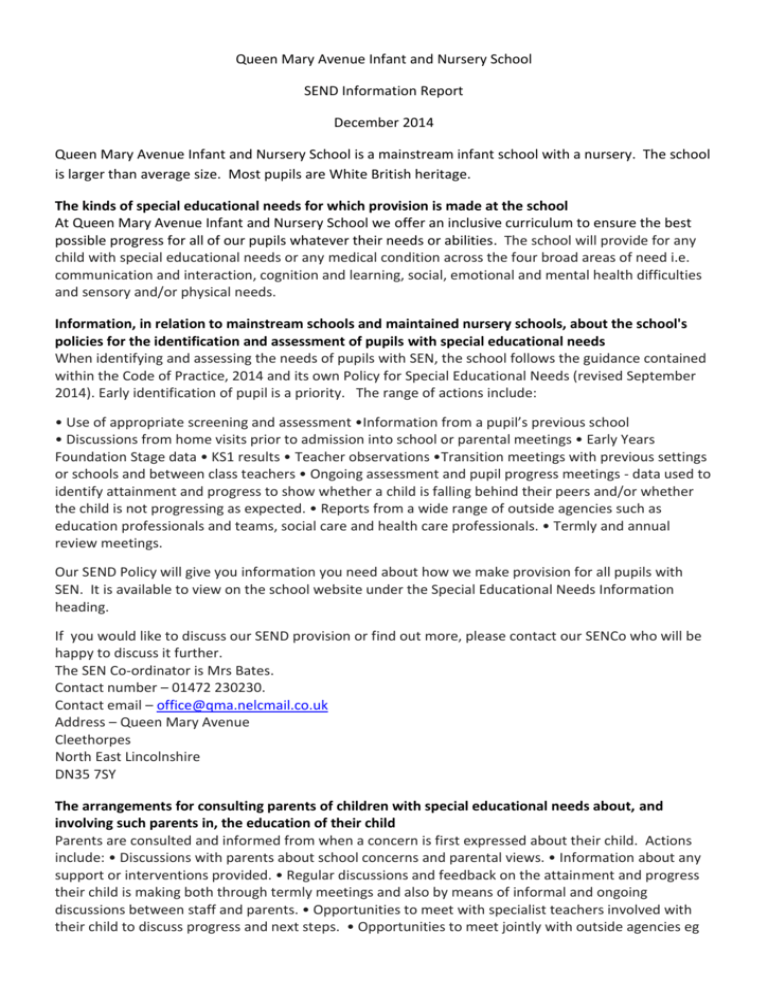 Queen Mary Avenue Infant and Nursery School
SEND Information Report
December 2014
Queen Mary Avenue Infant and Nursery School is a mainstream infant school with a nursery. The school
is larger than average size. Most pupils are White British heritage.
The kinds of special educational needs for which provision is made at the school
At Queen Mary Avenue Infant and Nursery School we offer an inclusive curriculum to ensure the best
possible progress for all of our pupils whatever their needs or abilities. The school will provide for any
child with special educational needs or any medical condition across the four broad areas of need i.e.
communication and interaction, cognition and learning, social, emotional and mental health difficulties
and sensory and/or physical needs.
Information, in relation to mainstream schools and maintained nursery schools, about the school's
policies for the identification and assessment of pupils with special educational needs
When identifying and assessing the needs of pupils with SEN, the school follows the guidance contained
within the Code of Practice, 2014 and its own Policy for Special Educational Needs (revised September
2014). Early identification of pupil is a priority. The range of actions include:
• Use of appropriate screening and assessment •Information from a pupil's previous school
• Discussions from home visits prior to admission into school or parental meetings • Early Years
Foundation Stage data • KS1 results • Teacher observations •Transition meetings with previous settings
or schools and between class teachers • Ongoing assessment and pupil progress meetings - data used to
identify attainment and progress to show whether a child is falling behind their peers and/or whether
the child is not progressing as expected. • Reports from a wide range of outside agencies such as
education professionals and teams, social care and health care professionals. • Termly and annual
review meetings.
Our SEND Policy will give you information you need about how we make provision for all pupils with
SEN. It is available to view on the school website under the Special Educational Needs Information
heading.
If you would like to discuss our SEND provision or find out more, please contact our SENCo who will be
happy to discuss it further.
The SEN Co-ordinator is Mrs Bates.
Contact number – 01472 230230.
Contact email – office@qma.nelcmail.co.uk
Address – Queen Mary Avenue
Cleethorpes
North East Lincolnshire
DN35 7SY
The arrangements for consulting parents of children with special educational needs about, and
involving such parents in, the education of their child
Parents are consulted and informed from when a concern is first expressed about their child. Actions
include: • Discussions with parents about school concerns and parental views. • Information about any
support or interventions provided. • Regular discussions and feedback on the attainment and progress
their child is making both through termly meetings and also by means of informal and ongoing
discussions between staff and parents. • Opportunities to meet with specialist teachers involved with
their child to discuss progress and next steps. • Opportunities to meet jointly with outside agencies eg
Educational Psychology Service and others who are involved with their child, both with their child's class
teacher and also with the SENCo. • Twice yearly progress evening meetings with class teachers.
• Parental representation on the governing body. • Termly activity mornings for parents to engage in an
activity with their child and engage with other children, parents and staff. • Home visits for new
starters in the Nursery. • Access to support from teachers, Safeguarding officer, SENCo and Head of
School.
The arrangements for consulting young people with special educational needs about, and involving
them in, their education
Pupils are consulted and their views are sought whilst at Queen Mary Avenue Infant and Nursery School.
• Involvement of some children with SEN on the school council. • Children are asked about their own
strengths and areas for development. • Children complete questionnaires about their learning and
school. • Discussion and feedback of progress as a regular component of the children's 'daily diet.'
• Participation of children in discussions with regard to strategies to meet their needs eg the
composition of reward systems.
The school's arrangements for assessing and reviewing the progress of pupils with special educational
needs
• A range of assessment tools are used to monitor pupil progress on an ongoing basis. The class teacher
continually assesses each child and notes areas where they are improving and where further support is
needed • Progress of children with special educational needs is monitored by the class teacher and
SENCo, and if sufficient progress is not being made then additional interventions are put in place.
• Interventions are regularly evaluated by class teachers and the SENCo • Children who are not making
expected progress are also picked up through Pupil Progress meetings with the Head of School,
Assistant Headteacher and SENCo. In this meeting a discussion takes place concerning why individual
children are experiencing difficulty and what further support can be given to aid their progression.
• Ongoing cycles of assess, plan, do, review. • Reviewing of Personalised Learning Plan (PLP) targets at
least termly and new targets set. • Children with Education Health and Care plans have an annual review
involving parents, children and outside agencies. • Discussions during termly SEN planning meetings
with class teachers, SEN Governor and Specialist Advisory Service. • Report on progress of children with
SEN given to Governors as part of the annual report on outcomes
School's arrangements for supporting pupils with special educational needs in transferring between
phases of education or in preparing for adulthood and independent living
At Queen Mary Avenue Infant and Nursery School we take steps to ensure that any transition is as
smooth as possible as we recognise that moving to the next phase of a child's education can be difficult
for a child with special educational needs.
• Pre-Nursery home visits are made by Nursery staff. Opportunities for children to attend 'lift off'
sessions prior to the term they are due to start Nursery is available • A moving up half day session and
other transition opportunities for children when transferring to each new year group. • Progress
meetings held between class teachers and between SENCo and each class teacher before yearly
transfers. • Transition booklets created with and for children who have SEN. • If children are moving to
a new school the SENCo will contact the new school SENCo to discuss the child's needs. Where possible
a planning meeting will take place and transition sessions will be available. • Attainment and progress
data plus information on behaviour, attendance, health needs and social care is passed to any receiving
school quickly. • Liaison meetings between the SENCo and William Barcroft Junior School SENCo take
place termly to discuss transition for children with SEND.
The school's approach to teaching pupils with special educational needs. How adaptations are made
to the curriculum and the learning environment
We provide for all children with SEN in a variety of ways depending on the individual needs of the child.
Class teachers and the SENCo discuss with the parent the most appropriate approach to be taken with
each child. The majority of children with SEN are taught in their own classroom for most of the time. We
operate a graduated approach based upon assess, plan, do and review. • Resources and teaching are
differentiated according to the child's individual needs. Teaching is planned to accommodate all learning
styles. • TAs work alongside the class teacher to support children with SEN individually/in small groups
and to facilitate the class teacher to work with children with SEN, so that there is an emphasis on high
quality teaching for all children. • Access to evidence based interventions in small groups or 1-1. •
Children's groupings are varied according to the task to promote engagement, learning and selfesteem. • Adapted resources as required eg table top visual timetables, task sheets, use of individual
laptops and individual behaviour reward systems. • Equipment is loaned from specialist professionals
including the occupational therapist and physiotherapist. • Recommendations from outside agency
assessments and observations are utilised eg, environmental needs for a child with ASD • Where a child
has an Educational Health and Care Plan the recommended resources needed to provide appropriate
support are adhered to. • The PE curriculum is adapted where a child has a physical difficulty and given
1-1 where appropriate. • The school has full wheelchair access. • A disabled toilet is available.
Information about the expertise and training of staff in relation to children and young people with
special educational needs and about how specialist expertise will be secured
The SENCo has achieved the National SEN Award and the role of the SENCo includes; • Developing and
reviewing the school's special educational needs policy • Coordinating the support for children with
special educational needs • Liaising with parents of children with special educational needs. • Advising
on the graduated approach to providing SEN support. • Liaising with all the other agencies who may be
coming into school to support your child's learning • Updating the school's SEN register and making sure
that records of children's progress and needs are maintained • Advising on the deployment of the
school's delegated budget and other resources to meet pupil's needs effectively.• The SENCo attends
regular training and networking. • The SENCo is trained to assess for Irlen Syndrome (Scotopic
Sensitivity). • Teaching staff and teaching assistants are experienced in supporting children with a
variety of special educational needs. • The specialisms of staff are used to support others. • Training for
staff by the SENCo or external sources eg specialist teachers, healthcare professionals, social care as
necessary. • Regular first aid training and updates take place. • Medical training in the use of epipens,
diabetes equipment/understanding and hearing aids is offered as required. • Training for specific
learning difficulties is offered as required eg, autism.
How the school evaluates the effectiveness of its provision for such pupils
• All interventions and additional support is recorded on year group Provision Maps. These clearly
state what additional support is being provided, by whom and the frequency. • Personalised Learning
Plans which include attainment and targets will be reviewed termly with the child and parents.
• Progress is reviewed half termly and data is analysed by the SENCo.
Activities that are available for pupils with special educational needs in addition to those available in
accordance with the curriculum
Queen Mary Avenue Infant and Nursery School is a fully inclusive school and all activities are available to
those children with and without SEN. • Risk assessments are carried out prior to all educational visits
and procedures put in place to enable all children to participate. • Where necessary parents/carers are
consulted over prospective trips. • A range of extra – curricular activities are available for all children.
• Any staff member working with a child with SEND is informed about the needs of the child.
Support that is available for improving the emotional and social development of pupils with special
educational needs
The emotional health and well-being of all our pupils is very important to us. • We have a robust
safeguarding policy in place. • The Head of School and all staff have a pastoral role and continually
monitor the emotional health and well-being of all our pupils. • We have a pastoral system in place and
additional support is available for children who are vulnerable and those that experience a range of
emotional, social and mental health difficulties. • A trained member of staff (Learning Mentor/Parent
Support Worker) works with children individually or in small groups where necessary eg friendship
groups, matters of anxiety, self- esteem or bereavement. • Use of circle time and PATHS. • Use of
educational psychology service to provide consultations involving parents, children and staff as part of
the assess, plan, do, review process for particular children experiencing difficulties in these areas.
• Adherence to our behaviour policy. • Anti- bullying given strong focus. Any issues acted upon
immediately in line with school policy.
How the governing body involves other bodies, including health and social services bodies, local
authority support services and voluntary organisations, in meeting the needs of pupils with special
educational needs and in supporting the families of such pupils.
School has access to a range of services which it calls upon as required. The SENCo will call upon the
services depending on individual needs. • Specialist Advisory Service including Specialist Teachers and
Educational Psychologists for assistance when a child has learning difficulties and difficulties with
communication and interaction. • Educational Service for Hearing and Vision (ESHV). • Child
Development Centre. • Children and Adolescent Mental Health Service (CAMHS). • Speech and
Language therapy service involvement. • School Nurse. • Occupational therapy. • Physiotherapy.
• Liaison with pediatricians eg writing reports to give information regarding particular children's
difficulties. • Referrals to social care and the multi-agency safeguarding hub as required. • Involvement
in CAFs. • Referrals to the Behaviour and Attendance Collaborative (BAC). • Sure Start Children's
Centres. • Attendance at Personal Education Plan (PEP) meetings and discussions with Children and
Young People in Care (CYPIC) professionals • Access to Parent Partnership services. • Invitations to all
the above to attend annual reviews as required.
Any arrangements made by the governing body or the proprietor relating to the treatment
of complaints from parents of pupils with special educational needs concerning the provision made at
the school.
We ask parents to first approach class teachers or the SENCo who is also the Assistant Headteacher and
hopefully any matters can be resolved. If concerns remain the Head of School, Miss Smith can be
contacted.
Date written: February 2015
Next review date: February 2016
Signed by Chair of Governors: ___________________________ Date: ________________
This document will be kept up to date and altered when changes occur.