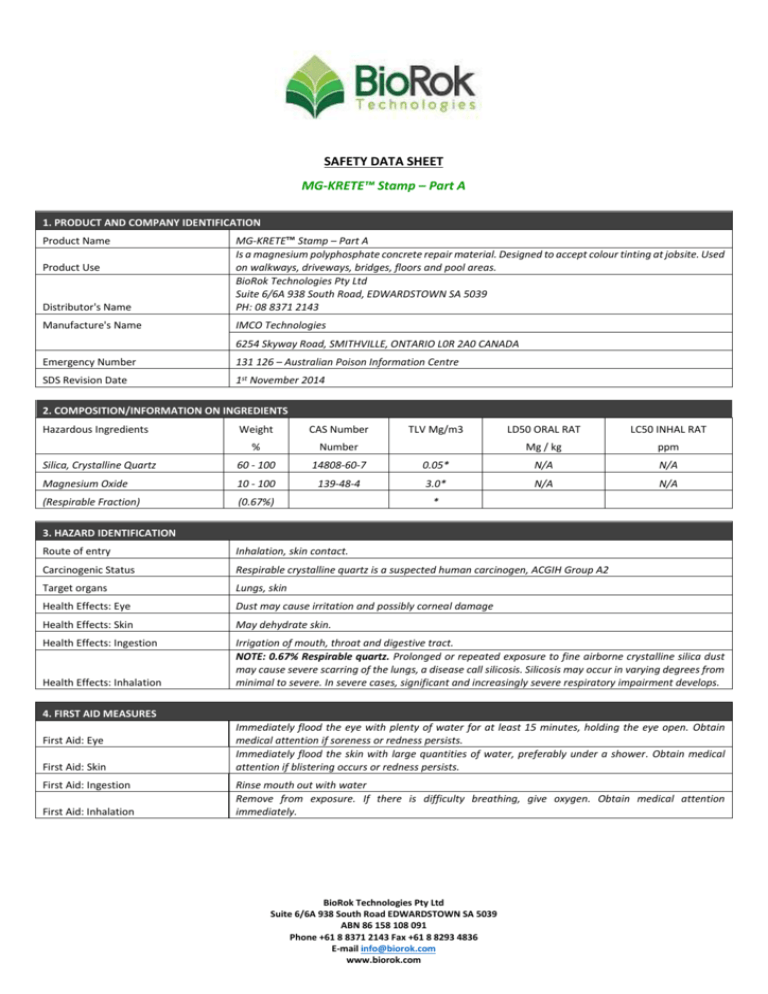 SAFETY DATA SHEET
MG-KRETE™ Stamp – Part A
1. PRODUCT AND COMPANY IDENTIFICATION
Distributor's Name
MG-KRETE™ Stamp – Part A
Is a magnesium polyphosphate concrete repair material. Designed to accept colour tinting at jobsite. Used
on walkways, driveways, bridges, floors and pool areas.
BioRok Technologies Pty Ltd
Suite 6/6A 938 South Road, EDWARDSTOWN SA 5039
PH: 08 8371 2143
Manufacture's Name
IMCO Technologies
Product Name
Product Use
6254 Skyway Road, SMITHVILLE, ONTARIO L0R 2A0 CANADA
Emergency Number
131 126 – Australian Poison Information Centre
SDS Revision Date
1st November 2014
2. COMPOSITION/INFORMATION ON INGREDIENTS
Hazardous Ingredients
Weight
CAS Number
%
Number
Silica, Crystalline Quartz
60 - 100
14808-60-7
Magnesium Oxide
10 - 100
139-48-4
(Respirable Fraction)
(0.67%)
TLV Mg/m3
LD50 ORAL RAT
LC50 INHAL RAT
Mg / kg
ppm
0.05*
N/A
N/A
3.0*
N/A
N/A
*
3. HAZARD IDENTIFICATION
Route of entry
Inhalation, skin contact.
Carcinogenic Status
Respirable crystalline quartz is a suspected human carcinogen, ACGIH Group A2
Target organs
Lungs, skin
Health Effects: Eye
Dust may cause irritation and possibly corneal damage
Health Effects: Skin
May dehydrate skin.
Health Effects: Ingestion
Irrigation of mouth, throat and digestive tract.
NOTE: 0.67% Respirable quartz. Prolonged or repeated exposure to fine airborne crystalline silica dust
may cause severe scarring of the lungs, a disease call silicosis. Silicosis may occur in varying degrees from
minimal to severe. In severe cases, significant and increasingly severe respiratory impairment develops.
Health Effects: Inhalation
4. FIRST AID MEASURES
First Aid: Eye
First Aid: Skin
First Aid: Ingestion
First Aid: Inhalation
Immediately flood the eye with plenty of water for at least 15 minutes, holding the eye open. Obtain
medical attention if soreness or redness persists.
Immediately flood the skin with large quantities of water, preferably under a shower. Obtain medical
attention if blistering occurs or redness persists.
Rinse mouth out with water
Remove from exposure. If there is difficulty breathing, give oxygen. Obtain medical attention
immediately.
BioRok Technologies Pty Ltd
Suite 6/6A 938 South Road EDWARDSTOWN SA 5039
ABN 86 158 108 091
Phone +61 8 8371 2143 Fax +61 8 8293 4836
E-mail info@biorok.com
www.biorok.com
5. ACCIDENTAL RELEASE MEASURES
Spill Procedures
Non-reactive. Transfer into non-dusting sealed containers for recovery or disposal.
Personal Precautions
Avoid creation of dust. Wear NIOSH approved particle mark, gloves and eye protection.
Environmental Precautions
Stable in environment. Not toxic to wild life.
6. FIRE FIGHTING MEASURES
Conditions of flammability
Non-Flammable. Will not support combustion.
Extinguishing media
N/A
Special hazards of product
N/A
Protective equipment for fire fighting
N/A
Flash point (PMCC) (oC)
N/A
Upper flammable limit % VOL
N/A
Lower flammable limit % VOL
N/A
Autoignition temp
(oC)
Explosion Data – Sensitivity to impact
Explosion Data – Sensitivity to static
discharge
N/A
No
Yes
7. HANDLING AND STORAGE
Handling
Use in well-ventilated area. Use local exhaust ventilation. Avoid inhaling dust. Avoid contact with eyes,
skin and clothing. Handle carefully to avoid creating dust.
Storage
Store in a dry area.
8. EXPOSURE CONTROLS/PERSONAL PROTECTION
Use in well-ventilated area. Avoid creation of dust. Up to 0.5 mg/m3 use air purifying respirator with high
efficiency particulate filter. Up to 1.25 mg/m3 use powered air purifying respirator with high efficiency
Engineering Control Measures
filter. Up to 2.5 mg/m3 use full-faced piece air purifying respirator with high efficiency particular filter.
Respiratory Protection
Wear NIOSH approved particle respirator.
Hand Protection
Gloves should be worn during all handling operations.
Eye Protection
Protect eyes from dust.
Body Protection
Clothing should cover body adequately to prevent exposure.
Will release ammonia gas when mixed with 1260 Part B. Venting or respiration equipment may be
required when working in confined spaces. After installation and drying, activities such as grinding,
sawing or tear-out of material may cause dust concentration to be above the TLV limit for crystalline
quartz.
Protecting During Application
9. PHYSICAL AND CHEMICAL PROPERTIES
Physical State
Solid
Odour & Colour
None & Grey-buff
Odour Threshold (ppm)
N/A
Specific Gravity
2.65
Vapour Density (AIR =1)
Vapour Pressure =
20oC
Evaporation Rate
Boiling Range / Point
Freezing Point
N/A
10 mm @ 1730oC
None
(oC)
(oC)
2230
N/A
PH
N/A
Coefficient of water / oil distribution
N/A
Solubility In Water
Insoluble
VOC (G/L)
0
10. STABILITY AND REACTIVITY
Stability
Contact with strong oxidizing agents.
Materials to avoid (incompatibility)
Oxidizing agents: fluorine, chlorine trifluoride, manganese trioxide, oxygen difluoride.
Hazardous Polymerization
Will not occur.
Hazardous Decomposition Products
Silica will dissolve in hydrofluoric acid and produce a corrosive gas (silicon tetra fluoride).
11. TOXICOLOGICAL INFORMATION
Effects of acute exposure
N/A – No known acute toxicity.
Effects of chronic exposure
Repeated inhalation of concentrated free silica dust may cause delayed lung injury (silicosis).
Exposure limits
0.05 mg/m3 Respirable quartz dust.
Irritancy
Mild irritation expected.
Sensitisation
Carcinogenicity
Unlikely.
The International Agency for Research on Caner has concluded that crystalline silica in the form of quartz
from occupational exposures should be classified as carcinogenic to humans (Group 1) The American
Conference of Government Industrial Hygienists have given crystalline silica, quartz an A2 classification,
suspected human carcinogen. Simultaneous exposure to known carcinogens can increase carcinogenicity
of crystalline silica.
Reproductive toxicity
N/A
Teratogenicity
N/A
Mutagenicity
N/A
Toxicologically synergistic products
Synergistic effect between smoking and crystalline silica is likely.
12. ECOLOGICAL INFORMATION
Mobility
Stable in environment.
Persistence / Degradability
Non-biodegradable, generally non-toxic.
Bio-Accumulation
Product does not bio-accumulate.
Eco toxicity
Not toxic to wild life.
13. DISPOSAL CONSIDERATIONS
Product Disposal
Non-reactive. Transfer into non-dusting, sealed containers for recovery or disposal. Dispose of in an
approved landfill site. Contact local authorities for disposal approval.
Container Disposal
Empty bags may contain hazardous residues. Dispose of bags with care.
14. REGULATORY INFORMATION
WHMIS Classification
Class D, Div.2, Subdivision A –Very Toxic Material
CEPA Status (DSL)
All of the ingredients of this product are listed on the Domestic Substances List
This product has been classified in accordance with the hazard criteria of the Controlled Products Regulations (CPR) and the MSDS contains all the
information required by CPR.
15. TRANSPORTATION INFORMATION
CANADA
TDG Classification
Hazard Label: Not Required
Not Regulated
EXPORT
DOT CFR 172.101 Data
Not Regulated
UN Proper Shipping Name
N/A
UN Class
N/A
UN Number
N/A
UN Packaging Group
N/A
Flash Point
N/A
Hazardous Material
N/A
Hazardous Label
N/A
16. OTHER INFORMATION
Hazard Rating
0 = Minimal; 1 = Slight; 2 = Moderate; 3 = High; 4 = Extreme
Health = 1
Flammability = 0
Reactivity = 0
Abbreviations
N/A: Denotes no applicable information found or available
CAS#: Chemical Abstracts Service Number
ACGIH: American Conference of Governmental Industrial Hygienists
OSHA: Occupational Safety and Health Administration
TLV: Threshold Limit Value
PEL: Permissible Exposure Limit
STEL: Short Term Exposure Limit
NTP: National Toxicology Program
IARC: International Agency for Research on Cancer
R: Risk
S: Safety
LD50: Lethal Dose 50%
LC50: Lethal Concentration 50%
Prepared By
IMCO Technologies Inc.
Provided data is offered in good faith as typical values and not as a product specification. No warranty, either express or implied, is hereby
made. The recommended industrial hygiene and safe handling procedures and believed to be generally applicable, however, each user should
review these recommendations.