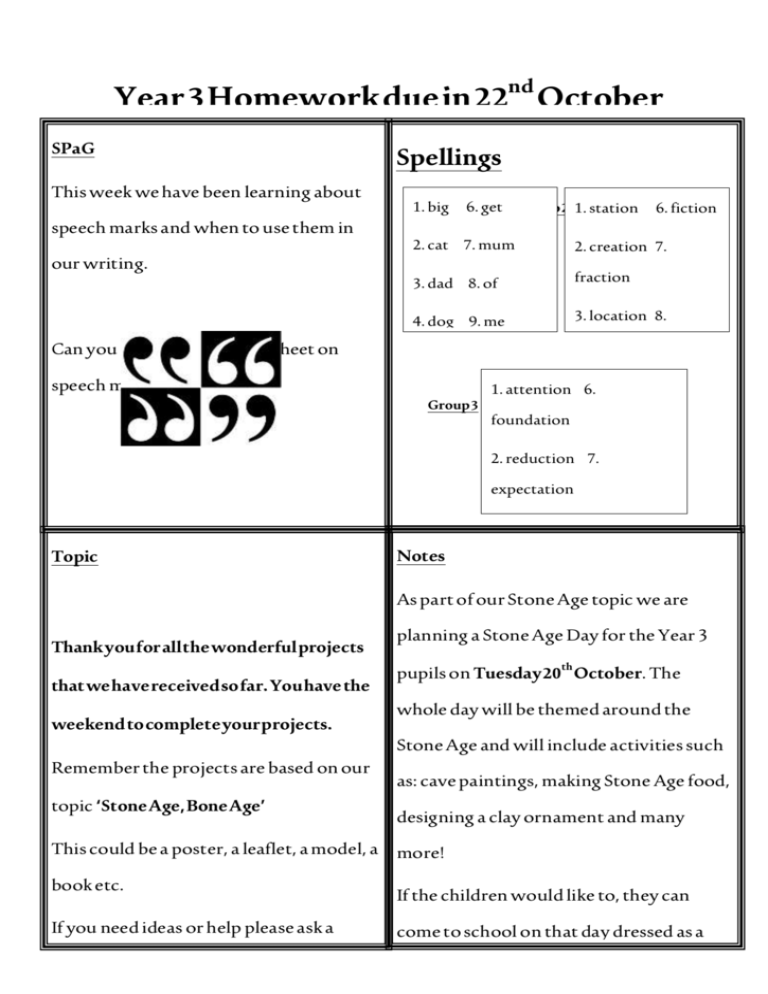 Year 3 Homework due in 22nd October
SPaG
This week we have been learning about
speech marks and when to use them in
our writing.
Can you complete the extra sheet on
speech marks?
Spellings
1. big1 6. get
Group
Group 2 1. station
6. fiction
2. cat 7. mum
2. creation 7.
3. dad 8. of
fraction
4. dog 9. me
3. location 8.
5. for 10. he
Group 3
revision
1. attention 4.6.lotion 9. invasion
foundation 5. portion 10.
2. reductiondecision
7.
expectation
Topic
Notes
3. direction 8. pollution
4. connection 9. decision
As part of our
Stone Age10.
topic
we are
5. explosion
emotion
Thank you for all the wonderful projects
that we have received so far. You have the
weekend to complete your projects.
Remember the projects are based on our
topic 'Stone Age, Bone Age'
planning a Stone Age Day for the Year 3
pupils on Tuesday 20th October. The
whole day will be themed around the
Stone Age and will include activities such
as: cave paintings, making Stone Age food,
designing a clay ornament and many
This could be a poster, a leaflet, a model, a more!
book etc.
If the children would like to, they can
If you need ideas or help please ask a
come to school on that day dressed as a
member of the Year Three team.
person from the Stone Age.