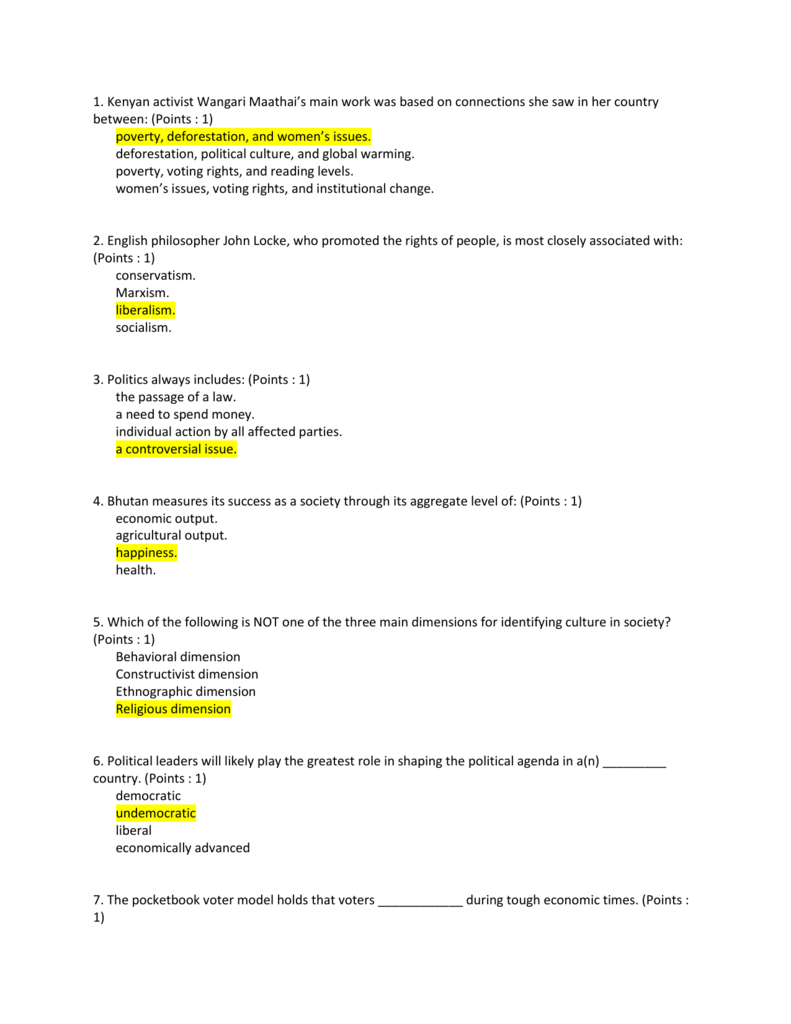 1. Kenyan activist Wangari Maathai's main work was based on connections she saw in her country
between: (Points : 1)
poverty, deforestation, and women's issues.
deforestation, political culture, and global warming.
poverty, voting rights, and reading levels.
women's issues, voting rights, and institutional change.
2. English philosopher John Locke, who promoted the rights of people, is most closely associated with:
(Points : 1)
conservatism.
Marxism.
liberalism.
socialism.
3. Politics always includes: (Points : 1)
the passage of a law.
a need to spend money.
individual action by all affected parties.
a controversial issue.
4. Bhutan measures its success as a society through its aggregate level of: (Points : 1)
economic output.
agricultural output.
happiness.
health.
5. Which of the following is NOT one of the three main dimensions for identifying culture in society?
(Points : 1)
Behavioral dimension
Constructivist dimension
Ethnographic dimension
Religious dimension
6. Political leaders will likely play the greatest role in shaping the political agenda in a(n) _________
country. (Points : 1)
democratic
undemocratic
liberal
economically advanced
7. The pocketbook voter model holds that voters ____________ during tough economic times. (Points :
1)
punish challengers
punish incumbents
seek higher taxes
elect incumbents
8. Of the following ideologies, which places the smallest emphasis on freedom of speech? (Points : 1)
Libertarianism
Capitalism
Liberalism
Marxism
9. For sociologists, a(n) _______ is something that a person accepts as true, but is not fully supported by
facts or logical reasoning. (Points : 1)
value
belief
identity
preference
10. In the world of art, Pablo Picasso Cubist paintings were initially: (Points : 1)
considered compatible with Impressionism.
part of an artistic counterculture.
seen as an expression of Spanish political culture.