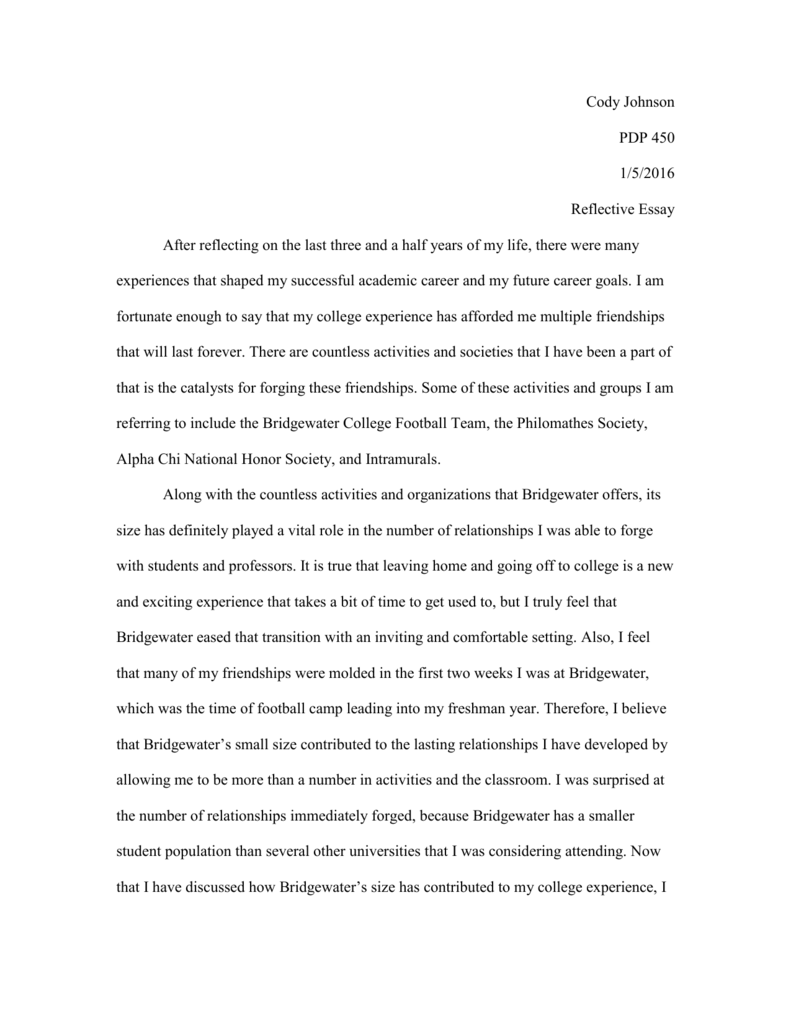 Cody Johnson
PDP 450
1/5/2016
Reflective Essay
After reflecting on the last three and a half years of my life, there were many
experiences that shaped my successful academic career and my future career goals. I am
fortunate enough to say that my college experience has afforded me multiple friendships
that will last forever. There are countless activities and societies that I have been a part of
that is the catalysts for forging these friendships. Some of these activities and groups I am
referring to include the Bridgewater College Football Team, the Philomathes Society,
Alpha Chi National Honor Society, and Intramurals.
Along with the countless activities and organizations that Bridgewater offers, its
size has definitely played a vital role in the number of relationships I was able to forge
with students and professors. It is true that leaving home and going off to college is a new
and exciting experience that takes a bit of time to get used to, but I truly feel that
Bridgewater eased that transition with an inviting and comfortable setting. Also, I feel
that many of my friendships were molded in the first two weeks I was at Bridgewater,
which was the time of football camp leading into my freshman year. Therefore, I believe
that Bridgewater's small size contributed to the lasting relationships I have developed by
allowing me to be more than a number in activities and the classroom. I was surprised at
the number of relationships immediately forged, because Bridgewater has a smaller
student population than several other universities that I was considering attending. Now
that I have discussed how Bridgewater's size has contributed to my college experience, I
will now explore and analyze how several other aspects of college life have contributed
to the experience and laid the foundation for my future.
The first aspect to look at when exploring my college experience is intellectual
discovery, which played a vital role in developing my future life and career goals. I think
it is worth mentioning that I first came into Bridgewater undecided, and my plan was to
take several general education courses to see if any particular area sparked my interest.
My entire freshman year consisted of courses that would fill general education
requirements, and when it was all said and done, no particular area intrigued me enough
to mold my academic career around it. This is when I reverted back to one of my favorite
classes I ever attended, and that was an accounting class in high school. Once I made it
official and declared my major at the end of my freshman year as Business
Administration with an emphasis in Accounting, it was time to load my schedule with
accounting and business classes during my sophomore year. Some of my greatest and
most extensive projects I have ever worked on were completed in the required classes for
my major. One of these fulfilling projects that I was particularly proud of was a fortypage business plan that was created in Survey of Business, and is included as one of my
artifacts. As a group, we developed a plan for a start-up company in Harrisonburg, VA.
This plan consisted of a brewery that would set itself apart by offering a delivery system
of kegs to people in the Harrisonburg area. Therefore, this project was very successful
when it comes to creativity and the ability to work well with a group.
Continuing the topic of extensive and fulfilling projects brings me to my next
example of an assignment that greatly contributed to my intellectual growth and
discovery. I included an Excel spreadsheet from Intermediate Accounting as a bonus
artifact, in order to display my tremendous growth as an accountant. The assignment
required us to make journal entries, including adjusting journal entries, and then create
financial statements based on the figures from the accounts. I felt it was necessary to
include this project as an artifact, because it displays my practical knowledge in the
accounting field. This project consisted of many accounting functions and techniques that
I am likely to encounter as I embark on my career path.
When discussing intellectual growth and discovery, I think it is important to
analyze my academic career in terms of my GPA. I am proud to say that my hard work
and diligence has translated to a cumulative GPA of 3.82 after the fall semester of my
senior year. I saw a bit of what I consider to be a downfall in the spring semester of my
freshman year, which happened to be the only semester I missed the Dean's List by a
small margin. After not being named to the Dean's List in the spring semester of my
freshman year, I became determined to strive to make this a goal of mine for every
semester to come. Ultimately, I am proud to announce that I have been named to the
Dean's List in six out of seven semesters during my academic career at Bridgewater.
Therefore, it is safe to say that not making the Dean's List in spring of my freshman year
gave me the incentive and made me that much more persistent for the rest of my college
career.
Along with being named to the Dean's List for the majority of my time at
Bridgewater, I am also proud to say that I have fulfilled the convocation requirement
every semester I have spent at Bridgewater. At first, I will admit that I attended
convocations just to receive credit, but as I matured it became more about hearing stories
and being exposed to ideas that I was not familiar with. The convocations have afforded
me the opportunity to hear from interesting guest speakers, such as the actual coach that
the movie Remember the Titans is based on. Also, after attending musical convocations,
my horizon of musical genres has been broadened. Basically, my openness to new ideas
and cultures has really allowed my to fully enjoy the convocation experiences that are
offered at Bridgewater College.
Other important aspects of my intellectual growth and discovery at Bridgewater
include an improvement in time management skills and prioritizing tasks. Both concepts
are essential in the profession I am pursuing, so I am appreciative that Bridgewater
afforded me the opportunity to better these skills through extensive projects and papers.
The most efficient way I complete assignments in a timely manner is by working on
projects and papers during the day as soon as I get out of class, instead of waiting until
nighttime when there are a lot of distractions, such as sporting events to watch on
television. This also prevents me from succumbing to the desire to procrastinate, because
I make a conscious effort to begin working on assignments the same day they are
assigned. It is evident to me that this was a huge change from my tendencies in high
school, because that was a time when I was famous for waiting until the absolute last
minute to complete my homework. Therefore, the extensive workload I have received at
Bridgewater has really fostered my ability to complete assignments in a timely manner,
and prioritize which assignments need to be completed first.
It was fairly easy for me to integrate an artifact where time management was
necessary, because I just completed an extensive project that took the entire semester
during fall of my senior year. The project was assigned in the class Financial Statement
Analysis, and consisted of analyzing past financial statements of the company Cisco
Systems. Along with analyzing past financial statements, we put data into a model that
generated an estimated price per share of the company and forecasted the future growth
rates of the company. Basically, the depth of this project required an ongoing and diligent
approach, because the project would have been practically impossible if we waited until
the last minute. This project is just one example of how improving time management has
made my academic career more fulfilling, and will ultimately make my career in
accounting more successful.
Before wrapping up the topic of intellectual growth and discovery, I wanted to
pick out an artifact that displays a comparison of how my train of thought now stacks up
with that of my freshman year. Therefore, I included the final paper from PDP during my
freshman year, which was a joint research paper with a fellow classmate. In my section of
the paper, I argued that individual choices play the largest role in affecting the life path
one will travel. More specifically, I was referring to individual choices leading to
poverty. As I sit and ponder on the topic today, I still feel the same about my argument
almost four years later. In fact, some of my experiences at Bridgewater have actually
validated my argument that I made during my freshman year. For instance, I have seen
several classmates take the approach, "C's get degrees", and ultimately this choice led to
a lower GPA than what the individual was actually capable of obtaining. Obviously this
example is on a smaller scale compared to poverty, but I think the overall concept goes
hand in hand.
Another aspect that is necessary to explore when reminiscing on my last several
years at Bridgewater College is the concept of academic citizenship and community
responsibility. After dissecting the first part of this concept, I concluded that academic
citizenship refers to the desire to obtain as much knowledge as possible, even if some of
that knowledge will not even be relevant in the field of my future profession. Also, when
it comes to academic citizenship and community responsibility, it is important to promote
learning for others around you and not distract others' ability to obtain knowledge. Even
though my mother has always said to be open to new ideas and new ways of doing things,
it was not until I attended Bridgewater that I really appreciated this concept. After
reflecting on the classes I have taken, it is clear that I can attribute a generous portion of
my openness to the general education courses we are required to take at Bridgewater.
One of which directly relates to the concept of promoting and maintaining an
environment where others around you can effectively learn something they did not know
before. The class I am referring to is Violence and Peace in Religion, of which I included
an artifact that displays my ability to lead a class in a discussion and efficiently analyze a
reading assignment. I thought the assignment was worth including in this reflection,
because that assignment definitely improved my leadership skills and my ability to dig
deeper than the surface of the reading.
As I mentioned earlier, Bridgewater has really engrained in me the importance of
obtaining as much knowledge as possible, even if the topic will not necessarily impact
my performance in the accounting profession. The reason I bring this up is because I took
a very interesting class in the fall, which was called Cultures of Africa. At the beginning
of the semester, the professor stressed the importance of knowledge and taking advantage
of what is offered to us in college. This idea really hit home for me because I pondered
on the fact that some people do not get to experience this opportunity. Therefore, I felt
that it was necessary to include the semester research paper for this class as one of my
artifacts.
Dating back to my high school years, I have tried to put an emphasis on
community involvement, and I made a conscious effort to continue that trend during my
college years. I have been a guest speaker at a youth basketball camp that was hosted by
my alma mater, Goochland High School. Also, I was a guest speaker at a youth football
camp that was held by the Beaverdam Youth Athletic Association. I find it important to
speak to athletes in their youth, because I can relate since I was in their shoes not all that
long ago. Not only can I relate to the position they are in, but they are also more inclined
to listen to someone that is older who went through similar experiences they are having.
With that said, it is definitely a goal of mine to become a little league football or
basketball coach when I get to a comfortable position in my professional accounting
career.
Another example of community involvement is derived from my affiliation with
Becker Review, which is a review course company that focuses on helping college
graduates pass the CPA exam. I am proud to be in the position of Campus Ambassador
for Bridgewater College, because I am in charge of distributing marketing materials to
accounting students at Bridgewater. This encourages them to sign up with Becker when
they are ready to start studying for the CPA exam. Also, if any of the students have
questions then they can come to me, and if I do not know the answer then I have several
direct sources that will provide me with the answer. Therefore, this is a fulfilling position
because it adds to my responsibilities during my time at Bridgewater College.
It is also worth mentioning that I have made an effort to become more
knowledgeable about national issues such as topics revolving around the U.S.
government. I think it is very important for students in college to have a solid
understanding of what political positions they stand for. Those that do not understand
what they are even voting for are not doing the community any favors. With that said, I
felt it was important to include an essay from Microeconomics as a bonus artifact. The
topic for this essay was to research aspects of the Affordable Care Act, also know as
ObamaCare. I enjoyed researching this topic, because it definitely gave me a better
understanding of a national issue that many people have a strong position on one way or
the other. Basically, I am trying to say that those who are oblivious to political issues are
not positively impacting their community by voting. Therefore, I will be sure to obtain an
extensive understanding about who or what I am voting for in the future.
Along with the two aspects I have already discussed, it is important to spend some
time focusing on how ethical development has impacted me as a student and as a person.
From my point of view, ethical development refers to several ideas. One meaning of
ethical development is one's ability to incorporate other's ideals and being open to what
others stand for, without necessarily compromising what you as an individual stand for.
Also, I think ethical development includes how effective an individual is at building
relationships with peers and professors. The reason I think this concept is related to
ethical development is because relationships are built on trust, so if an individual has
good morals and values then that is directly related to the type of relationships he or she
is able to create and build on.
When I saw the topic ethical development, I immediately thought about the honor
code that Bridgewater College stresses in the classroom and on the campus as a whole. I
was raised valuing the importance of trust, so Bridgewater has really stressed the
maintenance of this value throughout my academic career. Also, I really believe that it is
very important for students to complete their own work, without the aid of an outside
source such as a person or a cheat sheet unless the professor permits it. I have had this
conversation with multiple people, and the reason I am so adamant that people should do
their own work is because if you do not know how to complete the task at hand now, then
you definitely will not know how to do it when you are in the workforce. Therefore, I am
serious about doing my own work, because I want to know what I am doing when I am
pursuing my career in accounting.
It is definitely evident that I have demonstrated exemplary values, because of the
relationships that I have developed with my professors. I felt that it was necessary to
include a letter of recommendation as a bonus artifact in order to display how my
professors have perceived me. My accounting professor, Tom Rosengarth, wrote the
letter of recommendation that I included as a bonus artifact, in which he recommended
me for the internship that I was fortunate enough to have this past summer. I included this
artifact, because it shows how professors can know students on a personal level at a
small-size college. Therefore, I am proud to reflect on the relationships I was able to
build with my professors, and I hope to maintain these relationships with them
throughout my professional career.
As I touched on earlier, respect is a very important topic to explore when
discussing ethical development. The reason I bring up respect is because college is a time
when we are introduced to many different personalities and backgrounds, and we are
expected to get past those barriers by being open to opposing views. It was not very
difficult for me to get along with differing personalities, because I have always been well
rounded and always had a wide range of friends with different backgrounds. However,
there have been several instances where disputes and arguments arose between my
roommates and I, and the majority of the time a different personality is simply the
catalyst for that argument. With that said, I feel that I have made a conscious effort to
understand where the opposing argument made a valid point, and I acknowledge when I
agree with a point that I may not have thought of before the argument started. Therefore,
going to college and experiencing many different points of view has really improved my
maturity level and my respect for people's opinions and values that I may not agree with.
When I think of ethical development, I tend to think about how one has developed
his or her morals. I think I have fairly descent morals and values; however, there is
always room for improvement. With that said, I included a paper from New Testament as
an artifact, because I felt there is a relationship between my experience in that class and
my efforts to improve upon my morals. Even though the class New Testament was just
meant to dissect the Bible and compare and contrast different sections, the class really
encouraged me to read the Bible more consistently. This will ultimately put me on the
right path to improve my morals as best as possible, because everything we are called on
to do is laid out right there in the Bible. Therefore, by reading the New Testament for this
class and writing response papers about the literature, I have felt the desire to become
even more engaged with the Bible and strengthen my faith.
The last dimension to explore when reflecting on my time at Bridgewater College
is wellness and the goals I have for healthy living in the future. When it comes to
wellness, I have never really had a problem because I am always very active with sports.
In fact, during my first two years at Bridgewater, I participated on the Bridgewater
Football Team. At that time I was in the best shape of my life, because of the weight
training and conditioning that was necessary in order to compete at the collegiate level.
During the offseason, we would be up at 6 a.m. running sprints and completing lifting
workouts so we would be physically ready for the upcoming season. Therefore, during
my time on the Bridgewater Football Team, it is definitely clear that exercise was a vital
part of my physical wellness.
The reason I put an emphasis on exercise being a positive aspect of my well
being, is because I must admit that my eating habits could see an improvement. There are
times when I make a conscious effort to eat healthy, but for the most part I eat whatever
and wherever sounds appealing at the time. After reflecting on how I have eaten during
my time at Bridgewater, it is evident to me that I need to change my eating habits in the
future. Another reason I am going to be serious about changing my eating habits is
because heart problems are very common in my family. Therefore, I need to do my part
to help prevent or at least minimize the effects of hereditary heart problems.
Another aspect of my wellness and healthy living at Bridgewater is derived from
my continuous participation in intramurals. Ever since my freshman year, I have
participated in basketball and softball. Then, in my junior and senior year, I included flag
football to my lineup of intramural sports. Intramurals are a great way for students to stay
active throughout the school year. Along with intramurals, I enjoy playing pick-up
basketball games on any given day that I have free time in the afternoon. This is another
way to stay active on a continuous basis, and it is also a positive that basketball is
something I really enjoy playing. To top it all off, I have forged many friendships through
intramurals and playing pick-up basketball that have lasted for my entire career at
Bridgewater College.
Even though the consistency level of my weight training and conditioning has
declined since I stopped playing football, I am planning on setting aside time to make
trips to the gym. The catalyst for this sudden spark in my interest in wellness and healthy
living comes from the class I attended in the fall semester of my senior year called
Conditioning and Weight Training. This class encouraged me to regain my motivation to
consistently lift and run in order to maintain my wellness. I felt it was necessary to
include a workout that I designed for this class as a bonus artifact, because without this
class I may not have found the encouragement to increase my level of activity. Therefore,
along with my continuous activity when it comes to sports, I think consistent workouts in
the gym will put my wellness and healthy living goals where I want them to be.
Looking ahead to months following graduation, I am planning on obtaining my
Certified Public Accountant (CPA) license. We will see how it all plays out, but it is a
strong possibility that I will be working for a public accounting firm while working on
obtaining the CPA license. Unlike the majority of students majoring in accounting, I was
fortunate enough to come into Bridgewater with twenty-six college credits. This set me
up perfectly, because I do not need to go to graduate school in order to obtain 150 credit
hours, which is required to be a CPA in Virginia. Therefore, within the next several
years, I see myself with a respectable public accounting job in the Richmond, Virginia
area. Looking ahead even further, I am planning on becoming a partner for a public
accounting firm that I have spent a substantial amount of time working at. Even though
becoming a partner is a very difficult task, I think my determination and diligence will
pay off and ultimately put me in the position where I can achieve that title.
I think it was very beneficial and important to reflect on the last several years of
my life, and bring it all together in an essay. There have been many experiences that
positively impacted my life, and set a solid foundation for success in my future career
path. From practicing better communication skills to learning essential accounting
functions, Bridgewater has afforded me the opportunity to have a successful and fulfilling
career in accounting. On top of that, I have forged and built many friendships that I will
carry forward for the rest of my life. I am definitely happy with my decision to attend a
small liberal arts college, such as Bridgewater College, in order to obtain my education
and experience a fulfilling social life. I appreciate my overall college experience at
Bridgewater and feel positive that it has afforded me the needed skills to have a
successful future.