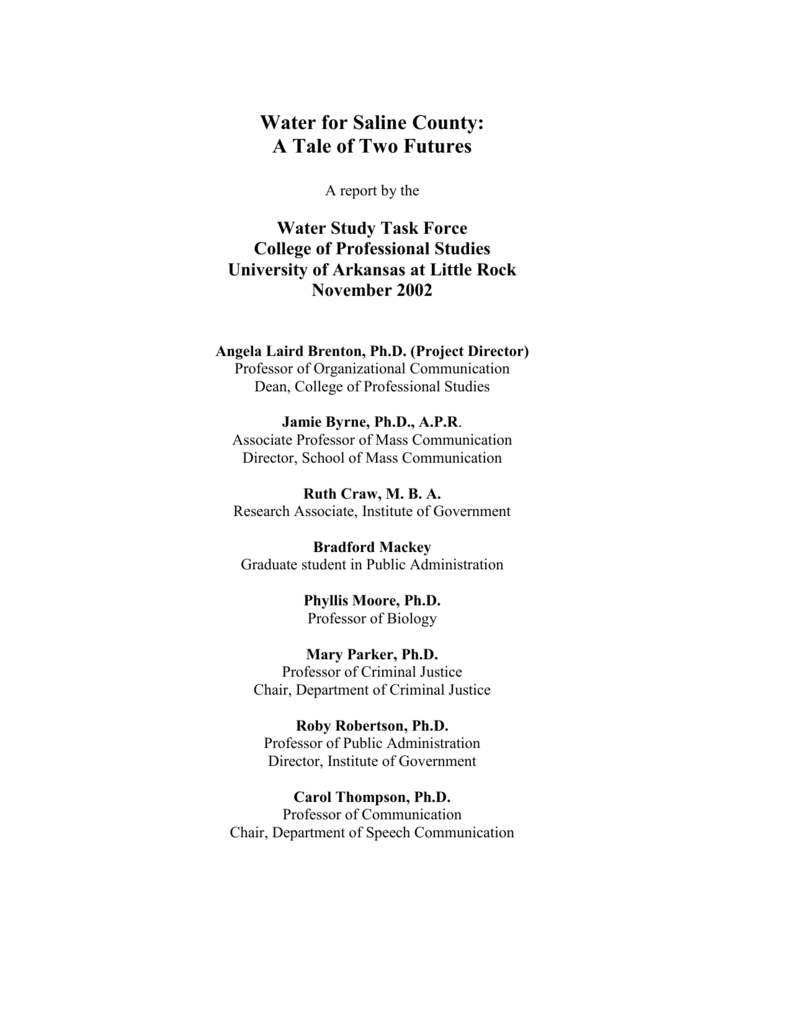 Water for Saline County:
A Tale of Two Futures
A report by the
Water Study Task Force
College of Professional Studies
University of Arkansas at Little Rock
November 2002
Angela Laird Brenton, Ph.D. (Project Director)
Professor of Organizational Communication
Dean, College of Professional Studies
Jamie Byrne, Ph.D., A.P.R.
Associate Professor of Mass Communication
Director, School of Mass Communication
Ruth Craw, M. B. A.
Research Associate, Institute of Government
Bradford Mackey
Graduate student in Public Administration
Phyllis Moore, Ph.D.
Professor of Biology
Mary Parker, Ph.D.
Professor of Criminal Justice
Chair, Department of Criminal Justice
Roby Robertson, Ph.D.
Professor of Public Administration
Director, Institute of Government
Carol Thompson, Ph.D.
Professor of Communication
Chair, Department of Speech Communication
Table of Contents
List of Tables
List of Figures
Acknowledgements
Chapter 1: Introduction: A Tale of Two Futures
Chapter 2: Background and Process of Study
Chapter 3: Water System History: A Chronology of Near Misses
Chapter 4: A Patchwork Quilt: A Description of Water in Saline County
Chapter 5: Geology of Water Resources in Central Arkansas
Chapter 6: Water Capacity and Future Needs
Chapter 7: "If we could see ourselves as others see us": a narrative of perceptions
Chapter 8: Five Critical Considerations
Chapter 9: A Proposed Solution
Chapter 10: Implementation Plan
Chapter 11:
Summary and Final Thoughts
Appendices
A: Studies Consulted
B: Map of Water Service Areas and JP Districts
C: Copy of Regional Water Distribution District Legislation
D. Cost Estimates – Ouachita Pipeline
E. Draft of Commitment Form for Water Entities
Task Force Biographical Profiles
List of Tables
Table 4-1
Table 5-1
Table 5-2
Table 5-3
Table 5-4
Table 6-1
Table 8-1
Water System Fact Sheet
Comparison of Total Ground Water and Total Surface Water Use
in the United States, Arkansas, And Saline County
Comparison of Water Use in the United States, Arkansas, and Saline County
for Various Water-Use Categories
Comparison of Public Supply Ground Water and Public Supply
Surface Water Use in the United States, Arkansas, and Saline County
Comparison of Selected Impoundments in Central Arkansas
Saline County and Arkansas Population
with Percentage Change, 1970-2000
Water Rates of Selected Cities in Arkansas
List of Figures
Figure 4-1
Figure 4-2
Figure 5-1
Figure 5-2
Figure 6-1
Figure 6-2
Figure 9-1
Figure 10-1
Number of Residential Meters by Purveyor
Average Water Usage by Purveyor
Geologic Provinces of Arkansas
Approximate Aerial Extent of Major Aquifers in Arkansas
County Population Growth Rates 1990 – 2000
Projected Population Growth for Saline County through 2050
Location of Lake Ouachita, Greers Ferry Lake, Lake Maumelle,
Lake Winona, and Lake DeGray
Implementation Process Flow Chart
Acknowledgements
The eight members of this task force were honored to have been chosen by UALR Chancellor
Charles E. Hathaway for the important task of helping Saline County to develop the cooperation
necessary to work toward a long-term water source for the county. We were also honored that Saline
County came to UALR for assistance. In the five months we have worked on this project, we have
talked to over 100 individuals in the county. We have been impressed and encouraged with the vision,
openness and cooperative spirit we have encountered. Perhaps a resident who spoke in the public
meeting we sponsored best summed up the spirit. He stated, "I am here representing the interests of my
children and grandchildren. We have to find a long-term water source to promote the long-term vitality
and growth of Saline County." We could not have completed this project without the help and
cooperation of a great many people. We wish to acknowledge their role.
We are grateful for the vision and leadership of Judge Lanny Fite and the 14 water purveyors
who made a request to Chancellor Hathaway for UALR involvement in finding a long-term water source
for Saline County. We are also indebted to the assistance of Joy Ballard in Judge Fite's office who
coordinated many of the logistics of conducting the study.
The following representatives from city and rural water associations gave much time and input
into the study process, often in multiple interviews and meetings: Kenneth Anderson, Chair of Saline
Water and Sewer Board; Jerry Andrews, Benton water manager; Willard Ashley, East End water
manager; Al Behm, Hot Springs Village; Phil Daugherty, Arkansas Health Center, Dennis Eskew, Hot
Springs Village water treatment manager; Diana Goforth, Water Users L.L.C.; Jeff Gonyea, Arkansas
Health Center; Herman Harley, Southwest Water Users; John Kennedy, Bryant water superintendent;
Dickie Kentner, Chair of Salem Water Users Board; Earl Kirkpatrick, Chair of the Sardis Water Board;
Ralph McDaniel, Chair of the Water Board, East End; Bob McKeon, Saline Water and Sewer; Marion
Monk, Planning and Project Manager, Hot Springs Village; Roger Moren, Sardis water manager; Mike
Nally, Salem Board member; Jim Ort, Shannon Hills water manager; Richard Penn, Bryant City
Engineer; Herman Thurman, former chairman, Salem Water Board; Frank Torres, Sardis water board
member; Bobby Westbrook, Haskell water manager; Rudy Westbrook, Paron/Owensville Water
Association; David Whitlow, Director of Public Works, Hot Springs Village.
A number of public officials representing Saline County also provided leadership and input on
this study. Mayors of municipalities in Saline County provided a great deal of time and encouragement
to this study, sharing reports and data, responding to proposals, and granting multiple interviews. They
include Jeff Arey, Haskell; Larance Davis, Shannon Hills; Paul Halley, Bryant; Eddie Jones, Bauxite;
Lynn Moore, Benton, and J. W. (Bill) Ramsey, Tull. Dave Johnston, General Manager of Hot Springs
Village was also very involved in the study process. Mayor Steve Northcutt of Malvern was also
interviewed. State officials representing Saline County also provided useful input including Bob
Adams, state representative; Shane Broadway, Speaker of the House; Mike Creekmore, state
representative; Dwight Fite, state representative; Judy Pridgen, state senator, Roger Smith, state
representative; and Doyle Webb, former state senator. Speaker Broadway was also helpful in
moderating a public meeting on water held in Benton.
Quorum Court Members for Saline County also helped to shape our views. They included Pat
Bisbee, District 1; Mike Kemp, District 2; Robert Nowlin, District 3; Herman Reeves, District 4;
Carolyn Counts, District 5; Sue Johnston, District 6; Doug Curtis, District 7; Buster Warrick, District 8;
Owen Bullock, District 9; Jerry Landreth, Dictrict 10; Herrell Smith, District 11; J. R. Walters, District
12; and Patrick Rhodes, District 13.
Several local, state, and national officials were invaluable in providing documents, contacts, and
advice. They included Randy Young, Director of Arkansas Soil and Water Conservation Commission;
Earl Smith, Arkansas Soil and Water Conservation Commission; Jim McKenzie, Director of Metroplan;
Robert Hart, Chief Engineer and Jeff Stone, District Engineering Supervisor, Arkansas Department of
Health; and Gordon Watkins, U.S. Army Corps of Engineers, Vicksburg group.
Individuals associated with other water systems in the state also offered valuable insight about
their experiences including: Jane Dickey, former chair, Central Arkansas Water board; Jim Harvey,
Executive Director, Central Arkansas Water; Jerry Martin, Engineer, ESI, Springdale (consultant for
Two Ton Water Association); David Menz, attorney and consultant on Regional Water Distribution
Districts; Steve Morgan, Director of Regionalism, Central Arkansas Water; James Tanner, Public Works
Manager, Carter Burgess Engineering; Francille Turbeyville, Chair, Central Arkansas Water board; and
Steve Wear, Assistant Director, Conway County Regional Water Distribution District. We especially
appreciate the access that Steve Morgan granted us to meetings of the Middle Arkansas Water group and
to drafts of the Black and Veatch study being done for a regional water supply. We benefited from a
presentation at the last meeting by Mike Biggs, a representative of the Little Rock Office of the U.S.
Army Corps of Engineers about the process for re-allocating water in reservoirs managed by the Corps.
James Tanner of Carter Burgess voluntarily updated cost estimates from the 1996 Water Study in Saline
County. David Menz offered legal opinions about provisions of the Regional Water Distribution
District Act.
Many Saline County citizens offered input in individual interviews and in groups meetings.
They included: General Tom Arwood, President, Hot Springs Village Property Owners Association;
Calvin Brown, consultant on Lake Avilla project; Greg and Marilyn Brown, Benton; Rita Edwards,
Benton mayoral candidate; Lee Garrett, Southwest Water Users Association; Mark Gillis, Benton
Chamber of Commerce; Rick Holland, Benton mayoral candidate; Ervin and Nina Huey, Shaw
Community, Hurlon Ray, Owensville; John Whitney, VP for Research, Rineco Chemicals; Rae Ann
Fields, Bryant Chamber of Commerce.
A number of citizens (in addition to those already previously cited) also attended a public
hearing on the water study. They included: Hugh Battershell, Gerald Baxley, Jim Bolt, David Bragg,
Rita Brown, Terry Brumbelow, Owen C. Bullock, Warren Burleson, Richard Davis, Kami Fletcher,
Maurice Fletcher, Frank Gilbert, Bob Griffin, Marsha Guffey, Lacresha Hamilton, Kim Harper, Dan
Henry, Ken Jaggers, Brian Larson, Gloria Maganel, Jean Mouton, Jamie Mullens, Steward Noland,
Forrest Payne, Ralph and Wilma Raney, Grady and Betty Rollon, James T. Sloan, Diana Whitlow, and
Nell Williams.
Jeff Runder, Policy Analyst and GIS Planner with Metroplan, offered great assistance in
preparation of maps for this study showing water district boundaries and how they related to Quorum
Court districts.
Dr. Jeffrey B. Connelly, Associate Professor of Geology and Chair of the Department of Earth
Science at UALR, wrote the Chapter on Geology of Water in Central Arkansas for the Little Rock/North
Little Rock water study and kindly allowed us to revise and reprint it in this report.
The Institute for Economic Advancement at UALR and the State Data Center offered valuable
assistance in providing population projections for Saline County. Amy Cole Shivers of IEA who
designed and produced the Little Rock/North Little Rock report was helpful in sharing electronic copies
of data from that report for use in our study. Amy Oliver Barnes, Director of the Office of
Communications at UALR and staff members Joan Duffy, and Angi Dixon were of great support in
designing and publishing this study report and in coordinating the logistics of the press conference to
release it.
The staff members of the College of Professional Studies, Nancy Davis, Linda Baugh and Dr.
Robert Mock offered assistance and extra coverage while the Dean was in Saline County on interviews
or closeted in her office editing the final draft.
Dr. Joel Anderson, Provost of UALR, and Project Director for the Central Arkansas Water Study
offered advice, encouragement and support each step of the way as this study process evolved and is
greatly responsible for UALR's commitment to practical problem solving in our extended community.
We dedicate this project to the spirit, dedication and vision of the people of Saline County.
Angela Laird Brenton
Jamie Byrne
Ruth Craw
Bradford Mackey
Phyllis Moore
Mary Parker
Roby Robertson
Carol Thompson
Chapter 1
Introduction
A Tale of Two Futures
Future One
Imagine Saline County in 2020. Water has been flowing from the Lake Ouachita pipeline for
nine years, providing excellent quality water at reasonable rates. Population in the county has increased
by 50 percent. New upscale housing developments have flourished. As professionals have made the
county home, they have eventually located their small businesses closer to their homes to end the
commute to Little Rock. The county has been successful in attracting service industry and
manufacturing plants because of the excellent labor pool and the ready availability of water to support
manufacturing processes.
The political cooperation achieved in creating the Saline Watershed Regional Water Distribution
District to administer the water system has produced unexpected benefits. Relationships have been
formed that have helped in resolving disputes between municipalities and rural areas. Water was the
springboard to more regional cooperation on transportation, tourism, economic development and growth
planning.
The Saline Watershed Regional Water Distribution District is in an advantageous position for
entering into partnerships and agreements with surrounding areas, including selling water to neighboring
districts. The District has many options for future development and has the autonomy to pursue the
course that best serves its customers. Almost weekly the water board receives requests from around the
state or region from politicians and water officials seeking information on how to create a successful
regional water system.
The children of the visionaries who set aside rivalries to create the Saline Watershed Regional
Water Distribution District are now running Saline County. Water doesn't come up as an issue very
often any more at City Council or Quorum Court meetings. Citizens are satisfied with the quality and
price of water, and know that they and their children have a secure water future.
Future Two
Imagine a different future for Saline County in 2020. Water rationing is being debated again.
Water flow in the Saline River has dried to a trickle in summer months. Citizens learned during last
summer's severe drought that the existing impoundments weren't enough to meet the county's demands
for water. Industrial waste upstream has added to the difficulty of water treatment, and the county may
not meet new stringent federal requirements for water treatment. Underground water tables have
continued to drop, leading to the prospect of state regulation. Homeowners have faced the prospect of
moving away or trucking in water as wells have gone dry, and efforts to drill new ones have been
unsuccessful. Environmental lawsuits add additional uncertainty regarding water supply.
The growth that Saline County had experienced at the turn of the century has slowed and
reversed. Water purveyors, limited in their water supply, have placed a moratorium in adding meters to
their service areas. Developers, discouraged by the uncertain supply of water and high cost, have moved
to other areas of central Arkansas for their upscale developments.
The county has had limited success in courting industry. One large company moved out of the
county because water supplies would not support a planned plant expansion. Others have made
decisions to locate in areas where water was more plentiful. Businesses, which had come to Saline
County around 2000 anticipating dramatic growth, have now closed as population growth has stagnated
and reversed. The corridor between Little Rock and Benton, once a vital area of stores and eating
establishments, has declined. The decline in tax base has affected schools and public services in the
county. Many of the children raised in the area have moved to areas with a brighter economic future.
Faced with the reality of water shortages, politicians have sought new long-term water supplies.
Unfortunately, Lake Ouachita has now been allocated to other water users. Other options have
drawbacks. When leaders negotiate with nearby water systems to buy water they are at a disadvantage
because of the relatively small number of customers served by each purveyor. Some face loss of
autonomy over water. Fighting over water has continued to plague the relationships among cities and
rural associations in the county, with legal costs draining already stretched resources. County leaders
now look back in regret at how close the county had been to a long-term water solution back in 2002.
Many of the county problems could have been averted if there had been the vision to create a regional
water system for the county.
A Choice for the Future
We are convinced that the leaders of Saline County stand on the threshold of a choice that will
determine the future of this area. They can choose to set aside decades-old rivalries and make the
compromises necessary to work together for a long-term water source. On the other hand, they can
choose to let mistrust and complacency with existing water supplies blind them to the opportunity at
hand.
As we have studied the history of water issues in the county, we have been struck by how many
times the county has been within inches of a solution, only to let the opportunity slip away. Many times
the fragile cooperation has been shattered by relatively minor matters – jealousy over land deals, standoffs on representation issues, differences of pennies in water rates.
Although the 100+ Saline county residents we have interviewed have had different ideas on
water sources, administration of the system, treatment options, and rate structures, they have spoken
with one voice on the necessity of a long-term water source for the region. We heard the same phrase
dozens of times: "We must find a way to work together. None of us can afford to go for a long-term
water source alone. This may be our last opportunity to find a way to cooperate."
We were struck by a statement in the minutes of the Water Users Group from Nov. 28, 1995 as
they sought countywide cooperation in seeking a long-term water source:
"Everyone agreed that the biggest deterrent for developing the most efficient water system for
the citizens of Saline County was a lack of trust between the municipal and rural water systems. The
group believes that both the municipal and rural water purveyors want to do the right thing for the
people they each represent. It was said again, and agreed to by all, that the key to finding a solution to
long-term reliable water supply for the citizens of Saline County, whether municipal or rural, was not in
engineering, but in breaking down the human barriers that prevent communication and cooperation."
Everyone agrees that cooperation will be necessary to take on the enormity of financing and
logistics for a long-term water source for the county. No one entity can do it alone. To become a
credible partner for a larger regional initiative, Saline County must also be united. We believe that the
University of Arkansas at Little Rock can assist Saline County leaders in developing a framework to
build that cooperation on water, a goal that has eluded the county for over 40 years. We are optimistic
based on the responses we have received during the last four months that the time is ripe for a solution,
and that in the year 2020, your children will commend the wise choices made by leaders in the year
2002.
Chapter Two
Background and Process of the Study
Request for study
On April 3, 2002 Saline County Judge Lanny Fite forwarded a request to Dr. Joel Anderson,
Provost at UALR and Project Director for a water study of Little Rock/North Little Rock, to do a similar
water study for Saline County. The letter stated:
" Earlier this year in my official capacity as County Judge, I convened a meeting of the water
purveyors within the county . . . This meeting produced tangible results and displayed a spirit of
cooperation from those represented . . . (I)t was the consensus of the group that UALR be asked
to participate, offering an additional objective opinion as to the options that are available for a
long-term, cost-effective water supply for our county. The purveyors in our county recognize
your success and expertise as it relates to the creation of Central Arkansas Water."
The request was signed by 14 of the 17 water purveyors in Saline County. The three nonsignatories are water providers with limited service areas and small numbers of meters served. Dr.
Anderson, along with Dr. Angela Brenton, Dean of the College of Professional Studies, and Dr. Roby
Robertson and Ruth Craw of the Institute of Government at UALR, met with representatives of water
purveyors on May 1 to discuss the project. Subsequently, the UALR group met with UALR Chancellor
Charles Hathaway who made the decision to authorize the project. He agreed to a study with specific
and limited objectives. In the project proposal accompanying his letter of acceptance, he wrote:
We propose to focus on how various water entities within the county can cooperate both in
seeking a long-term water source, and in the distribution of water within the county. This will
necessarily involve issues relating to the cooperation of municipal and rural water purveyors.
We will review engineering studies and make observations on various alternatives for long-term
water sources, but would not anticipate making a specific recommendation on what that water
source should be. Such a decision in the end is influenced by political as well as financial and
engineering determinations, and is best made by leaders within the county. This type of focus is
essentially the same as the study group took in the Little Rock/North Little Rock water study that
resulted in the creation of Central Arkansas Water.
He asked Dr. Brenton to serve as project director and appointed seven members to a Water Study
Task Force to conduct the project. Members of the task force approached the project with objectivity
and a fresh eye. Only Dr. Phyllis Moore, Professor of Biology and former Director of the Department of
Pollution Control and Ecology, had experience with municipal water issues. Only Dr. Roby Robertson,
Director of the Institute of Government, also served on the Little Rock/North Little Rock study group.
Two task force members had previously lived in Benton. We began our work with few pre-conceptions
regarding a solution.
Between July 1, 2002 and Nov. 1, 2002 we conducted interviews with over 100 individuals. We
spoke with the Saline County Quorum Court as a group. We held a public hearing to hear from citizens.
We talked to each water purveyor on at least two occasions. We spoke with public officials representing
the county. We reviewed all relevant studies. We spoke with individuals in state and federal agencies.
We reviewed national data on regional water systems. When we had tentative conclusions we went back
to water purveyors to gain feedback. We have sought our best to provide a report with credible
information, candid summaries of what we heard in interviews, and conclusions based on thorough and
fair analysis of options.
Water Issues and Needs in Saline County
Water has been a significant issue in Saline County for over 40 years. Finding ways to serve
municipal and rural residents with high quality, plentiful, and reasonably priced water has been a
continuing quest. County leaders have sought to create a long-term water source over that forty-year
period. Two attempts to create large regional reservoirs have failed, at least partly because of an
inability to reach consensus among the various water purveyors and citizen groups within the county.
Several factors have led to the current water initiative:






A countywide planning effort has identified water and sewage as one of the top two planning
concerns of citizens of Saline County (along with transportation).
The regional planning group led by Central Arkansas Water seeking a long-term water source
offers new prospects for cooperative activity on Lake Ouachita.
New political leadership within the county embraces a cooperative long-term water planning
process to provide water supplies that will accommodate growth over the next 50 years.
Controversies over rural water districts forming a partnership with Malvern to secure water from
a new treatment facility on the Ouachita River have lent urgency to the need for a countywide
water solution.
Continuing litigation over boundaries of municipal and rural water districts calls for a solution.
The creation of Central Arkansas Water has created perceptions of both threats and opportunities
as Saline County water purveyors attempt to assess the implications for long-term water
contracts.
Previous Initiative on Lake Ouachita
In 1995-96 a group of water purveyors joined together to create a coalition to seek a long-term
water source. They commissioned an engineering study to investigate a variety of water options. On the
basis of that engineering study they chose Lake Ouachita as the most promising source. They sought to
use the remainder of sales tax funds collected for the aborted Lake Avilla project to build a pipeline to
Lake Ouachita to serve the long-term needs of the county. At the end of that effort, only seven entities
chose to participate in the collaboration. Because they could not gain a broader commitment of county
water purveyors, the circuit judge declined to release the sales tax funds for the project, and the initiative
failed.
Several interviewees have mentioned, "If we only could have gotten everyone on board in 1996,
we would have Ouachita water flowing through the pipeline by now." Even though this earlier effort
failed, it provides a foundation to build on in this effort. Learning from the past will prevent costly
mistakes for the future of Saline County.
Two Themes
Two themes will be woven throughout this report: 1) Current water sources in Saline County
will be insufficient to support continuing growth of the county; and 2) Cooperation and partnerships will
be essential to secure a long-term water source for the region.
Organization of report
The next four chapters provide context for the discussion of a long-term water solution. Chapter
3 discusses the history of water in Saline County, with the chronology of near-misses in securing a longterm water source. Chapter 4 describes the patchwork of water systems currently serving the county.
Chapter 5 analyzes the geology of water resources in central Arkansas, with particular insights about the
capability of groundwater sources and rivers for meeting long-term water needs. Chapter 6 looks at
present capacities and projects future water needs to support growth within the county.
The next section will help the reader understand the critical issues that a water plan will need to
address. Chapter 7 presents perceptions we have gleaned from interviews about how various water
entities have perceived each other over the years. Chapter 8 outlines five critical issues that must be
addressed by any water plan in Saline County.
In Chapter 9 we make and explain our recommendations for the creation of the Saline Watershed
Regional Water Distribution District, and present a detailed implementation plan.
Chapter 3
History of Water in Saline County:
A Chronology of Near Misses
Early water systems and plans for impoundments: 1914-1962
The importance of water to the residents of Saline County can be documented back to the early 1900's.
In 1914 water was a primary issue in the Mayor's race in Benton, with R.C. Bailey winning the election
on a platform of "water works for Benton." In 1916, Benton's first water treatment facility was built for
a total cost of $90,000. The water was drawn from the Saline River and was treated along side the banks
of the Saline River. (1)
In the 1930's the state built a water treatment facility on the campus of what now is known at the
"Arkansas Health Center" (formerly the Benton Services Center), to support the activities of the Center
and its residents. It was expanded in the 1950s.
In 1937, the Flood Control Act of 1937 was passed by Arkansas Legislature and required that every
major stream of the Ouachita Basin be dammed. The Saline River was among the rivers to be dammed,
but due to budget cuts the Corps of Engineers were unable to start the damming project on the Saline.
Industrial pressure also had impact on the prospect of damming the Saline River. Alcoa and Reynolds
Metal located in Saline County and leaders thought that in order to attract additional industry to the
county, damming the Saline was inevitable.
In 1953, leaders in Saline County received a $250,000 grant from the federal government and through a
tax on the citizens of Saline County raised approximately $75,000 to build Lake Norrell. Lake Norrell
was intended as a backup water supply for the Saline River, with waters released from the lake into the
Saline River to keep the flow of the river adequate to support water treatment.
By the 1960's Benton had a modern water treatment facility and distribution system, which drew water
from two different locations on the Saline River. During this same timeframe plans to finance and build
a huge water reservoir (Lake Benton) in Saline County were derailed on the eve of the announcement of
federal approval. Many believe that infighting among citizens of Saline County derailed the project,
which would have provided water to a much larger region than the county alone.
Development of rural water associations: 1963-1972
In 1963 Benton was approached by a group of rural residents in Saline County who wanted Benton to
provide treated water beyond the city's perimeters to replace the wells that most water users in the rural
areas were using. Benton, still struggling to provide water to all within its city limits, declined to
become the primary provider of water to the county as a whole. Instead Benton recommended that the
rural groups form water districts or associations to build water infrastructures of their own to supply
water to residents in their areas.
In 1966, the Town of Tull developed a water system to serve its residents and those of surrounding
areas. The areas served included portions of Saline County as well as Grant County, where Tull is
located.
In 1968 the Salem Water Association was established as a non-profit organization for the distribution of
water in the Salem area. Salem purchased water from Benton and distributed the water through water
association's lines to its customers.
West Bauxite Water Association formed in 1968 to provide needed water to the surrounding
community. In 1972 the community incorporated to form the City of Bauxite and in 2002 converted
from a water association to a City Water Department.
In 1969 the Haskell Water Department was developed to provide water from city wells to residents of
the city. Well water was used in Haskell until 1994 when Haskell reached an agreement with the
Arkansas Health Center to purchase treated water from their water treatment plant.
Within this same timeframe, the idea of damming the Saline River emerged again as a viable long-term
solution to the water woes of the central Arkansas area. In fact in 1968, the director of Metroplan stated
that Little Rock would run out of water by the year 2000 and a dam at Benton offered the best source of
additional water.
In 1972 the Southwest Water Association was formed.
Growth, conflict, and missed opportunities: 1973 to present
In 1973 the battle over damming the Saline River went to the State Capital, where a bill was introduced
that would have banned future damming on the Saline River and preserved it as a free flowing river.
The battle was fierce and tension over the issue was so high that then Governor Bumpers intervened and
asked for a restudy of the issue, thus killing it once again.
In 1974, the Salem Water Association filed the first of many lawsuits over water issues. This lawsuit
dealt with the annexation of Salem water customers into Benton city limits and Benton's removal of
those customers from the Salem Water Association's customer rolls, even though Salem was still
providing the water to those customers. The suit was decided in 1979 with the Federal Court ruling in
favor of the Salem Water Association; requiring Benton to return the questioned customers to the Salem
water rolls and reimburse the Salem Water Association the monies collected from those customers to
date.
In 1975 The Corps of Engineers held a public hearing on the future water supply for Saline County.
Again damming the Saline River was raised as a viable option for a long-term water source for the
county.
In 1978 the Saline County Water and Sewer Public Facilities Board (doing business as Woodland Hills)
was formed and in 1979 the East End Water Association was formed.
In the early and mid 1980's conflict between the Salem Water Association and Benton emerged again
over such issues as the refurbishing of a water storage tank, and Benton's practice of selling water that
flowed through the Salem pipes to Bryant with no compensation to Salem.
In 1988 Paron and Owensville started work on finding a reliable, high quality source of water for their
communities. Through their partnership with the North Garland County Water Association, just this
year (2002) they have a fully developed water system in Paron and Owensville from a pipeline to Lake
Ouachita.
In 1988 Benton attempted to raise the wholesale water rate to the water associations, from $.78 per
1,000 gallons to $1.70 per 1,000 gallons, a substantial increase in the rate. The water associations sued
Benton for price gouging and the parties settled on a rate increase of $1.07 per 1,000 gallons. The court
ordered the parties to settle all remaining issues which resulted in a 1991 ruling by the court which
ordered Benton to pay Salem for all proceeds of water sold to Bryant that passed through the Salem
Water Association waterlines and for the cost of repair to those lines as a result of the sale of water to
Bryant.
In 1988 Bryant entered into a 20-year water contract with Little Rock Water (now Central Arkansas
Water).
In 1989 the Saline County Rural Development Authority was formed to identify a long-term water
supply for the county as a whole. As a result of the efforts of that group, a countywide sales tax was
passed in 1990 for the development of a large reservoir "Lake Avilla." Over the next two years $20
million accumulated in the reservoir fund and was held for the project until citizens in Saline County
filed a lawsuit in 1993, challenging the validity and enforceability of the countywide sale tax initiative.
The lawsuit challenged the reservoir project on two fronts: (1) that the amount of tax revenue produced
by the sales tax was woefully inadequate to fund a project as large as Lake Avilla, and (2) that the
reservoir project itself endangered two environmentally sensitive of marine life; the fat muckle mussel
and the mad tom catfish. The court ruled in favor of the plaintiffs and approximately $8 million was
refunded to citizens who could demonstrate individual sales tax paid by them into the reservoir account.
In 1990, the Salem and Southwest water associations and the Town of Tull formed the Water Users
Limited Liability Company (LLC) to consolidate the reading of water meters, billing, distribution and
maintenance for the three water associations. It opened the door to customers in 1992.
In 1994 Shannon Hills entered into a 15-year water contract with Little Rock Water (now CAW). In
addition, in 1994, another countywide group was formed to develop a regional water plan. The group
hoped to reach consensus on a long-term water source and a method of distribution so that they could
tap into the $12,000,000.00 remaining in the reservoir account. Seven rural associations agreed to form
the Saline County Water Users Group and participate in, not only the study, but in the development of
the new water source. The committee ultimately recommended a pipeline to Lake Ouachita as the most
viable long-term water source for the county and recommended a 9-sector water distribution grid that
closely resembled the existing water distribution districts. Benton chose not to participate and the court
required the participation of Benton before releasing any funds from the reservoir account. As a result
the remaining funds in the account were dispersed to various water associations and citizen groups.
In 1996 Hot Springs Village built its current water treatment facility, which was projected to serve the
needs of Hot Springs Village for the foreseeable future.
In 1997 the wholesale water contract between Benton and the water associations expired and Benton
proposed a rate increase from $1.50 per 1,000 gallons to $2.40 per 1,000 gallons. The water
associations counter-offered with a rate of $1.70 per 1,000 gallons of water. Benton contended that an
increase to $2.12 per 1,000 gallons was non-negotiable and filed suit against the water associations
seeking the difference between the $1.50 and $2.12 per 1,000 gallon price. In 2000 the court ruled in
favor of the water associations and found that Benton's rate increase was unreasonable, holding that
Benton could not raise water rates by more than 60 percent.
In 1999 the three water associations of the Water Users Limited Liability Company (LLC) formed the
Quad County Water Users Association (Quadco). The leadership of Quadco petitioned the Saline
County judge for designation as a public facilities board that would allow the group to issue tax-exempt
bonds and carry debt guaranteed on the number of ratepayers in the combined system. The Saline
County judge denied the designation as a public facilities board, so Quadco formed as a public facilities
board through Grant County (through the location of member Tull) and entered into a contract
with the city of Malvern for the construction of a water treatment facility on the banks of the Ouachita
River that would provide water, not only to Malvern, but to the members of the three water associations.
The partnership was encouraged by the Arkansas Soil and Water Conservation Commission, which
promotes regionalism in the development of long-term water sources.
In 2000 Benton filed suit against Quadco and Malvern seeking to stop the water treatment project.
Benton's suit was based on the possible damage to the river and the potential damage to the citizens of
Benton and Saline County from the diverting of water revenue from Saline County to Hot Springs
County. The court dismissed Benton's lawsuit as without merit, allowing the water treatment
development to continue.
In 2002 the Salem Water Board that signed the contract with the city of Malvern was ousted and an
entire new board was seated. Their first order of business was to withdraw from the Quadco contract
with Malvern. This action resulted in Malvern filing suit against Quadco for breach of contract. Also in
2002 the community of Shaw, which is served by the Town of Tull's water system, attempted to form a
water association, citing lack of representation on the Tull city council. Most of Tull's water customers
reside in the unincorporated Shaw community, which is located in Saline County while Tull is in Grant
County.
There is also movement within the memberships of Southwest Water Association and among the water
customers of the Town of Tull to prompt membership and policy change as a result of such issues as the
Malvern water contract.
This brief chronology demonstrates the often-contentious relationships among water entities in Saline
County and the fragmented structure for water administration that has developed in the county. The
timeline also chronicles a number of "near misses" in attempts to form coalitions to secure a long-term
water source – the collapse of plans for Lake Benton in the 60s, the numerous studies of impoundments
by the Army Corps of Engineers, the failed attempt to build Lake Avilla in 1989, the aborted coalition to
build a Ouachita pipeline in 1996 and Quadco's efforts to secure a partnership with Malvern to gain
water from the Ouachita River.
Rather than giving up as a result of these setbacks, Saline County seems determined to learn from past
failures and move forward. Past efforts failed in some cases because of lack of cooperation, secrecy,
and failure to cultivate public support, insufficient state legislative clout, and parties' insistence on
having their own way in any agreement. Leaders know that they must avoid these mistakes if the
current effort to secure a long-term water source is to succeed.
(1) A great deal of information in this chapter was taken from Steven S. Wise, "A Stream of Everchanging Values: The Saline River prior to 1980," unpublished document, Fall 1993.
Chapter 4
A Patchwork Quilt:
Water Administration in Saline County
Currently water administration is fragmented among 17 loosely connected water entities that serve the
water needs of the 83,529 citizens of Saline County (91,446 counting all the residents of Hot Springs
Village). We attempt in this chapter to offer a snapshot of the 14 major current water systems in the
county. The other three purveyors are entities with extremely small service areas and minimal water
meters.
Table 4-1 summarizes basic information from a survey of the 14 major systems. The Saline County
Judge conducted the survey in June 2002. The survey information is used in Figures 4-1 and 4-2, which
are comparisons of the number of residential meters by purveyor and the average water usage by
purveyor.
Water sources currently in use in Saline County include Central Arkansas Water, groundwater wells,
Lake Ouachita, and the Saline River. There are 14 water purveyors using water from the following
sources:
Central Arkansas Water:
City of Bryant, City of Shannon Hills
CAW provides treated water to a distribution point where the cities then distribute water to their
customers. The cities are responsible for reading meters, billing customers and maintaining the
system. Bryant's current contract with CAW will end in approximately six years; Shannon Hills
contract will end in December 2014.
Shannon Hills currently has approximately 900 water meters and there are several new housing
developments at various stages of development including one planned by the developer of
Hurricane Estates.
City of Bryant has 3,928 residential customers and 296 commercial customers. Citizens appear
to be pleased with the arrangement with CAW but there is interest in a countywide development
of a water source. They want an alternative when their contract with CAW ends in six years.
Groundwater Wells:
East End Water Association, Saline County Water & Sewer
Sardis Water Association
The groundwater sources consist of varying subgroups, which are part of the Sparta and Wilcox
formations. Sardis wells are in the Carrizo Sands, which is one of the subgroups. The aquifer
formation tends to feather out providing water in the eastern part of the County but decreasing
westward. The aquifer formation is not available in Benton.
Each of these water associations has their own groundwater wells and treatment plants for well
water. They have full responsibility for the system's operation. These treatment plants are not
suited for treatment of surface water.
East End is an unincorporated community. East End Water Association began in 1979 and was in
full operation in 1981. Soil & Water funded the initial system. East End currently has four wells
and two treatment facilities for ground water and plans to add three more wells. Water quality is
low due to iron and manganese and water levels are dropping. There are approximately 1,900
customers and they expect to have 3,200 in ten years due to population growth with 6-7
subdivisions is anticipated in the near future. Citizens identify with Saline County and want to
maintain independence from Pulaski County.
The groundwater level in Sardis is dropping and they are planning to drill more wells in areas
where groundwater is more plentiful. They currently have three treatment plants with a combined
capacity of 2mgd and are planning for a fourth plant that would double current capacity. Sardis
currently has about 4,600 water customers. There is no identified industry in Sardis, but there is
growth in residential areas.
Lake Ouachita:
Paron and Owensville
Within the past three years, Paron and Owensville, which are not incorporated, have contracted
with North Garland County Water to provide treated water from Lake Ouachita to their
communities. The current contract is for 18 months.
Prior to the contract the North Garland County, Paron/Owensville had private water wells, which
produced very low quality water.
North Garland County received a permit from the U. S. Army Corps of Engineers to access water
from Lake Ouachita and included Paron/Owensville in the project. The treatment plant is located
adjacent to the lake and treated water is then transported by pipeline to the customers.
Paron/Owensville currently have 711 customers, but anticipate that the northwest sector of
Saline County will grow in coming years.
Middle Fork of Saline River: Hot Springs Village
The Property Owners Association (POA) owns and maintains a treatment plant for water taken
from the Middle Fork of the Saline River. They have 6, 802 residential customers and expect to
expand to 9,000 in coming years. Thus plans are underway to expand their treatment plant for
surface water.
They have received approval from the AR Soil & Water Conservation Commission to construct
three dams on tributaries of the Middle Fork of the Saline River for additional sources of water
especially during dry weather. The additional water is needed particularly for recreational
purposes including watering of golf courses. This action has lead to considerable controversy
concerning the quality of water in the Middle Fork.
Saline River: Arkansas Health Center and City of Haskell
The Arkansas Health Center (AHC) is a state facility for treatment of mentally ill, aged and
developmentally disabled. AHC is not expected to increase the number of beds and views their
role in the county water issues as minimal. AHC is under the direct supervision of the State
Board of Mental Health Institutions within the Department of Human Services. The Arkansas
Health Center which is located within the city limits of Haskell obtains water from the Saline
River, treats it and then sells treated water to the City of Haskell. The center pumps water into
small holding ponds and then to their treatment plant, which is 60 years old.
The contract between the Center and Haskell is for 38 years. Haskell currently uses about 50%
of the treated water and under the contract can negotiate for more if needed. Haskell also has a
contract with SW Water Users to provide water for one new housing addition.
The City of Haskell Water Department is charged with the management of the distribution
system. Haskell has 840 customers.
Saline River: City of Benton which also provides treated water for Town of Tull, Salem Water Users,
SW Water Users and City of Bauxite.
The City of Benton accesses water from the Saline River has a treatment plant and then provides
water for the City of Benton and sells treated water to several rural water districts. The treatment
plant has capacity to treat considerably more water than is currently demanded. The Benton
water system is managed by the City Council. Characteristically there were contract disputes
with wholesale customers, which resulted in lengthy periods of time before agreements were
reached in renegotiating contracts. There have also been numerous lawsuits with Benton. Each
purveyor that purchases water from the City of Benton is responsible for meter reading, billing
and maintenance of their individual systems except Bauxite. An organization called Water Users
LLC performs this function for Tull, Salem, and Southwest water systems.
The City of Benton has approximately 9,587 residential customer and 339 commercial
customers. The purveyors that receive treated water from Benton have a total of
6,459 residential customers and few commercial customers.
The Town of Tull is located in Grant County and with assistance from FMHA loan installed
water pipes from Benton to provide water to town residents and residents of surrounding areas,
including portions of Saline County. Tull is responsible for meter reading, billing, and
maintenance for its approximately 650 customers.
Salem Water Users (rural water district) which purchases treated water from the City of Benton,
has experienced several contract disputes with Benton. A 1969 FHA grant was awarded to
Salem to construct water lines and resulted in Salem entering into a 20 year contract with the
City of Benton to purchase treated water. Salem has experienced several contract disputes with
Benton and began to examine other sources of water. Salem has 3,399 residential customers.
Recently the Salem Water Users became a Public Water Authority which was supported by
some individuals in order to reduce loan rates whereas other citizens viewed the Authority as a
means of limiting its open forum to the public. The Water Authority, a member of the Quadco
group entered into a contract with the City of Malvern to support the construction of a treatment
plant on the Ouachita River. Due to citizens concern an annual election of members to the Water
Authority resulted in all of the incumbents being defeated and a new board elected. The newly
elected members oppose the contract with Malvern.
Southwest Water Users (rural water district) purchases treated water from the City of Benton.
They joined the Quadco consortium and signed a contract with the City of Malvern. SW is
growing with small housing developments. They have 2,250 residential customers. A group of
members is challenging the legitimacy of the board and have filed suit for a new board election.
An artifact of the original bylaws requires a quorum of 51% of membership to hold elections.
This quorum is almost impossible to achieve and has resulted in a postponement of elections.
City of Bauxite has about 182 customers. The Bauxite Water Association will become a City
Department this fall. The City will negotiate a new contract with Benton this fall. The city is
anticipating a need for additional water to serve an industrial park and a future expansion of
Pulaski Tech.
Saline County water purveyors include a mix of municipalities, one property owner association, one
state government unit and rural water associations. The governing structure also varies for City Councils
to Association Boards.
Property Owner Association
Hot Springs Village
AR State Government
Arkansas Health Center
Municipalities
Bauxite, Benton, Bryant, Haskell, Shannon Hills,
Tull
Rural Associations
East End Water District,
Paron, and Owensville
Salem Public Water Authority
Saline County Water & Sewer
Sardis Water Users
S.W. Water Users
Most of the rural association water systems were originally financed by federal funds including FMHA
and more recently by government funds allocated by the AR Soil & Water Conservation Commission.
Chapter 5
Geology of Water Resources in Central Arkansas
Central Arkansas presents a variety of geological characteristics that decision makers should take into
account when making a choice for a new long-term supply of drinking water. The relevant
characteristics of central Arkansas and their implications for water policy will now be reviewed.
Where does drinking water come from? Its source is either ground water or surface water.
Ground water
Ground water is found below the surface of the earth in an aquifer and is drawn for drinking or other
human purposes by wells.
Beneath the earth's surface there are areas where the rock and sediment are fractured and porous and
water accumulates. One might see a similarity with a bucket of sand and gravel which will also hold a
quantity of water. Such underground zones where water accumulates are called aquifers. Some aquifers
are hundreds of feet deep and hundreds of miles long and wide.
In an earlier day the term "well" brought to mind a round hole, dug perhaps a dozen feet deep that filled
with underground water that was drawn up by a bucket on a rope. Today a well is typically a large pipe
that is inserted down a hole that has been drilled deep into the ground and to which a pump has been
attached to draw water to the surface for distribution.
Ground water is used for drinking water supply in areas where the concentration of people exceeds what
can be supported by available local surface water, or where the quality of the local surface water is poor.
The quantity of ground water is highly variable and is determined by the local geology. The availability
of ground water depends on the permeability, saturated thickness, and depth of the aquifer. Where
geologic conditions are favorable, significant quantities of ground water may be available. If a low
permeability (confining) layer is present over an aquifer, it is much less susceptible to contamination
than surface water.
Surface water
Surface water is found above ground and is most often seen in streams and lakes.
Streams are usually natural. Lakes, however, may be natural or may be man-made impoundments
produced by placing a dam at a critical point on a free-flowing stream. In Arkansas, there are municipal
impoundments that have been built as supplies of water for cities. Little Rock, Conway, and Fort Smith,
for example, secure drinking water from impoundments built for that specific purpose. There are other
impoundments built by the U. S. Army Corps of Engineers at the direction of the U. S. Congress for
power generation, flood control, recreation, and/or drinking water supply. Lake DeGray, Lake
Ouachita, Greers Ferry Lake, Lake Norfork, Beaver Lake, and Bull Shoals Lake are all examples of
Federal impoundments built for multiple purposes.
Surface water is more commonly used as a drinking water supply than ground water primarily because it
is more accessible in most areas. Also, if the watershed — the surrounding territory that serves as a
catchment area for the water that runs into and fills the lake or stream — of the surface water supply is
protected, the water quality is likely to be superior to that of ground water, as ground water typically has
a higher amount of dissolved minerals in it. In addition, if a surface water body becomes contaminated,
it is easier and less expensive to clean because of its greater accessibility and because the water is moved
out and replaced in a fairly short period of time.
Disadvantages of surface water include the ease with which unprotected surface water can become
contaminated. Rivers and large lakes have historically been used as disposal sites for untreated
wastewater and sewage and are highly susceptible to other types of contamination such as spills of
hazardous materials and runoff of agricultural herbicides and pesticides. An additional disadvantage is
the often numerous competing interests for surface water such as recreation, hydropower generation,
flood control, and transportation that may limit the use of surface water as a supply of drinking water.
Precipitation
Precipitation primarily in the form of rain is the ultimate source of water that recharges streams, lakes,
and aquifers. The average annual precipitation in central Arkansas is about 50 inches. Due to this
abundant precipitation, an annual average of 18 of the 50 inches leaves central Arkansas as excess
stream runoff. This excess water, however, is not always where it is needed nor is it available when it is
needed. Surface water impoundments have been constructed for, among other purposes, collection and
storage of excess stream flow during wet periods. Water from these impoundments can be used during
dry periods when water use exceeds available water. Much of the water that does not leave the area as
stream runoff or is not trapped by impoundments is returned to the atmosphere by evaporation and
transpiration by plants. A small fraction of the precipitation infiltrates the surface of the earth and
recharges aquifers underground.
Geology of water
Other than precipitation, the underlying geology is the primary influence on the surface and ground
water resources of an area. Arkansas contains five geologic provinces: the Ozark Region, Arkansas
Valley, Ouachita Mountains, Mississippi Embayment, and Gulf Coastal Plain (See Figure 5-1.) With the
exception of the Ozark Region, each of these provinces extends into central Arkansas. Each geologic
province exhibits distinctly different rock types, rock structure, and topography.
[Insert figure 5-1]
The Ozark Region, Arkansas Valley, and Ouachita Mountains occupy the northwestern half of the state
and are often together referred to as the Interior Highlands. The Mississippi Embayment and Gulf
Coastal Plain together comprise the Coastal Plain. The Coastal Plain occupies the Eastern and Southern
parts of the state, and meets the Interior Highlands along a northeast-southwest trending line that runs
through Little Rock called the fall line.
The contrasting geologic conditions of these two topographically distinct divisions have a profound
effect on water resources. The consolidated rocks of the Interior Highlands have low permeabilities that
limit the amount of ground water available. The steep topography of this area results in rapid runoff of
surface water. Streams crest and recede quickly, inhibiting flow of water from the streams into the
ground-water reservoir. Many of the streams cease to flow in periods of drought. In contrast to the
Interior Highlands, the higher permeabilities of the generally unconsolidated sediments of the Coastal
Plain favor reception and transmission of water. Significant amounts of ground water are therefore
available. The flat topography in this area results in slow-flowing streams. All but the larger streams
cease to flow during dry periods.
Water use in central Arkansas
Population concentrations and supplies of fresh water are sometimes poorly matched. For example, in
water-poor, population-rich states such as California, a relatively small amount of fresh water is
available in comparison to the population. In contrast, Arkansas is a water-rich, population-poor state
with abundant fresh water available. Central Arkansas, the most populated part of the state, is water-rich
by national standards.
The U.S. Geological Survey collects information nationwide about the amount of ground and surface
water used, categorized by the following purposes: public supply (drinking water,) commercial,
industrial, power, mining, agriculture, and irrigation. Nationally most people derive their water supplies
from fresh water surface bodies rather than ground water. Saline County's proportion of surface water
use for all purposes, about 80 percent, is very close to the national average of 81 percent (Table 5-1).
This proportion contrasts with the 37 percent statewide in Arkansas. The numbers for Arkansas are
skewed by the extensive use of ground water for irrigation in the eastern part of the state.
Table 5-1.
Comparison of total ground water and total surface water use in the United States, Arkansas, and Saline
County.
U.S.
Arkansas
Saline Co.
Total Ground Water Total Surface Water
19%
81%
63%
37%
20%
80%
Source: U.S. Geological Survey, U.S. 1995, Arkansas and Saline 1997
In Saline County nearly 80 percent of this water is used for public supply. In contrast, just 6 percent of
the water statewide is used for public supply and almost 70 percent is used for irrigation (Table 5-2).
Table 5-2. Comparison of water use in the United States, Arkansas, and Saline County for various
water-use categories.
U.S.
Arkansas
Saline Co.
Public Supply Irrigation
12%
39%
6%
69%
79%
1%
Industrial
6%
2%
7%
Other
43%
23%
13%
Source: U.S. Geological Survey, U.S. 1995, Arkansas and Saline 1997
For public supply, Saline County uses around 75 percent surface water and 25 percent ground water—
similar proportions to Arkansas as a whole. Across the U.S. the proportion of public supply water,
which comes from surface sources, is somewhat lower, as shown in Table 5-3.
Table 5-3. Comparison public supply ground water and public supply surface water use in the United
States, Arkansas, and Saline County.
U.S.
Arkansas
Saline Co.
Public Supply
Ground Water
38%
23%
25%
Public Supply
Surface Water
62%
77%
75%
Source: U.S. Geological Survey, U.S. 1995, Arkansas and Saline 1997
Ground water in central Arkansas
Water-yielding rocks within the central Arkansas region belong to several aquifer systems including the
uppermost aquifer system (the alluvial aquifers), the deeper and older Mississippi embayment aquifer
system (the deep Tertiary aquifers), and the Ouachita Mountains aquifer. Figure 5-2 shows the
approximate aerial location of aquifers across Arkansas.
[Insert Figure 5-2]
Western and central Saline County lies within the Ouachita Mountains aquifer, shown on the Interior
Highlands Aquifers map. This aquifer essentially coincides with the Ouachita Mountains geologic
province, an 80-mile wide belt composed mostly of highly deformed shale, sandstone, and chert that
extends from central Arkansas westward into Oklahoma. The Ouachita Mountains are topographically
characterized by alternating east-west trending ridges, with sandstone or chert and parallel valleys
underlying them, and with a layer of shale under the sandstone and chert.
Only limited quantities of water for domestic and non-irrigation farm use can be obtained from wells
completed in the Ouachita Mountains aquifer. Most wells completed in the aquifer yield less than 50
gallons per minute, and many wells yield less than 10 gallons per minute. Wells with the highest yields
are found in areas where extensive fracturing has occurred due to the folding and faulting of the rocks.
Water quality is suitable for drinking purposes in most areas of the Ouachita Mountains aquifer.
Extreme southeastern portions of Saline County lie above the Sparta Aquifer and the Wilcox Aquifer.
These aquifers are part of the Mississippi Embayment aquifer system, the most extensive aquifer system
in Arkansas. It underlies the large portion of the state (the Mississippi Embayment and Gulf Coastal
Plain provinces) east and south of the fall line. The Mississippi Embayment aquifer system comprises
several aquifers of poorly consolidated to unconsolidated sand, silt, and clay that are separated by thick,
regionally extensive clay and shale confining units. Aquifers within this system include the Nacatoch,
the Wilcox, the Sparta, and the Cockfield. Each of these aquifers occurs in the subsurface of central
Arkansas. Communities in central Arkansas that utilize aquifers of the Mississippi Embayment aquifer
system include Sardis (Wilcox), East End (Sparta), Cabot (Sparta), Grand Prairie (Sparta), Coy (Sparta),
England (Cockfield), and Ward (Cockfield). The Sparta is the most productive aquifer in the
Mississippi Embayment aquifer system and the only aquifer with potential as a significant water source
for central Arkansas.
The Sparta aquifer is capable of producing water in properly constructed wells at a rate of 300 to over
1000 gallons per minute. Although well yields can be high, the Sparta has a much lower storage capacity
than the alluvial aquifers. The Sparta is therefore used primarily for municipal and domestic purposes
rather than for large-scale irrigation of crops.
Water within the Sparta aquifer in central Arkansas is suitable for drinking purposes in most areas. The
dissolved solids concentration is less than 500 milligrams per liter in most areas, and concentrations of
all constituents that could adversely affect water quality are below maximum contaminant levels for
drinking water. Dissolved solids, iron, and manganese concentrations in some areas, however, exceed
secondary maximum contaminant levels (SMCL). SMCL's are established by the U. S. Environmental
Protection Agency and represent concentration levels that may cause undesirable cosmetic effects (such
as skin or tooth discoloration) or undesirable aesthetic effects (such as bad taste, odor, or color) in
drinking water. These secondary standards are not mandatory and are used as guidelines only.
Communities in central Arkansas east of Little Rock are within the alluvial aquifer system, which
includes the Mississippi River Valley alluvial aquifer and the Arkansas River alluvial aquifer. This
aquifer system lies above the Mississippi Embayment aquifer system. The extensive Mississippi River
Valley alluvial aquifer is the principal source of water for irrigation in Arkansas. It underlies most of
Arkansas east of Little Rock (the Mississippi Embayment province) and is up to 250 feet thick.
Communities in central Arkansas that utilize this aquifer for public water supply include Lonoke,
Carlisle, Ward, and Grand Prairie in Lonoke County and Jacksonville in Pulaski County. The Arkansas
River alluvial aquifer occurs as a thin band along the Arkansas River from Little Rock westward to Fort
Smith and is less than 100 feet thick at most locations. The City of Maumelle uses this aquifer for water
supply. The aquifer system is capable of yielding large quantities of water through wells, especially
when the saturated thickness of the aquifer is large. Although water quality within this aquifer is
suitable for most uses, large concentrations of iron and excess hardness in some locations make the
water undesirable for some public supply and industrial uses.
Surface water in central Arkansas
Numerous streams, including the Arkansas River, drain runoff water from central Arkansas
southeastward to the Mississippi River and on to the Gulf of Mexico. The streamflow is lowest during
June through October, the period of highest water demand. The ability of a stream to satisfy water
demand depends primarily on the amount of flow that is available during extended dry periods. Smaller
tributary streams, and some larger streams, are often unable to provide sustained year round streamflow.
A dependable year round water supply may require storage of water in a reservoir. Dams and their
accompanying reservoirs are usually designed to serve multiple purposes. Water stored in these
reservoirs may be used for recreation, flood control, hydropower generation, irrigation, and public water
supply. In the case of Federal reservoirs, a change in authorized use can be made through Federal action.
Several major reservoirs have been constructed that do or could serve central Arkansas. Those with the
sole purpose of water supply include Lake Winona and Lake Maumelle built and owned by Little Rock.
Corps of Engineers reservoirs constructed with multiple purposes include Lake Ouachita, Lake DeGray,
and Greers Ferry Lake. Smaller side stream reservoirs, such as one constructed along the Saline River
for the City of Benton, are used for water supply only. Recent Federal environmental legislation and
policy changes make it unlikely that any new large reservoirs will be constructed in the near future. A
summary of the dimensions and capacities of these reservoirs is provided in Table 5-4.
Table 5-4. Comparison of selected impoundments in central Arkansas.
Lake Winona
(Alum Fork-1938)
Lake Ouachita
(Ouachita River-1953)
Lake Maumelle
(Maumelle River-1956)
Greers Ferry Lake
(Little Red River-1964)
Lake DeGray
(Caddo River-1972)
Watershed
(Sq.Mi.)
Surface Area
(Acres)
Volume
(acre-ft.)
Max. Depth
(feet)
Avg. Depth
(feet)
44.4
1,216
41,730
100
34.7
1,105
40,000
2,151,000
200
60
137
8,896
219,440
45
24.7
1,146
31,500
2,844,000
190
-
393
13,824
635,000
200
46
Water in most streams originating in the Ouachita Mountains and the Arkansas Valley is generally of
exceptional quality. Because rocks in these areas are consolidated, have relatively thin soil cover, and
often are heavily vegetated, most streams contain only small amounts of sediment and dissolved
minerals. In contrast, runoff in streams flowing over the unconsolidated rocks of the Mississippi
embayment and the poorly consolidated rocks of the Gulf Coastal Plain generally contains more
sediment and is more mineralized. Much more easily eroded surface materials and agricultural activity
contribute to the poorer quality of surface water in these areas.
The largest stream in central Arkansas, the Arkansas River, has a naturally high content of suspended
and dissolved solids. In addition, the river receives agricultural runoff and industrial and municipal
discharges. However, the quality of the river's water has been improving in recent decades, and with
proper treatment water from the Arkansas River can be made suitable for drinking.
Ground water problems in Arkansas
Ground water problems in Arkansas are fairly widespread and include declining water levels, poor
natural quality, and contamination. As a result of large-scale water withdrawals for irrigation (largely for
rice cultivation), significant declines in ground-water levels have occurred in the Coastal Plain of
Arkansas. The most dramatic area of water level decline is within the Grand Prairie area of east central
Arkansas where water level declines of over 90 feet have been reported. The large water withdrawals
have resulted in the formation of a "cone of depression" in underground water levels between the
Arkansas and White Rivers. This depression extends as far westward as eastern Pulaski County, where
water-level declines of up to 20 feet have occurred. Significant declines in water levels have also
occurred in the Sparta aquifer. Where this aquifer is used for industrial purposes, such as in El Dorado,
Magnolia, and Pine Bluff, large withdrawals have resulted in large declines in water levels, which in the
El Dorado area exceed 250 feet. In southeast Pulaski County, declines of about 40 feet have occurred.
The safe yield of an aquifer is the amount of water that can be withdrawn from that aquifer on a
continuing basis without causing serious depletion effects. If the safe yield is exceeded, well yields are
reduced, an influx of water of poor quality (e.g., saltwater intrusion) may occur, and loss of the aquifer
(dry wells) may ultimately occur. Because of the excessive withdrawals of water for irrigation, the safe
yield has been approached or exceeded in parts of the alluvial aquifer and Sparta aquifer. In 1998, the
Arkansas Soil and Water Conservation Commission (ASWCC) declared aquifers in parts of six counties
of east-central Arkansas (including Lonoke and eastern Pulaski Counties) critical ground water areas. A
critical ground water area is an area where the quantity of ground water is rapidly becoming depleted
(declines of over 1 foot per year are occurring or the water level drops below the top of a confined
aquifer) or the quality is being degraded. A five county area of the Sparta aquifer in southern Arkansas
was designated a critical ground water area in 1996.
Poor natural water quality due to salinity occurs several places in the surficial aquifer system including
the Arkansas River in central Arkansas. Most occurrences of saline ground water are the result of
migration of natural brines from deep sources. The saline water in the Arkansas River alluvial aquifer,
however, may be the result of recharge from the Arkansas River, which at times contains saline water
derived from salt beds in Kansas and Oklahoma. In recent years, saline water occurrences have
increased in areas such as Union County as a result of decline in fresh water levels caused by large
withdrawals.
Aquifers exposed at the surface such the alluvial aquifers are susceptible to various types of
contamination. The lack of an extensive confining unit overlying the aquifer makes these aquifers
vulnerable to contaminants such as industrial and agricultural byproducts. Also, salt-water
contamination from deep brines or from Arkansas River water may contaminate these aquifers,
especially in those areas of excessive ground water withdrawal.
Surface water problems in Arkansas
The safe yield of a stream or river is the amount of water available on a dependable basis that can be
developed for a surface water supply. Dependable streamflow is the flow that is present in a stream 95
percent of the year. Not all of this dependable streamflow is actually available for use, however, as some
flow must be maintained to satisfy minimum streamflow requirements. Minimum streamflow
requirements may need to be maintained for various purposes including navigation, hydropower
generation, interstate compacts, and maintenance of fish and wildlife habitat, water quality standards,
and aesthetic quality of the stream. The safe yield of a stream, therefore, is the amount, which can be
withdrawn 95 percent of the time above the amount necessary to maintain minimum streamflow
conditions.
All streams in central Arkansas have little to no safe yield. The instream flow requirements for these
streams equal or exceed the dependable flow of the stream. Direct diversion from streams in central
Arkansas, therefore, is not possible during low flow conditions. For example, the dependable flow of the
Arkansas River is less than 3000 cubic feet per second, which is the instream flow requirement for
navigation on the river. Because the Arkansas River has no safe yield, an accompanying storage
impoundment would be required for this stream to supply water year round.
The water supply problem in this area is the limited availability of good quality ground water in relation
to local needs, in addition to the constraints that exist in the development of tributary streams as sources
of supply.
Policy implications
The preceding review of the geology of water in central Arkansas suggests three broad observations that
decision makers should consider when choosing a new water supply.
First, from a conservation perspective, surface water can be viewed as a renewable resource and ground
water a nonrenewable resource. Water levels of lakes and streams fall in dry seasons but then rise again
when the rains return in a more or less annual cycle in Arkansas. In contrast, ground water in a number
of areas in the state is a finite and dwindling resource. Aquifers recharge very slowly. If an aquifer is
subjected to excessive withdrawals of water on a continuing basis, it is not renewable in any practical
sense. Wells in it will run dry, and the aquifer itself can actually collapse and be lost permanently.
Second, because Arkansas has been a water-rich state, there has been only limited attention to water
conservation. Use of surface water can be one means of conservation of ground water. Evolving Federal
regulations appear likely to require that public supply systems give more attention to conservation of
water.
Third, the dependence of Arkansas on ground water for agricultural use, as shown clearly in Table 5-3,
strongly suggests that any time surface water can be used for other purposes in the state, surface water
should be used for those purposes. If costs of irrigation rise due to a scarcity of ground water, a rise in
food prices is likely to follow.
Key points
Here are key points, which emerge from a review of the geology of central Arkansas:
The geology of the central Arkansas area is diverse and controls the location of ground water and, to a
lesser extent, surface water resources.
Surface water is more commonly used for public water supply primarily because it is more accessible
and, if the watershed is protected, of better quality than ground water.
The only aquifers in central Arkansas potentially prolific enough for large-scale public supply, the
alluvial and Sparta Aquifers, are severely stressed by the overuse for irrigation and industrial purposes.
Ground water quality of these aquifers is also questionable in some locations.
Approximately 79 percent of the total water used in Saline County is for public supply, most of which
(80 percent) comes from surface water. In contrast, only 6 percent of water used statewide is for public
supply, as irrigation (69 percent) dominates water use in Arkansas. Over 90 percent of water for
irrigation is derived from ground water sources.
Streams in central Arkansas, including the Arkansas River, have little to no safe yield. Use of surface
water from a stream, therefore, requires that impoundments be constructed near streams to receive and
store water for later use.
Existing impoundments near central Arkansas with potential to supply additional water to the region
include Greers Ferry Lake, Lake Ouachita, and Lake DeGray. Water quality from each of these lakes is
of exceptional quality.
Because of high water quality, minimal additional environmental impact, and abundance of available
water, each of the three existing impoundments deserves a high ranking as a possible choice for future
water supply for central Arkansas. Proximity and relative elevation conducive to gravity flow make
Lake Ouachita the logical choice for Saline County.
Chapter 6
Water Capacity and Future Needs
Water and Need
You awake in the middle of the night and go turn on the faucet. Out comes a nice steady stream of clear
and cool water. For many of us, that is where we start and stop thinking about water and its availability.
But there are parts of Saline County, indeed there are whole areas of Arkansas (especially in the East)
where that simple assumption faces often a daily test.
Arkansans, and especially those of us in Central Arkansas are comfortable in the availability and the
relative inexpensive nature of water. We have a history of effective wells drawing groundwater into our
rural areas and expanding them into rural water districts and we have well established surface water
systems as well.
Indeed the reality of Central Arkansas (including Saline County) is not only the abundance but also the
high quality of water available. Given current problems in the eastern part of our state, and more
dramatic stories of divisive conflicts over water in our Western states, one might wonder what the
"need" is at all.
Sidebar on headlines here
One distinction is required. What is a short-term need versus a long-term need for water? There will be
little agreement about the specifics of such a question. Most of us in our daily life, however, consider
short-term issues to be less than a year. Such a definition is not adequate when discussing water systems.
One can even suggest that a solution of 10-20 years is still short-term in the water arena. There are two
obvious reasons: a) it often takes over a decade to truly develop a new source of water; b) it requires an
enormous amount of planning and development to make such a solution operational--from issues as
complex as long-term financing to seemingly simple issues such as providing right-of-ways to lay pipes
to move the water.
So, what really is long-term in the water system business? Again, no source would define total
agreement. But planning for water must look beyond a decade, even beyond two decades. Frankly,
when possible, engineers in this arena urge fifty plus year solutions so that one's children and
grandchildren have sufficient and safe water.
Water and Public Perception
What does the public in Saline County think about water? Obviously, there are multiple views on an
issue as complex as water. However, we have found almost complete agreement that a new water
source is needed in Saline County from almost every aspect of the county.
First, the general public's attitude on a range of long-term policy issues was recently examined by a
special study commissioned by the County Judge and the Quorum Court for its Comprehensive Master
Plan. The top two issues were clear in both a broad public survey as well as follow-up focus groups:
transportation and water. (Figure 6-1). Water was widely regarded as an essential issue (Figure 6-2) and
in fact 70 percent of respondents to the survey ranked developing a long-term water supply plan as
"definitely needed." (Saline County Comprehensive Master Plan Citizen Survey, 2002).
In a public hearing the UALR Task Force held in September in the County Courthouse, the
overwhelming consensus of those present was that Saline County needed a new water source--and
specifically that it met long-term needs for generations to come.
Finally, in our numerous interviews with elected officials, water purveyors, engineers, state officials,
local business groups, and all the technical people concerned about water, there was a consistent theme-major change must occur to secure a long-term water solution for all customers in the county.
On this issue, there seems little controversy. New water is needed in Saline County to meet its longterm future.
Water and Growth in Saline County
All demographic/population estimates of growth in Saline County suggest considerable growth over the
upcoming 50 years. Of course estimating population growth is a very inexact science, but many experts
believe Saline County will grow over 100 percent in the next 50 years. Table 6-1 shows growth over
the past 30 years and how it has surpassed the state average. The map in Figure 6-3 shows the growth
rates of Arkansas counties between 1990 and 2000, with Saline County as one of the fastest-growing
counties in the state.
Table 6-1
Saline County and Arkansas Population with Percentage Change, 1970-2000
2000
Population
% Change
70-80
80-90
Saline
83,539
47.2
20.7
30.1
Arkansas
2, 673,400
18.9
2.8
13.7
Source: Arkansas Statistical Abstract, 2002
90-0
At UALR, the Institute of Economic Development has two different estimates of Saline County growth
over the ensuing decades. The more conservative model suggests that Saline County will grow to 93,300
by 2010; the other model posits that the County may reach 102,000 by 2010. Table 6-2 summarizes
these population projections.
Table 6-2
Projected Population Growth for Saline County through 2010: Two Estimates
Trendlong0302 Simulation
Projections from Time Series Extrapolations
2001
2002
2003
85,830
87,230
88,440
85,775
87,577
89,380
2004
2005
2006
89,520
90.480
91,250
91,183
92,985
94,788
2007
2008
2009
2010
91,890
92,420
92,880
93,270
96,591
98,393
100,196
101,999
Source: UALR Institute for Economic Advancement. Trendlong Simulation provided by Dr. John
Shelnutt, Time Series Extrapolations provided by Dr. Gregory Hamilton.
Recently, Black and Veatch Engineering was commissioned by the water systems throughout Central
Arkansas to estimate water needs through 2050. Their calculations were based on current populations,
estimates of population growth, and production of water through the middle of the 21st century. These
estimates suggest that Saline County population will double by 2050. (Figure 6-4.)
As we have noted, different population projections lead to slightly different usages, but however one
projects growth into the future, Saline County will continue to grow at a rate much faster than the state,
as well as much faster than Pulaski County to its north. For the most part, county leaders we
interviewed welcomed continued growth in Saline County, recognizing that a larger tax base will
provide for better schools, more city services, and more jobs for its citizens. Because of the rapid and
continuing growth, Saline County's water needs are real and critical. Numerous engineering studies we
have reviewed have made estimates about how much more water will be needed for that growth and it is
their conclusion that existing systems cannot meet that growth. We agree.
We have not attempted to estimate the long term commercial and industrial needs, but this economic
fact must be considered. Although not all industry and commercial development require more than
average amounts of water, many do. Those who seek to develop property for commercial and/or
residential use consider quality and affordable water central to the infrastructure development of any
project.
As researchers on this study, we have been impressed with how effective individual water systems in the
County have provided the necessary water as development has gone forward, although there has been
controversy in that process (e.g. various impoundments in and around Benton, environmental
controversies around the Middle Fork). It is apparent from our research that a thoughtful process of
developing future water for Saline County is essential for the growth and prosperity of the County in its
future.
Inadequacy of current water sources to support growth
Is there enough water? Can the current supply, treatment and distribution systems meet the County's
needs? As we noted previously, with some exceptions, the answer in the short term is yes, but only in
the short term. Long-term development is required. Even with upgrades of existing systems under
consideration or underway in Benton, Sardis and Hot Springs Village, these plans do not meet the longterm needs of Saline County. Whether it is major upgrades required in treatment facilities (Hot Springs
Village), new wells in ground water systems (Sardis) or upgrades to treatment capacity (Benton), all still
meet the 'short-term' needs of the County. However, the long-term needs have not been as carefully
documented. Benton, through its own engineering study reported this year, had recommended:
The development of water supply resources is an extremely lengthy process, requiring
adherence to extensive government regulation and environmental considerations. It
also requires participation and cooperation of various governmental entities and the general
populace. The city's 20-year water supply availability is not necessarily long-term
in terms of lead-time required to additional source provision. It is therefore recommended that
work be initiated now to ensure than an additional source of water will be available when
it is needed. (Preliminary Engineering Report to Benton, 2002, pg. 15).
Groundwater
Three water associations in Saline County rely on groundwater. Most have been forced to drill
new wells to meet continuous growth in water needs. Water tables are dropping even in the abundant
Sparta aquifer, causing problems in water quality and volume. The U.S. Geological Survey wrote in a
recent publication:
The Sparta and Mississippi River Valley alluvial aquifers are major water sources for
municipal, industrial and agricultural uses. Recently the demand for water in some areas
has significantly exceeded recharge to the aquifers, and water users and managers
have begun to question the ability of aquifers to supply water for the long term . . . The USGS
and Arkansas Soil and Water Conservation Commission developed a regional-scale
computerized ground-water flow model in the mid-1980s for testing water-use strategies
that could affect the Sparta aquifer. Modeling shows that the aquifer cannot supply water for
more than 30 years at the currently increasing demand. (USGS, Science for a changing world:
Arkansas, July 1999 p. 2)
While the most urgent concern about groundwater resources center on eastern Arkansas, the general
principle of the limits of groundwater resources apply to Saline County as well. Since groundwater
aquifers "recharge" much more slowly than lakes as a result of rainfall, they are considered a finite
resource, while surface water impoundments are renewable based on the plentiful rainfall in the state. In
a recent study of long-term water resources, Black and Veatch engineers wrote this about groundwater
options:
"As a result of large-scale groundwater withdrawals primarily for rice farming,
groundwater levels in the state are declining. Declining aquifer water levels create a
multitude of problems for everybody. Because of excessive withdrawals of groundwater, the safe yield has been approached or exceeded in the alluvial and Sparta
aquifers. Due to the safe yield concerns, concerns relating to poor water quality due to
saline incursions consistent with declining groundwater levels . . . alternatives using
groundwater sources will not be considered," (Black and Veatch, Mid-Arkansas Regional
Water Supply Study Draft Report, October 2002, p. 4-1).
Saline River options
Both Benton and Hot Springs Village draw their water from the Saline River -- Benton from the North
Fork and Hot Springs Village, from the Middle Fork. The major issue is the requirements for long-term
water is not in the "use" of the Saline River, but in the various determinations of "safe yield." The
Arkansas Department of Environmental Quality (ADEQ) defines "safe flow" as the amount of water
available from dependable stream flow 95 percent of the time as reduced by the amount of discharge
necessary to maintain a minimum stream flow. Both Benton and Hot Springs have constructed
impoundments to store water for use during low flow summer months of the river. Benton has such a
facility in the Chenault Reservoir that has a storage volume of approximately 190 million cubic feet (or
put in capability terms, the ability to supply raw water at a rate of 12 mgd for 120 days). The City of
Benton also is able to release water from Lake Norrell, a city-owned impoundment and a tributary of the
North Fork of the Saline River. Hot Springs Village uses Lake Lago for the same purpose.
Current impoundments can meet short-term needs but both Benton and Hot Springs Village understand
the limits of the River, especially in times of low flow and draught, make any meaningful safe yield
problematic for the long term. Hot Springs Village realizes that they need not only a potable water
supply but also water for recreational purposes within the community. Indeed, in the Black and Veatch
study just completed, both Benton and Hot Springs Village preferred to take the river "off the table" for
consideration of long-term needs.
Summary
Saline County does not face the desperate short-term water needs that many areas of the country
are experiencing. Streams, lakes, and underground water tables provide a variety of options for meeting
water needs. However, the county has grown rapidly and by most projections will continue to grow
faster than the state as a whole. Most water sources in the county will be sufficient for five to 20 years.
However, water systems are complex to authorize and construct. A longer planning time frame is
necessary to adopt on water issues. Leaders in the county are wise in looking for water sources that will
be sufficient 50 to 100 years in the future.
Chapter 7
"To see ourselves as others see us":
Perceptions about water in Saline County
Saline County is in transition and transitions can be rocky. Thorny, persistent problems often erupt
hampering the ability to trust people who live in different cities, towns, and municipalities as conflicts
widen and biases soar. As one interviewee put it, "We need to rebuild trust in this county, work on
interpersonal issues." Problems as they have existed in the past, however, need not become a barrier to
making wise decisions that embrace the entire county tomorrow.
Researchers involved in this investigative report listened to the voice of the people who live in Saline
County and as they listened, major issues affecting county residents unfolded. Careful listening also
uncovered several solutions to those critical issues. For 100 or more interviews researchers adopted a
neutral mindset to get inside multiple issues and record what the interviewees were actually saying in a
way that fully represented their points of view.
Part of the function of any credible study is to reflect back to the people involved their own attitudes and
perceptions about each other in an unedited, unencumbered fashion. In this way, participants get to see
themselves as others see them. We hope the clarity of these perceptions become one of the first steps in
developing unity throughout the county.
As our research group heard negative comments about parties within the County, we recognized these
perceptions often were generated through only having access to partial information, to discussions held
behind closed doors, and to a lack of representation of all parties in key decisions. Because our only
recourse is to develop perceptions based on the information we are given, lack of information yields
perceptions that are necessarily more biased than those generated from full, complete and open
information.
We were gratified to learn that representatives from all parties representing municipalities and water
associations of Saline County seemed committed to finding a long-term solution to water issues. Even
after expressing distrust of certain parties involved in the conflicts, people interviewed closed with
statements such as, "But now is the time we need work together," and "We've got to make it work.
We've got to make it happen this time." People seem willing to pierce the dense veil of resentment and
distrust that has swirled around the county for so long, to perceive clearer, brighter, water-enriched
future.
Embedded in the comments below is a struggle to change how Saline County perceives itself. County
perceptions are transforming. Formerly, individual loyalty was only to the water associations or
municipalities. Now people are beginning to view all entities as a part of a larger whole, the whole of
Saline County. This broader perspective of a sense of county or even regional ownership will ultimately
foster a solution.
Below we have categorized comments about various water entities and subjects. The comments we
have presented in some instances are direct quotes and in other are close paraphrases of opinions we
heard during the interview process.
Perceptions of Benton











Benton has used water as a tool to control growth in surrounding areas. Because they controlled
the water, they could put a moratorium on the numbers of new meters that rural water
associations could add.
Benton would not try to deal fairly with rural areas. Rural people are people, too.
Benton has been arbitrary in setting water rates for wholesale customers. They could not provide
good rationales to justify rate increases.
Benton has excellent water quality and has supported much of the growth in Saline County.
We could have had a cooperative water effort to get water from Lake Ouachita in 1996 if Benton
had been willing to cooperate in any way. Even though the group bent over backwards to let
Benton join the group without paying a fee, they refused. They even refused to sign on the
agreement when all they had to do was say they would hook onto their water main from the
Ouachita pipeline.
Water is a cash cow for the city of Benton.
Benton opposed Malvern and Quadco because they couldn't afford to lose 40 percent of their
customer base.
We might have trouble with Benton and other systems if we work for a countywide solution, but
Benton needs to come in for a countywide solution to work. There is a long history of acrimony
with the city of Benton.
We have had no problems with Benton as our water provider.
Benton can't dictate everything for the rest of the county, but it tries to
Benton would not provide water to rural areas in the 70's and encouraged rural water
associations to form to meet the need. Now that those associations have grown and become
large and successful and the rural associations have built all the infrastructure, Benton wants to
pick off the profitable developments to serve.
Benton appears to be in the position of being the "big dog" in the Saline County fight. Other water
providers realize that Benton is essential to any regional solution, but resent it when Benton seems to
dictate terms of the collaboration. In the past Benton has had little need to negotiate with smaller towns
and municipalities and encouraged them to form their own water associations to meet their water needs.
As we enter the 21st century, however, water issues have become critical to the county and to the nation
as a whole. Most entities in Saline County are rethinking their previous stances and most recognize the
need for a different organizational structure to meet future needs.
Comments about rural water associations and smaller municipal water systems


Rural water associations do not serve their customers well when they deny them the ability to go
on city water systems when they voluntarily annex into city limits. The customer could get
better water rates, fire flow water pressure, cheaper homeowners' insurance and other benefits.
We would favor any resolution that would take us out of Tull. We don't have a say about our
water and we have four times as many people as they do They slap on a $3.00 charge and make
us pay for their new fire equipment which will change their fire rating from a 9 to a 3.







Many of our rural water systems and smaller municipalities have substandard water
infrastructure—2 inch pipes and smaller water mains. These do not support fire flow pressure.
When these areas are annexed into the city limits and the rural associations will not let the cities
take over the retail customers, the city cannot do the expensive upgrade necessary to improve the
infrastructure. This over time could affect the overall city fire rating.
Rural associations should spend more of their money extending service to new rural customers
and less in legal fees trying to hang onto customers and developments better served by cities.
Rural water associations now ring the city limits of Benton and Bryant and provide no area for
the cities to grow.
If it weren't for rural water associations, we'd all still be on well water. They have contributed
to the health and growth of the county. When no one else would get us water, they were there to
meet the need.
They charge us $800 for a connection fee. $800! Our association is making lots of money off of
us and we are bigger than they are!
We need representation on the board of our association. Right now, the board tells us only what
they want us to know. So much is done behind closed doors and we feel powerless. That's the
problem. Our voice is not being heard.
People in our association speak out of both sides of their mouth. They tell you one thing and
then they tell someone else something different about the same issue. They are not honest and
above board.
While Benton has had its problems dealing with the smaller water associations and municipalities, these
same entities have also experienced frictions of their own. Most of the issues seem to revolve around
some form of lack of representation, self-perpetuating boards and secrecy. Time and time again we
heard comments about meetings taking place behind closed doors and about water customers' voices not
being heard in decision-making processes.
Comments about Bryant





Bryant has become a suburb of Little Rock. They have more in common with Little Rock than
they do with Saline County.
Bryant doesn't seem to care about the rest of the county. They only look at their self-interest.
Bryant doesn't seem to have a vision for the future. They have to renegotiate their contract with
Central Arkansas water in six years, but they're not looking seriously at other options. They may
get a shock when they see the terms of the next agreement.
Bryant is an example to the rest of the county of how to attract investment and growth.
I used to shop at Bryant, but it seems too much like Little Rock to me now, so I go to Benton.
Comments about Hot Springs Village



Hot Springs Village is not a part of Saline County. The Northerners who retire there don't
understand the culture here.
Cooper Communities only cares about profit. They're not going to invest in a pipeline to
Ouachita as long as they can get water from the Middle Fork for free.
Hot Springs Village has a wealth of talent and expertise. If we could harness the brainpower of
the residents there, they could go a long way toward solving the county's problems.


The impoundments built on tributaries of the Middle Fork of the Saline River are killing the
stream.
We would understand the impoundments created by Hot Springs Village and the environmental
damage they have caused if they needed them for drinking water, but they don't. It's all about
building more golf courses and lakes for boating.
As these comments indicate, many citizens of the county see Bryant and Hot Springs Village as
somehow "separate" from the county in their culture and interests. Yet many interviewees stressed the
importance of bringing Bryant and Hot Springs Village into the regional water system. They felt that if
all of the county could cooperate on water then other cooperative activity on transportation, economic
activity, and tourism would follow.
On the Importance of Water for Saline County










The importance for water in the growth of Saline County is an absolute necessity. In the past
several years several industries have chosen not to locate in Saline County specifically due to the
lack of available water.
The Saline River will not be a good source of water in 50 years; we may even face a water
shortage in 30 years.
Surveys indicate the Saline River will dry up under drought conditions.
We've got a good water supply right here in Saline County; we don't need to go anywhere else
Our district is growing with 800 new homes approved.
Water is the issue of the 21st century; we need to be thinking 100 years down the road, not 50.
I am not at this meeting for myself. I am here for my children & great grandchildren and water
is their future.
We expect 500 new homes to go up in our area. To grow more, we'll need water.
We're growing, but our wells will provide for us for the next 20 years.
In the near future primary growth will be in residential developments; Weyerhauser and
International Paper are all selling off tracts of land for housing.
One of the bright spots in our research concerned everyone's agreement that water is a critical issue for
the long-term future. Saline County is growing. While housing developments abound, industry is
declining to locate within the county, primarily for lack of water accessibility. This seems to be the
golden moment to come together.
On joining w/CAW








We wouldn't take water from LR if it were free
It would be stupid not to join with CAW, not unfortunate, not short sighted, just plan stupid
Little Rock water today—Little Rock schools tomorrow
CAW has been extremely difficult to negotiate with over water issues
Nothing in Pulaski County can have a controlling interest in any water plan
Many people are thinking parochially but need to be thinking regionally
This has got to be Saline County's idea
No one would be for it if Little Rock had anything to do with it








People move to Saline County because they want to be out of Little Rock. We don't need to
let them control the county by relying on them for our water supply.
If I have to deal with anyone, I want it to be Saline County
If we don't work out a partnership we'll end up having to buy water from Little Rock
We must promote regionalization. Better quality water. Cheaper rates.
There still exists a faction in Saline County who are reluctant or even opposed to entering
into a relationship with CAW
I think it would be a grave mistake for anyone to exclude CAW from being a partner with
residents of Saline County & outlying areas.
It's hard to predict what CAW will do. This uncertainty over a "development" fee being
$1500 per connection, and now down to $300 is one example.
We have been very pleased with our association with Central Arkansas Water. We hate to
leave a partnership that is working well for our citizens to take the risk of higher costs and
less certain operation with a county system.
As distasteful as it may seem to individuals within Saline County, others recognize that finding an
affordable source of clean water for the next hundred years may require Saline County to build a
relationship of some kind with Central Arkansas Water at least to defray the costs of building a pipeline
to Lake Ouachita or some other water source.
Saline County on the Importance of Working Together At This Moment






We are excited about the future possibilities of working together as a county and as a region
Teamwork among all the water purveyors in Saline County is important; we work together and
EVERYONE benefits
Any obstacles in Saline County are the result of strong personalities who want their way; they
see water as a control issue
People need to forget turf battles and just start working together. We're all in this together;
we're all a part of Saline County.
I would support all interested parties working in a concerted and consensus effort toward finding
a long term good, safe, economical water supply, one that is fairly represented and everyone has
a say.
We've had I don't know how many lawsuits against each other; we've circulated petitions;
we've had meetings; we've yelled at each other. Now is the time to stop all that and develop a
plan that will help the entire county.
We were gratified to see that residents and officials throughout the county seem committed to finding a
long-term solution to their water issues. We live in a state where water is plentiful and of high quality.
All the people we talked to expressed a genuine desire to work in concert with the rest of the county to
solve the issues which have divided them for so long.
While the above comments seem to illustrate a turn toward unity and collaboration to foster growth in
Saline County, thorny issues around how to manage a countywide solution still exist and remain to be
resolved. Critical issues for resolving conflicts seem to focus on representation of the entire county and
providing fair and open information.
Attitudes such as the ones described in these pages have been influencing the climate in Saline County
for a number of years. Decision makers have heard and have responded. All water entities and
municipalities in the county must find a way to ease the effects of these negative attitudes. They
perpetuate division. They divide loyalties. They make it impossible to make important decisions about
the county objectively. Ultimately they prevent growth.
The above comments reveal a county in transition, moving from a city where local entities' local
loyalties predominate to a county that envisions the future in terms of broader loyalties, a future where
Saline County folks embrace others in the county rather than exclude them.
This study reveals three seminal issues that the county needs to address together:
1.
Most people in Saline County agree that water is the key to the future of Saline County.
Water stimulates growth and development. Most people also recognize that current sources
of water will not fuel growth in the 21st century. Other water sources must be sought.
2.
In order to access a source of clean, affordable, potable water for Saline County, everybody
needs to forget old hurts and rivalries, put aside the acrimony that went on before and work
in concert to allow Saline County to flourish for the good of all.
3.
Any future water system in Saline County needs to ensure that its management fairly reflects
the needs of everyone in the county. People need adequate representation to look after their
own interests; they need to feel they have some control in what happens to them and around
them.
Chapter Eight
Five Key Principles
As we have digested the studies and documents, talked in depth to the citizens and leaders of the county,
and analyzed the history of water efforts, five principles seem essential in any successful effort to
sustain cooperation toward a long-term water source. They include: fairness, cost, autonomy,
representation/accountability, and security.
Fairness
It is apparent that some of the previous efforts broke down because one or more of the parties perceived
that the collaboration was not fair. The challenging part of this principle is that different entities within
the county have different standards for what they consider fair in a partnership agreement. The smaller
water entities perceive fairness as equality. Each water provider should have an equal representation
and an equal vote. All water entities should pay the same for water. They are judging fairness at the
system level. A representative quote from this perspective is, "If we all support the commitment to
create a county-wide water collaboration, then we should all be in it together and we should all be
treated equally."
On the other hand, the larger water entities perceive "fair" to be proportional. If Benton has 9,000
customers and Bauxite has 170, and they both have the same vote that seems unfair. They are judging
fairness at the individual citizen level. It seems to them if the Bauxite representative is speaking for 170
households and the Benton representative is speaking for 9,000, and they both have the same vote, then
the 9000 households in Benton do not have the same voice as the 170 households in Bauxite. Individual
interests are not represented fairly.
The same divergence applies to ideas on fair water rates. The reality is that it costs at least marginally
more to transport water to distant parts of the county than it costs to transport it to areas closer to the
water source or to the water treatment plant. Entities further from the water plant feel that everyone
should be treated equally by paying the same wholesale water rate. Entities closer to the water source or
treatment plant say it is unfair for their citizens to pay rates, which subsidize the cost of service for
transmission to more distant locations.
A final solution must balance these different conceptions of fairness and produce an outcome, which all
parties can see as equitable.
Cost
[Insert table 8-1]
Even though water rates vary widely within the county, most water purveyors acknowledged that cost
would be a key consideration on whether they chose to join a regional effort. Most said their water users
would be willing to pay some amount more for a secure, high quality, and long-term water source.
However, the price elasticity had limits. Many stated that water users revolted against the Quadco
agreement to buy water from Malvern partly because water rates would rise so significantly. Water
purveyors tend to evaluate cost only in comparing it to current wholesale and retail water rates. Some,
however, pointed out that the cost for a long-term water solution should not be compared only to current
water rates but also to potential future water rates if current water resources are exhausted.
Autonomy
We learned very quickly in interviews that control over water resources and distribution systems within
the county was a strong value. Many dismissed the possibility of buying water from Central Arkansas
Water outright under any condition because they did not want to give control over water resources to an
outside entity. Some water associations within the county reached a sticking point in negotiations with
Central Arkansas Water over autonomy issues, such as allowing outside inspection of lines and
equipment, or getting permission to add new meters or service areas. In the same way, we soon
concluded that even though creating a true countywide water system had merits, it was a politically
untenable option. Most of the existing water entities would not enter into a cooperative if it meant
giving up their autonomy over water distribution to their retail customers. Any workable solution,
therefore, must balance coordination and efficiencies of scale with preservation of autonomy of existing
water systems.
Representation
As comments in the Perception chapter of this report indicated, citizens of Saline County expect leaders
and water officials to be accountable to them. They want negotiations that affect them to be open. They
want a voice in discussions. They want water boards to be elected by the people rather than appointed
or self-perpetuating. This value may be so strong among citizens in the county because secrecy in the
past has bred mistrust. Interestingly and paradoxically, two phrases we heard most often were, "We've
got to get politics out of water decisions," and "The people have a right to elect the people who are
making water decisions for the county." Recognition of the strong value of representation within the
county led us to change our pre-conception that a small appointed board would be the most feasible
administrative structure for a county-wide water entity. Any solution acceptable to the majority of
citizens in the county must meet their expectations for representation and accountability.
Security
Citizens of the county want a water source that will provide a secure foundation for growth and will
assure adequate water supplies for the next 50-100 years. They have experienced wells going dry. They
have seen industry and residential developments relocating to areas with plentiful assured water
supplies. They don't want to worry about tanker spills on 1-30, industrial waste upstream,
environmental lawsuits, or zero flow in the Saline River or Middle Fork during droughts. To a
reasonable extent, they are willing to pay more for the security.
Summary
We see a great deal of interaction among these values. Citizens know, for example, that there is a tradeoff between cost and autonomy. The cheapest alternative may not allow them to keep control over their
own water decisions. Fairness may increase costs or lead to a different representational system than an
individual water system might prefer. However, taken as a group, the values of fairness, cost,
autonomy, representation, and security must be considered in a solution that will be acceptable to the
water purveyors in the county.
Chapter Nine
A Proposed Solution
In this chapter, we propose, and build a case for, a regional water system, which will procure a
long-term water source and assume responsibilities for treating water for most residents of the county
and for some contiguous areas outside the county. Existing water entities would be wholesale customers
of the regional entity and would continue to be responsible for water distribution to retail customers.
The rationale for a regional approach is clear and compelling. Water users in the county need a reliable
and reasonably priced long-term water source. None of them can afford the high price tag of going to a
renewable water source alone. Equally certain are the high new requirements for treatment imposed by
new federal standards. Few smaller entities will be able to meet the stringent new federal requirements.
In constructing this plan, we considered a myriad of alternatives for organization and function of
the regional water system. We considered a countywide (or beyond) system, which would be
responsible for water acquisition, treatment and distribution (eliminating the current water systems in the
county.) We considered a number of legislative frameworks for the organizational structure. We
considered, and discussed with water purveyors, a number of governance formats for the board
overseeing the new regional system. We have decided on the framework outlined in this chapter
because we believe it offers the most practical alternative for developing and maintaining regional
cooperation on water. We would not argue it is the most ideal solution for water in the county. We do
believe it is the most workable.
In this plan, no individual entity has gotten everything they wanted. We are fair in disappointing
everyone in one or more aspects. We try in this chapter to lay out our rationales for each part of the
recommendation. In the end an implementation committee will hammer through the final details. We
would encourage you, however, to alter the major components of this plan very carefully. It is a
carefully worked compromise among competing viewpoints. In the end each water entity will have to
answer the question, "Would we be better off overall with this plan or where we are now?"
The Goal: A Long-term water source
At the beginning of this study process we laid out the clear understanding that we would not be
recommending a specific long-term water source for Saline County, only helping develop the
cooperative framework to seek a long-term water source. We were specific about these limits because
we did not have resources to update engineering studies of various alternatives. However, it has become
clear to us during the course of this study that the most ideal long-term water source for the region is
Lake Ouachita. Ninety percent (90%) or more of the interviewees we spoke with all stated their
conviction that Lake Ouachita was the best water source. The 1996 study compared all available
alternatives – the Ouachita River, Lake DeGray, Central Arkansas Water, and Saline impoundments.
After an exhaustive study, Lake Ouachita was chosen as the most desirable alternative.
Black and Veatch has recently completed a draft of their study for a loose consortium of water providers
led by Central Arkansas Water and Metroplan. Benton, Bryant, Hot Springs Village, Sardis and Saline
Water and Sewer are part of this consortium. Black and Veatch's report is entitled, "Mid-Arkansas
Regional Water Supply Study." Their study compared a broad range of possible water sources for
central Arkansas, including Lake Ouachita, Lake DeGray, Greer's Ferry, the Ouachita River, Lake
Nimrod, the Arkansas River, and an impoundment on Bull Creek. At a meeting to discuss the options
on Oct. 24, all representatives agreed that Lake Ouachita provided the best long-term water source to
serve Hot Springs Village, Saline County, and western Pulaski County. The preferred engineering
options adopted from the study involved using a combination of Lake Ouachita and Greer's Ferry for
serving water users in the southern and northern parts of central Arkansas. Lake Ouachita was also
identified as a superior water source in a study for Benton in March 2002 conducted by Affiliated
Engineers, Inc.
Lake Ouachita has emerged in all of these studies as a superior source for a number of reasons: 1) the
huge volume in the lake, and the minute portion presently allocated for drinking water; 2) the superb
quality of water in the lake, reducing treatment costs; and 3) the fact that water from Lake Ouachita
could be brought to most of Saline County through gravity flow rather than pumping, reducing O&M
costs. In the Black and Veatch study, Lake Ouachita water could be delivered at a wholesale rate of
$1.00 less per thousand than water from Lake DeGray.
We cannot offer a definitive engineering plan or firm cost estimate in this study. That was not our
purpose, and not our area of expertise. However, James Tanner, Public Works Manager of Carter
Burgess Engineering volunteered to do a cost update of options contained in the 1996 engineering study
of long-term water options. We would stress that these are very rough ballpark projections. They did
not go back to re-examine the assumptions or methods of the 1996 study. The Ouachita intake,
transmission pipes and 8 mgd treatment plant outlined in the 1996 study that was estimated at
$55,358,000 in 1996 would now cost $66,102,847. The $12 million from the Lake Avilla sales tax that
the 1996 water users group had hoped to apply to the Ouachita costs has long since been dispersed.
However, the capital construction costs could be spread over a much larger user base in 2002. Only
seven water associations were included in the 1996 study.
When James Tanner estimated 2002 costs at 19 mgd rather than 8 mgd, and took out the cost for a new
treatment plant, the costs for a Lake Ouachita pipeline to Saline County was $71,284,683. When he
performed a very rough estimate of how that would translate to wholesale water costs, he calculated that
debt service on bonds, storage fees at the lake and O&M costs would put a wholesale water rate at $2.23
per thousand (assuming 19 mgd are sold). This is considerably less than the $2.80 per thousand that
was figured in 1996. However, it does not include costs for either constructing a new treatment plant or
expanding existing treatment plants in the county to be used in the new regional water system. Cost
estimate accounting is included in the Appendix.
The engineering study completed for Benton in 2002 by AFI Consulting Engineers placed the cost of a
pipeline from Lake Ouachita at $37,000,000. This estimate is considerably lower since it involved a
smaller pipeline project to serve as a supplementary source for Benton only and did not include a
treatment facility in the cost estimate.
The Black and Veatch study also included cost estimates for their long-term water options in the draft
report. Option 1 was the desired option of most attending the meeting. It involved a pipeline from Lake
Ouachita to Lake Winona with a new 14mgd treatment plant adjacent to Lake Winona, which would
serve Saline County as well as parts of west Little Rock. Hot Springs Village would receive raw water
from the pipeline. Option 1 also included bringing water to areas north of the Arkansas River from
Greer's Ferry. The total cost of this option was $923,000,000, producing a wholesale water rate of
$3.04 per thousand for all customers that would be served by a larger regional system.
The purpose in calculating these projected costs is not to offer any assurance of exact costs, but simply
to provide a ballpark range to enable leaders in the county to judge the feasibility of the project. A new
engineering study would certainly be required to establish exact plans and costs for the project, as well
as to examine hydraulics and adequacy of the existing water systems to become part of a countywide
system.
The first step toward a Lake Ouachita solution will be to seek a discretionary re-allocation from the
Vicksburg office of the U.S. Army Corps of Engineers. When it was created, none of the water in Lake
Ouachita was allocated for drinking water. It is presently allocated for hydroelectric and for flood
control. The local district engineer has the discretion, after study, to allocate up to 15% of volume or
50,000 acre feet toward another purpose. With conservative calculations of safe yield, those 50,000
acre-feet would probably yield at least 30.1 mgd. Mike Biggs, from the Little Rock office of the Corps
explained at a recent Metroplan meeting that the 30.1 limit would only come into play in an extreme
drought when lake levels were extremely low. As long as regular rainfall is refilling the lake and the
level doesn't drop to the conservation level, the water user would not be charged against their 30.1 limit.
They could use as much water as they wanted. They would be charged the storage fee for the water
used.
Biggs explained that if an entity wished to seek a discretionary allocation of up to 30.1 mgd, they would
petition the Vicksburg ACE office for a study. The study for discretionary allocations is less intense
than for a larger non-discretionary allocation, but can take up to one year. Part of the study involves
certification by Arkansas Soil and Water Conservation Commission of water need, and part involves an
impact study to determine if other designated purposes of the lake would be compromised by the
allocation. An entity could seek a discretionary allocation and at the same time be working through
Congress for a non-discretionary allocation of a larger amount. This would take several years, but in
the meantime, a water entity could be starting construction to begin the smaller 30.1 mgd or less
allocation. Actually having a pipe in the lake would help in the larger request before Congress.
The Regional System
We propose that the entities in Saline County form a Regional Water Distribution District to procure a
long-term water source for the region and to treat water for residents. The system would be called the
Saline Watershed Regional Water Distribution District (henceforth referred to as Saline Watershed
District). We chose the name "Saline Watershed" for the district because it implies an area larger than
the county. Many residents outside the county are already served by Saline County water entities, and
they need to feel full membership in this regional system. We also think the name "Saline Watershed"
would accommodate growth of the regional system over time to serve additional areas outside Saline
County.
Regional Water Distribution Districts were created by legislation in 1957 as enabling legislation for the
Beaver Water District in northwest Arkansas. A copy of the legislation is included in the Appendix. It
is used as an organizational framework by a number of regional water systems around the state including
the Conway County Regional Water Distribution District. We think that this framework is ideal for the
umbrella organizational structure envisioned for the Saline Watershed District for a number of reasons:





The legislation is flexible in the number of individuals on the board and how they are selected, in
contrast to legislation for public facilities boards or public water authorities.
The legislation gives all necessary powers to the water district – issuing public bonds, eminent
domain, setting up improvement districts, constructing water systems, enter into federal contracts
and grants.
Districts are exempt from sales tax and from oversight of the Public Service Commission.
Legislation is flexible in allowing districts to enlarge over time to a larger regional entity.
Districts are not as involved in county politics since they are created by a circuit court.
In the process of investigating this legislation and its appropriateness for the Saline Watershed District,
we received opinions from Earl Smith at the Arkansas Soil and Water Conservation Commission, Steve
Ware, Assistant Director of the Conway County Regional Water Distribution District, and David Menz,
an attorney with extensive experience in helping organize regional water distribution districts. All
concurred that it would be well suited to the goals of Saline County. They did suggest two areas which
the implementation committee might consider:


The law specifies that the board may not meet in executive session (Arkansas Code Annotated
14-116-308d). This would preclude the board from considering personnel matters in executive
session.
The law requires a petition with a 51% vote for any assessment imposed on people within the
district. This provision would limit not the ability to charge water rates, but to levy taxes for the
improvement of the system.
When asked about the provision on assessments, David Menz wrote:
Arkansas Code Annotated 15-116-501, et seq., provides for assessment-based water
projects. The board cannot unilaterally impose assessments. Those people who would
benefit from a project would have to petition for the improvement to be paid by
assessments. Actually this is an ingenious statutory scheme, which would give people
the option of paying for improvements to the water system in a specific area within the
district by special assessments rather than rate surcharges.
The implementation committee should certainly seek legal opinion on the adequacy of the existing
legislation as an organizing framework and could work with legislators in the next legislative session to
amend any sections deemed insufficient for the purpose of the Saline Watershed Water District.
Functions of the Saline Watershed Water District
The Saline Watershed District would be responsible for the following functions:

Seek a long-term source of water to meet the watershed's projected needs for 50 years or more;

Explore the feasibility and cost of a pipeline to Lake Ouachita as the first option;

Be responsible for water treatment for the county. This could be accomplished either through
taking over and expanding treatment facilities in Benton and Hot Springs Village to serve the
watershed or by building a large new treatment facility;

Sell water wholesale to existing water systems, which would continue to be responsible for water
distribution to their current retail customer base;

Sell water at the same wholesale rates to all purveyors who are part of the system;

Sell bonds for infrastructure construction, to be repaid through water rates;

Establish water rates that would pay for debt service and operation and maintenance of the
system;

Facilitate cooperation among water entities for extending service to individuals in the county not
presently served by a water system;

Hire and supervise a director; and

Set all policies and procedures of the water distribution district.
Several parts of this list require some explanation.
Water Treatment
One option would involve using and expanding current treatment plants in the county to serve the needs
of the Saline Watershed District. Hot Springs Village and Benton would sell or donate their plants to
the district. The Hot Springs Village plant would be expanded to meet the needs of the western part of
the county and the Benton plant would be expanded to serve the rest of the district. The district would
assume any debt associated with the plants and would build expansion costs into the infrastructure costs
of creating the Saline Watershed District.
If this option were chosen, we would encourage Benton and Hot Springs Village to consider donating
rather than selling their plants to the district. This would keep initial costs for creating the district lower
and enable the district to charge lower water rates. Capital equity in the treatment plants has been
created by water ratepayers within the district, and the same ratepayers would benefit from the lower
water rates. Benton would be able to shift the debt of their water treatment plant to the district, as would
Hot Springs Village. Both would benefit by having needed plant expansion and renovation assumed by
the district as a whole.
We recognize the legal and practical hurdles that would have to be cleared if a private entity such as the
Hot Springs Village Property Owners' Association decided to donate, sell, or lease their treatment
facility to a public entity like the Saline Watershed District. It may be after investigation that this option
would not be feasible or advantageous. If it did not work out to incorporate the treatment plant in Hot
Springs Village into the regional water system, then they would want to purchase raw water from Saline
Watershed District to serve Hot Springs Village. An implementation committee (described in Chapter
Ten) would need to determine at that point if an expanded Benton treatment facility would have enough
capacity to serve all the wholesale customers or whether an additional treatment facility would need to
be added at some location in Saline County.
A second option for water treatment for the district would involve construction of a new water treatment
plant. The 1996 study called for a new treatment plant sited near Lake Ouachita with a pipeline to carry
treated water throughout the county. The recent Black and Veatch study for the Middle Arkansas group
calls for water to be piped from Lake Ouachita to Lake Winona with a new 14mgd water plan near Lake
Winona to serve both Saline County and western portions of Little Rock. This might be an option if the
Saline Watershed District decided to pursue a partnership arrangement with a larger regional
cooperative. Black and Veatch made it clear that their plan could be amended to build a new treatment
plant at another site in the county rather than at Lake Winona.
Ultimately a decision on using existing treatment facilities or building a new one at some site should be
a decision based on both engineering data and costs and on considerations of cementing the cooperative
arrangements among parties. Renovating and expanding the existing treatment facilities might be
cheaper than building a new one or might not. Building a new treatment facility might be superior in
meeting new federal standards for treatment or it might not. A treatment plant near the lake might
require retreatment of water nearer the site of use. Using Benton's treatment plant might better promote
Benton's participation in the cooperative than requiring them to continue to pay off debts on a treatment
plant that is now redundant in the system. Taking over Hot Springs Village's treatment plant might be
more cost effective than selling them untreated water, or it might not. Being part of a regional
consortium and buying treated water might be cheaper than developing independent treatment capacity.
All of these considerations should be taken into account when deciding on how the Saline Watershed
District will approach water treatment. Engineering and cost data will help clarify the best option.
Selling Water Wholesale to Existing Water Systems
Existing water entities would become wholesale customers of Saline Watershed Regional Water
Distribution District. They would bear whatever costs were required in upgrading their internal
distribution system to be able to connect to the Saline Watershed District pipelines. In some cases, the
existing water associations might have to relocate water mains, upgrade pipes to handle system
hydraulics, or other improvements.
Wholesale customers could purchase all or part of their existing water needs from the district.
Mandatory minimums would have to be established for each wholesale customer, which would permit
the district to be financially viable. Wholesale customers could also request to set peak maximums
above the mandatory minimum they agreed to purchase. However, there could not be too large a range
between minimums or maximum or the system would have to build a system to accommodate
maximums while have a guaranteed rate base of the minimum amounts. Jerry Martin, an engineer with
ESI who was instrumental in establishing the Two-Ton Water Association in Northwest Arkansas
suggested that if contracts involve mandatory minimums, there should be a clause in the initial contract
to automatically adjust the mandatory minimum based on the previous year average use. If Hot Springs
Village does not incorporate their treatment plant into the Saline Watershed Distribution District, they
would most likely buy untreated water from the system.
Same wholesale rate to all
Some water associations advocated a cost of service basis in determining the wholesale water rates for
each wholesale customer. Under this approach, wholesale water customers further from the water
source or treatment plant would pay a surcharge to the basic wholesale rate to cover additional O&M
costs of the system. In discussing this issue with all water purveyors, we have come to a conclusion that
for many of the water systems, this issue is a deal-breaker. We advocate that the same wholesale rate
for treated water apply to all wholesale customers. Some water systems with greater existing debt
burdens may have to pass along these costs to their customers, so retail rates for water across the county
will vary.
Board Structure
A Board of Directors will administer the Saline Watershed District. We propose that the initial board be
appointed by Circuit Judge Gary Arnold as part of the petition process for creating the water distribution
district. This appointed board will serve until the election process can be set up and carried out. The
appointed board should represent the entire county and include approximately 14 members to represent
each of the Quorum Court Districts and Hot Springs Village.
We propose that the 13 existing JP districts within Saline County be used as the representational unit for
the water board. Any area outside Saline County served by the Saline Watershed District could petition
the Circuit Court for a representative on the board if they had population equivalent to a JP District.
These representatives from outside the county could be appointed or elected by a mechanism in their
county. Since Hot Springs Village would meet this requirement, we propose that they be granted a
board seat in addition to the 13 JP District positions on the initial board. In the appendix we provide a
map, which shows JP districts superimposed in red lines over a map of water service areas.
We would suggest that water board members serve staggered six-year terms, and that elections be
handled as part of the regular electoral process. Board members would be required to be a resident of the
district they represent. Board members will elect a chair and chair elect. The chair will serve a term of
two years and will be succeeded by the chair elect. The initial elected board will draw terms of two,
four, and six years. Board members would be eligible to serve successive terms if re-elected. There
would be a process for petitioning the circuit court in order to remove a member who displayed
malfeasance or misfeasance in the execution of duties.
Rationale for using JP Districts
After considering a number of different ways to elect board members, we decided on the existing JP
districts for a variety of reasons:

JP districts are sensitive to both population and geography, and thus strike a nice balance
between the interests of municipal and rural districts;

Several water associations have several JP districts which represent part of their service area,
creating the possibility that an existing water entity might have multiple representatives, however
with 13 members no entity could control decisions on the board;

Since JP districts are existing political entities, the Saline Watershed District could avoid divisive
political battles on drawing new boundaries for water districts. It would also avoid producing a
confusing array of additional ballots by adding another political layer to a complex political
landscape;

JP districts are automatically altered when population patterns change;

All areas of the county would be represented, including those without water resources at present.
Water board members from these areas could be advocates for extending water resources;

The provision for petitioning for areas outside the county served by the water distribution district
will allow for extending service areas beyond the county in the future and will provide
immediate representation for Hot Springs Village; and

Direct election will allow all citizens to be represented in decisions about water, and will
enhance the credibility of the board.
It is worth noting that few on us on the study task force would have chosen such a large elected board at
the start of this study. However, after listening to the citizens and leaders of the county, we are
convinced that a sense of representation is critical enough that the board should be large and
representative, at least to start. The board could be modified at a later date if county citizens agreed.
Rationale for staggered six-year terms
Not all water leaders liked the ideas of six-year terms. Some suggested three or four year terms. We
decided on staggered six year terms for several reasons:

Water issues are complex and take time to learn. Planning is long-term and continuous. The
county will be best served when board members serve long enough to learn the complex issues
and have sufficient time to plan and implement policies.

Continuity is critical to be sure that leaders understand the reason for decisions that may take
years to implement. We though it was important that no more than 1/3 of the board rotate off at
a time. This would be more difficult to do with terms shorter than six years.

Since regular elections take place in two-year cycles, having elections for water board members
take place each two years would avoid special elections.

The initial board will have shorter terms. 1/3 of the board will draw two years terms and have to
stand for re-election if they choose to run again. Another 1/3 will draw four-year terms and
those positions will be up for election. Therefore in the critical early period in which much of
the structure will be developed, members will have multiple chances to elect board members.

We talked with regional water boards around the state that credited stability of board
membership as a major factor in their success.

We have suggested a procedure by which board members who are not doing their jobs, or who
have betrayed the public trust could be removed.
Incentives for commitment to Saline Watershed District
To encourage all entities to become a part of Saline Watershed Regional Water Distribution District,
parties who do not choose to join should be responsible for a pro-rated share of the initial costs as well
as any incremental costs required to facilitate their entry into the system at the time they chose to join.
Partnerships and Cost Sharing
Through our reading and research during this study process, we have all become convinced that
regionalism will be the foundation of successful water systems of the future. Saline County would be
taking a huge step forward by being able to cooperate regionally within the county. However the costs
and complexity involved with the Lake Ouachita project would suggest that broader regional
partnerships should be considered.
Central Arkansas Water and Metroplan have organized a regional planning group that began meeting
last April. We refer to this group as the Middle Arkansas consortium in this study. Several Saline
County entities have participated in that planning effort, including Benton, Bryant, Hot Springs Village,
Sardis, and Saline Water and Sewer. Other water systems in the consortium include City of Cabot,
Conway Corporation, Jacksonville Water Works, Maumelle Water Corporation, North Pulaski
Waterworks, and Conway County Regional Water Distribution District.
Black and Veatch was commissioned to perform an engineering study of long-term water options for the
middle Arkansas region. They have returned a preliminary draft that would involve a large-scale
pipeline from Lake Ouachita to Lake Winona. A treatment plan at Lake Winona or elsewhere in Saline
County would give options for providing either raw or treated water to Hot Springs Village, the rest of
Saline County, and to portions of western Pulaski County served by Central Arkansas Water.
Central Arkansas Water obviously wants to develop partnerships for gaining a water foothold both in
Greer's Ferry as well as Lake Ouachita. Their main rationale for being able to justify the Ouachita
option involves a partnership with Saline County entities. This could offer significant bargaining
strength for Saline County if all the entities can develop a united presence.
It seems to us that several levels of partnership with a larger regional entity might be considered and
possibly explored:

At the most minimal level, the Saline Watershed District and Central Arkansas Water or the
Middle Arkansas group could together seek both a discretionary allocation from Lake Ouachita
(with an available discretionary allocation of about 30.1 mgd) as well as an additional nondiscretionary allocation which would require a more extended study by the Army Corps of
Engineers and Congressional re-authorization for purposes of the lake. In pursuing a joint
application, they would increase the political force of the application and could share the costs
required by the ACE. They could develop an agreement for how to split the allocation, and
could share the cost of the intake facilities and pipeline. Then pipes to carry raw water could go
to Hot Springs Village and to Benton for treatment (or to a new treatment plant if one is built).
The Saline Watershed District could share pro-rated O&M costs with CAW or the Middle
Arkansas group. The Saline Watershed District would then operate independently exactly as
outlined in the plan. It might also be negotiated as part of this plan that the Saline Watershed
District would own and operate a plant that would sell treated water to CAW for service to
portions of northern Saline and western Pulaski counties.

A second more involved partnership would involve letting the Middle Arkansas group pay for
and lay the pipeline to Ouachita and then having the Saline Watershed District purchase raw or
treated water from this regional consortium. In this arrangement, the Saline Watershed becomes
a wholesale customer of the Middle Arkansas consortium and becomes the negotiating and
purchasing agent for the county in water issues.

A third level would actually involve becoming part of CAW or an expanded Middle Arkansas
regional consortium and seeking a seat or seats on their board. Water systems in Saline County
would become part of a larger regional system. In this conception, the Saline Watershed
Regional Water Distribution District might or might not have a role. Individual water
distribution systems within the county might or might not continue to exist.
Even though we can see many advantages of a large regional approach to water, we doubt whether
Saline leaders would consider the last option at this point. The second might be difficult to sell as well.
However, we think that the first level of partnership – sharing costs and allocations from Ouachita is
absolutely essential. The project is large, complex, and expensive. It would be to the advantage of
water systems to work together. In fact, it may be a requirement when Saline Watershed District seeks
approval from Arkansas Soil and Water Conservation Commission when they review the water plan and
when the U.S. Army Corps of Engineers considers a discretionary re-allocation request. Both operate
under a mandate of regionalism and will encourage sharing resources whenever possible.
The Saline Watershed District could also work to establish regional partnerships by reaching out to
contiguous counties who might like to be part of a regional water system going to Lake Ouachita.
Resolving issues of litigation
Even though we are making no specific recommendations regarding some of the current issues
under litigation among various water entities in Saline County, it is important that these disputes be
resolved in order that parties may move forward to work cooperatively with one another in the Saline
Watershed District. Old disputes have the potential of bogging down negotiation or reviving distrust.
As we are completing this project, the prospect of resolving one of the most contentious issues between
rural and metropolitan water systems seems close to a solution. Benton and Salem are close to an
agreement on a royalty framework, which would settle (hopefully forever) the issue of assuming new
water customers in voluntary annexations or in instances in which developers want city water in an area
that was part of a rural association's planning district. We commend the openness of both sides in
seeking an equitable solution to this difficult issue, and hope that other entities in the county will follow
their lead.
We sincerely believe that the cooperative relations established on a county-wide water system will help
in opening the lines of communication and in helping parties see common interests on a great many
issues. When a GIS system is operational within the county in another year it will also be easier to
establish service boundaries of various water systems.
Summary
We have outlined a plan which we believe offers all water purveyors in Saline County a reasonable
opportunity to become part of a regional water entity capable of seeking a long-term water source. It is
a framework for a solution that balances concepts of fairness, enhances representation of water users,
provides a secure water source at a reasonable cost and preserves autonomy of current water distribution
systems over water supply and pricing. Without doubt, some water purveyors might like to debate at
least some parts of this plan. However, we think as a whole it balances the interests of rural and
municipal water providers in the county. In talking to each provider before the release of this report, we
are confident that it is a plan that can gain widespread agreement. Arguing over small differences has
been the source of 40 years of frustration. It is time for Saline County to come together around a
solution.
Chapter Ten
Implementation Guidelines
In this chapter we offer helpful suggestions and a timeline for implementing the recommendations in
this report. It is a tight timeline. We feel that time is of the essence for several reasons:

Some of the water purveyors in the county are on the verge of making decisions about long-term
contracts and capital expenditures. These decisions could foreclose in some cases the ability to
become part of the Saline Watershed District.

We believe that the Middle Arkansas consortium will soon seek a re-allocation of Ouachita to
serve regional water needs. Several Saline County entities are presently part of the study group.
Saline County as a whole should decide if they want to be part of that venture.

A biennial legislative session starts in January. If there is a need to amend the Regional Water
Distribution District legislation, the legislation must be drawn up promptly.
For these reasons, we recommend the following timeframe:
By the end of November
Water entities commit to becoming part of Saline Watershed
Regional Water Distribution District. We include a draft
agreement in the appendix.
This commitment on the front end is very important. Little Rock
and North Little Rock representatives confirmed to us that without
a prior commitment, there would have been a number of times
during the implementation process that things could have fallen
apart.
Month of December
Each water entity that has committed to be part of the Water
District will select a representative to be part of an implementation
committee.
The committee will meet with legal counsel to explore provisions
of the Regional Water Distribution Act (14-116) and to prepare
any amendments which should be introduced in the next
legislative session.
The committee will commence discussions with CAW and the
Middle Arkansas consortium about a partnership arrangement in s
haring costs of a reallocation study and pipeline construction.
The committee will initiate procedures (either alone or with CAW
or the Middle Arkansas consortium) for a discretionary allocation
from Lake Ouachita of 30.1 million gallons or less.
The committee will commission an engineering study of the Lake
Ouachita option and any other option which they wish to further
explore, including Central Arkansas Water.
Month of January
The Committee will conduct a public information campaign about
the Saline Watershed Water Distribution District and will gather
signatures on a petition that will accompany a request to the
Circuit Court to create the water district
The Committee will finalize the structure and roles of the board to
be part of the request, and will suggest names for appointment to
the first board.
Flow chart diagram here
At the time that the Water Distribution District is created by the Circuit Court and the first board is
appointed, the Implementation Committee will cease to exist and will transfer planning activities to the
board.
Chapter Eleven
Summary
It has been our privilege to work with leaders of Saline County in fashioning a blueprint for cooperation.
The time is ripe for a solution. Rarely if ever will there be an opportunity for all the same conditions
aligning at the same time: visionary leaders willing to put public need above private agendas, public
perception of the need for a new water source, strong regional partners willing to share expenses,
availability of an outstanding long-term water source, and a credible neutral report laying out a plan.
We truly hope that this report sets into motion a chain of events that future generations will see as a
turning point in the history of Saline County, rather than one more entry in a history of near misses. We
envision a bright and positive future for Saline County in the year 2020 and beyond. We place this
report in your hands with the confidence that leaders will make wise decisions to assure a secure water
supply for your children and grandchildren.
Biographical Sketches of Water Task Force
Dr. Angela Laird Brenton is the Dean of the College of Professional Studies at UALR. She is
responsible for the following areas: the departments of Audiology and Speech Pathology, Criminal
Justice, Health Services Administration, and Speech Communication, the School of Social Work, the
School of Mass Communication, the Institute of Government, Mid-South Center for Education,
Research and Training, and the NPR radio stations KLRE-KUAR. She received her Ph.D. in
Communication Studies from the University of Kansas, and is a professor of organizational
communication at UALR, teaching classes in organizational culture, conflict management and
mediation, community conflict transformation and communication research methods. She has served as
a management consultant for over 100 government and business organizations, and has served as a
conflict mediator for 15 years.
Dr. Jamie M. Byrne, PhD, APR is the Director of the School of Mass Communication at UALR. She
earned a PhD in Mass Communication from The Pennsylvania State University, with a minor in rural
sociology. She also has an MS in communication and a BS in English and journalism from Murray
State University. Dr. Byrne's research has focused in two areas: community relationship building for
non-profit organizations, and identity construction and cultural boundary maintenance for Old Order
Amish women. She is the lead national volunteer for the American Cancer Society's Relay For Life, the
signature event for the organization, and is active with the event on local, regional and national levels.
Ruth Craw is a Research Associate with UALR's Institute of Government. Through the Institute she
serves as a consultant to communities and government agencies and has co-authored numerous planning
and program evaluation studies. She earned the Master of Business Administration degree from the
University of Washington. She is a past president of the Arkansas Chapter of the American Society for
Public Administration and serves on the Board of Directors of the Arkansas Conflict Resolution
Association.
Bradford Mackey is a Graduate Student seeking a Masters Degree in Public Administration. He
received a Bachelor of Arts from Henderson State University in 1997. At Henderson his Major was
Sociology and he minored in Criminal Justice. After graduating he worked with chronically mentally ill
adults for three and a half years. He then served in Little Rock as a Probation officer for the State of
Arkansas for one year. Since leaving his employment with the State of Arkansas he entered graduate
school and served as a Graduate Assistant in the Institute of Government and in the Deans Office
of the College of Professional Studies.
Dr. Phyllis Moore is a UALR professor of Biology. During her thirty-year tenure at UALR she has
been active in many campus activities including serving on an array of committees and as Faculty
Senate President. As Director of SILO for two years (1989-91), she was assigned to an office in the
State Capitol to work with legislators on "science" issues. During the 1980's she was on leave from the
University and served as the Director of the Arkansas Department of Pollution Control and Ecology. As
Director she was involved in a broad range of environmental issues working with government agencies
and public interest groups.
Dr. Mary Parker serves as the administrative head of the Department of Criminal Justice at UALR,
which encompasses three degree programs (an Associate of Arts, a Bachelor or Arts, and a Master of
Arts), with six full time faculty and fourteen part-time instructors, serving approximately 300 students.
In addition to her administrative duties, she serves as Chair of the Board of Corrections, which oversees
all adult correctional activities in the State of Arkansas. In addition to her service on the Board, she is
active in both university and community activities which support efforts on behalf of women in prison
and their children, the advancement of literacy and the university community as a whole. She has
published in the areas of juvenile law and constitutional rights and is currently working on a project
focusing on adult offenders and their constitutional rights. She is an acknowledged expert on
corrections in Arkansas, having authored the legislation that supports the current adult correctional
configuration.
Dr. Roby D. Robertson is Professor of Public Administration and Director of UALR's Institute of
Government. His Ph.D. was awarded by the University of Oklahoma. Earlier he chaired the Department
of Public Administration, which offers a nationally-accredited master's program. He was a member of
the Governor's Commission on National Community Service and chaired the Governor's Advisory
Committee on Volunteerism. Robertson was the 1993 winner of the University Faculty Excellence
Award in Public Service at UALR.
Dr. Carol L. Thompson is Professor of Speech Communication and chair of the Department of Speech
Communication at UALR. She holds the Ph.D. from Southern Illinois University at Carbondale and has
served as a managerial communication consultant for businesses, non-profit agencies and governmental
organizations around the country. Thompson was a member of the University Task Force that issued the
report, Plain Talk: The Future of Little Rock's Public Schools. In 2000 she was winner of the
University Faculty Excellence Award in Teaching at UALR.