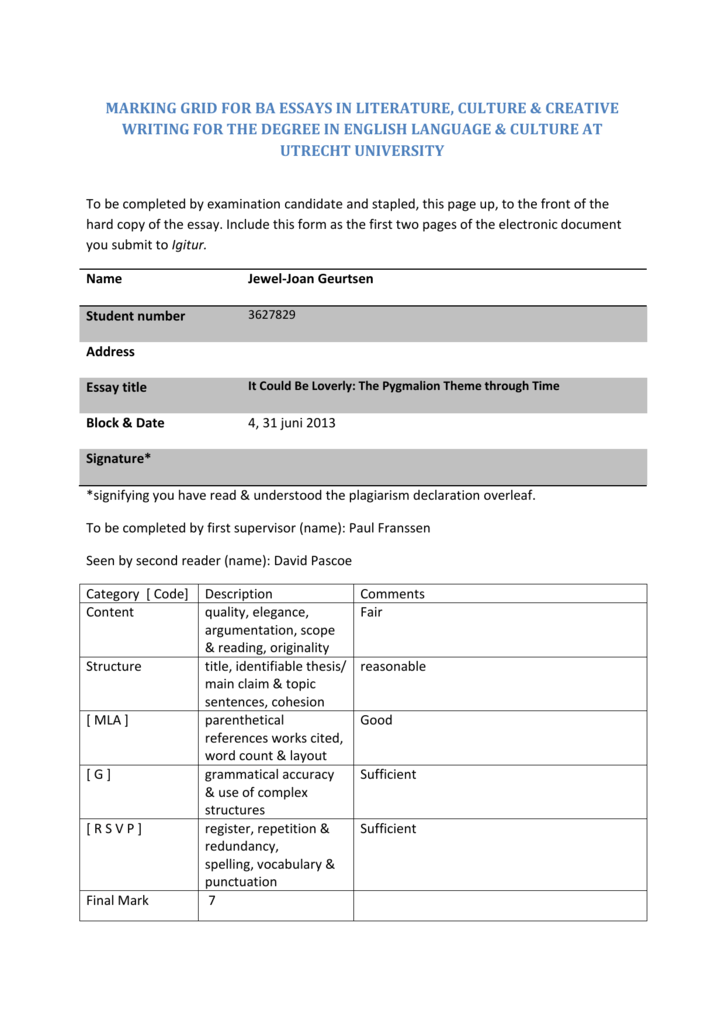 MARKING GRID FOR BA ESSAYS IN LITERATURE, CULTURE & CREATIVE
WRITING FOR THE DEGREE IN ENGLISH LANGUAGE & CULTURE AT
UTRECHT UNIVERSITY
To be completed by examination candidate and stapled, this page up, to the front of the
hard copy of the essay. Include this form as the first two pages of the electronic document
you submit to Igitur.
Name
Jewel-Joan Geurtsen
Student number
3627829
Address
Essay title
It Could Be Loverly: The Pygmalion Theme through Time
Block & Date
4, 31 juni 2013
Signature*
*signifying you have read & understood the plagiarism declaration overleaf.
To be completed by first supervisor (name): Paul Franssen
Seen by second reader (name): David Pascoe
Category [ Code]
Content
Structure
[ MLA ]
[G]
[RSVP]
Final Mark
Description
quality, elegance,
argumentation, scope
& reading, originality
title, identifiable thesis/
main claim & topic
sentences, cohesion
parenthetical
references works cited,
word count & layout
grammatical accuracy
& use of complex
structures
register, repetition &
redundancy,
spelling, vocabulary &
punctuation
7
Comments
Fair
reasonable
Good
Sufficient
Sufficient
INTELLECTUAL PROPERTY STATEMENT
Utrecht University defines "plagiarism" as follows:
"If, in a thesis or some other paper, data or parts of a text produced by someone else are
used without the source being identified, this shall be considered plagiarism. Among other
things, plagiarism may entail the following:
cutting and pasting text from digital sources such as encyclopaedias or digital
journals, without using quotations marks and references;
cutting and pasting any text from the internet without using quotation marks and
references;
copying from printed material such as books, journals or encyclopaedias without
using quotations marks and references;
using a translation of the above texts in your own work, without using quotations
marks and references;
paraphrasing the above texts without using references. A paraphrase should never
consist of merely replacing some words by synonyms;
using pictures, sound recordings, or test materials produced by others without
references, such that it appears that this is one's own work;
copying work by other students and passing this off as one's own work. If this is done
with the other student's consent, the latter shall be an accomplice to the plagiarism;
even in cases where plagiarism is committed by one of the authors collaborating on a
paper, the other authors shall be accomplices to plagiarism if they could or ought to
have known that the first-mentioned author was committing plagiarism;
submitting papers acquired from a commercial source (such as an internet site
offering summaries or complete essays) or written by someone else for payment."
I have read the above definition of plagiarism and certify with my signature on the
preceding page that I have not committed plagiarism in the appended essay or paper.