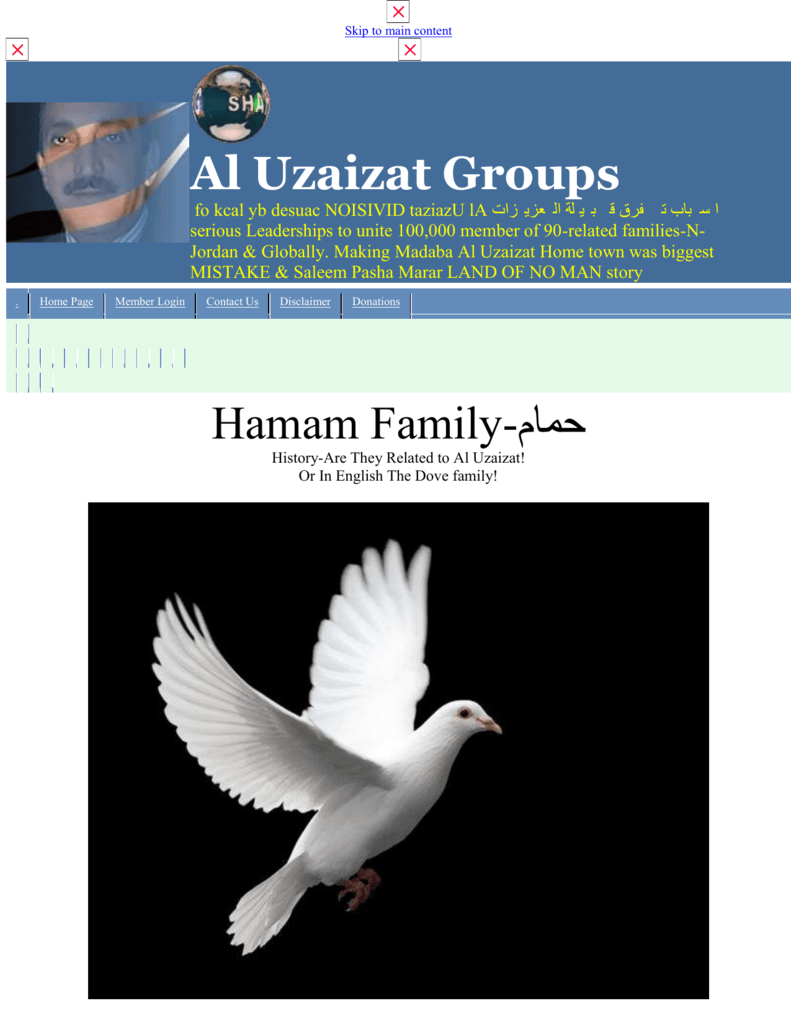 Skip to main content
Al Uzaizat Groups
fo kcal yb desuac NOISIVID taziazU lA ‫ا س باب ت فرق ق ب ي لة ال عزي زات‬
serious Leaderships to unite 100,000 member of 90-related families-NJordan & Globally. Making Madaba Al Uzaizat Home town was biggest
MISTAKE & Saleem Pasha Marar LAND OF NO MAN story
.
Home Page
Member Login
Contact Us
Disclaimer
Donations
Hamam Family-‫حمام‬
History-Are They Related to Al Uzaizat!
Or In English The Dove family!
Good Morning to you, and to all family members and friends
I need your help to locate related family of Al Uzaizat Tribe (((HAMMAM FAMILY))). They are originally from
AKKA and relocated to SYRIA back in the 1800s. I have very little information about them
-Hanna Hamam was born 1879 in Akka, Palestine,
-Hanna's father was Khalil born about 1850 and he was married to Eva (maiden name is not known.
-Hanna married Faridi Mobayed born April 10, 1886.
-Her parents were Hanna Mobayed and Fohmia Saiegh (Sayegh).
Use Contact Us Form if you have any additional information or photos....etc.! Thanks.
________________________________________________
This evening I discovered your website and I am finding it fascinating. I have a question. My Hamam family was
Christian and I have recently been informed that the Hamam family belongs to the Al Uzeizat tibe. Would you have any
knowledge or information to confirm this informatqion. My grandfather, Hanna Hamam was born in 1879 in Greater
Syria. We have been told that my grandparents were distant cousins. My grandmother's maiden name was Mobayed.
Thank you for any consideration of my inquiry.
Sincerely,
Joyce Hamam
Link Joyce at Facebook!
Sent: Tuesday, May 22, 2012 Hello
_________________________________________________
Dear Tony,
I hope you have resolved your problems with microsoft. That must be so very frustrating. I am very happy to hear that
there is a good chance we belong to the Al Uzaisat tribe. It is not often I receive good news about my Hamam's. My
paternal grandfather, Hanna Hamam was born 1879 in Akka, Palestine. About three years ago, I did receive information
from a priest in Akka who provided me with some Hamam birth records. While I am familiar with some of the Hamams
on those records, I have never been able to confirm there is a direct relationship to my Hamam family. Hanna's father was
Khalil (born about 1850) and he was married to Eva (maiden name is not known) Unfortunately, this is all the information
I have for my paternal family history. Hanna married Faridi Mobayed born April 10, 1886. Her parents were Hanna
Mobayed and Fohmia Saiegh (Sayegh). My grandma, Farida died when I was 5 years old and I only have a faint memory
of her; my grandfather, Hanna died before I was born. Thank you so much for your offer to assist me. I truly appreciate
your kindness!
Sincerely,
Joyce Hamam
Sent: Wed. May 30th 2012
_________________________________________________
Interesting information below!
Hi Nijad! I was looking for Hammam Lebanese Family also. Well, I am about to tell you the almost complete story I
know, because nobody give me information about them when I went to Lebanon last year. My greatgrandfather Khalil
had his brothers Yussef, Philip , Tuffic, Ibrahim and Mountaha. My greatgrandfather was Khalil Semaan Hammam from
Jdeidet El-Metn. Yussef and Khalil came to Ecuador at 1905, while Philip, Tuffic and Ibrahim went to Brazil, and
Mountaha stayed at Lebanon. As a reference Yussef was married when he arrived to Ecuador with Morra Mansur, and
had three children Avlin, Antuan and Warde. Warde was born at 1902. Thank you for your time and interest.
________________________________________________
Hi Joyce, I am Nijad Hammam, in London. The word 'Hammam' means somone with valour, with get-up-and-go. It's not
'Hammam' as in 'Turkish bath'...that's a different sounding 'H' in Arabic. We are a Greek Orthodox family from Lebanon
(actually, one must say 'Antiochian Orthodox'). You haven't stated the objective of your query..are you trying to trace
anyone? Are you a 'Hammam'? Are you of Lebanese origin, thus a possible relative of mine? Am happy to offer any
further advice if you'd tell me how I could help. Best regards, Nijad
_________________________________________________
Hello, I don't know about any body doing a research, but a teacher of mine in school was married to a Hamam. I live in
Amman, Jordan. Hamam means "Pigeon" in Arabic. And you're right about them being Orthodox.
_________________________________________________
I have been told there is a Hamam/Hammam member in Jordan researching the Greek Orthodox and/or Greek Catholic
line of the Hamam/Hammam family. Does anyone know how to contact him? Any information on the Hamam/Hammam
name will be greatly appreciated. My Grandfather was Hanna Hamam and his parents were Kalil and Eva Hamam. I
would also like to ask if anyone knows the arabic translation for the name, Eva? Thank You!
______________________________________________
___Site Map___|Mission-Disclaimer & Privacy
In 2005 ANTHONY MARAR asked: Who is _N _ my family? LOOK-UP see what
my dad did!