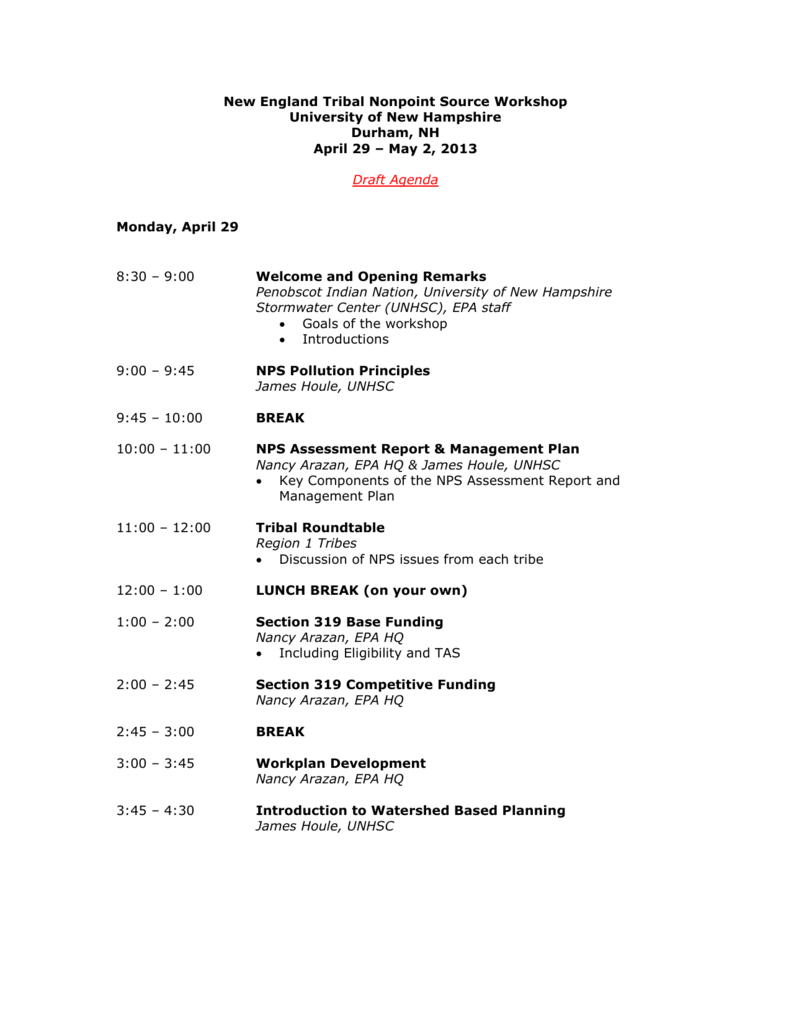 New England Tribal Nonpoint Source Workshop
University of New Hampshire
Durham, NH
April 29 – May 2, 2013
Draft Agenda
Monday, April 29
8:30 – 9:00
Welcome and Opening Remarks
Penobscot Indian Nation, University of New Hampshire
Stormwater Center (UNHSC), EPA staff
 Goals of the workshop
 Introductions
9:00 – 9:45
NPS Pollution Principles
James Houle, UNHSC
9:45 – 10:00
BREAK
10:00 – 11:00
NPS Assessment Report & Management Plan
Nancy Arazan, EPA HQ & James Houle, UNHSC
 Key Components of the NPS Assessment Report and
Management Plan
11:00 – 12:00
Tribal Roundtable
Region 1 Tribes
 Discussion of NPS issues from each tribe
12:00 – 1:00
LUNCH BREAK (on your own)
1:00 – 2:00
Section 319 Base Funding
Nancy Arazan, EPA HQ
 Including Eligibility and TAS
2:00 – 2:45
Section 319 Competitive Funding
Nancy Arazan, EPA HQ
2:45 – 3:00
BREAK
3:00 – 3:45
Workplan Development
Nancy Arazan, EPA HQ
3:45 – 4:30
Introduction to Watershed Based Planning
James Houle, UNHSC
Tuesday, April 30
9:00 – 10:30
Watershed Based Plans and Quantifying Water Quality
Goals
Speaker TBD
10:30 – 11:00
BREAK
11:00 – 12:00
Introduction to the Maine Gravel Road Maintenance
Manual
Josh Platt, Kennebec Soil and Water Conservation District
12:00 – 1:00
LUNCH BREAK (on your own)
1:00 – 2:00
Choosing BMPs and Pre- and Post-BMP Monitoring
James Houle, UNHSC
2:00 – 2:30
Reporting Results
James Houle, UNHSC & Nancy Arazan, EPA HQ
2:30 – 2:45
BREAK
2:45 – 3:45
Examples of Rural BMPs for forestry, ATV trails, camps
Sarah Smith, Extension's Forest Industry Specialist, UNH
Cooperative Extension
3:45 – 4:45
Tribal Case Studies
Dan Kusnierz, Penobscot Indian Nation
Bret Stearns, Wampanoag Tribe of Gay Head (Aquinnah)
Wednesday, May 1
9:00 – 10:00
Stream Crossing Guidance
Thomas Ballestero, UNHSC and Keith Kanoti, Maine Forest
Service Water Resources Forester
10:15 – 10:30
BREAK
10:30– 12:00
Tribal Case Studies
Houlton Band of Mailseet Indians, Passamaquoddy Indian
Township, and NRCS
12:00 – 1:00
LUNCH BREAK (on your own)
1:00 – 2:00
Overview of Stormwater Permits
Thelma Murphy, EPA Region 1
2:00 – 3:00
Assessment Tools/Simple Modeling/Load Duration
Curves
Mark Voorhees, EPA Region 1
3:00 – 3:15
BREAK
3:15 – 4:45
Calculating Sedimentation Loads from unpaved/logging
roads
James Houle, UNHSC & Mark Voorhees, EPA Region 1
Thursday, May 2 – Field Trip (Morning)
Title: Tour of UNH Stormwater Center and Local BMPs
Leader: UNH Stormwater Center
 Tom Ballestero (Director)
 James Houle (Outreach Coordinator & Program Manager)
Description: This field tour provides a general overview of the present and future
standards with respect to stormwater management. UNHSC research addresses the
overall performance and effectiveness of a variety of stormwater Best Management
Practices (BMPs) to control water quantity and treat water quality. To date the
UNHSC has researched over 36 different BMPs ranging from conventional ponds to
manufactured subsurface filters to broad array of Low Impact Development (or
Green Infrastructure) practices.
What to wear: The workshops begin and end at the Center's field facility. There are
NO BATHROOMS at this field facility. After a two-hour field visit the attendees will
move by bus to other locations around campus. The spring weather is expected to
be mild however as this field tour will be conducted outside preparation for the
elements are necessary. Proper footwear is required (i.e. closed toe shoes, no high
heels or other apparel you would not want to get mud on). The tour will be
conducted rain or shine. In the event of rain, umbrellas will be provided.