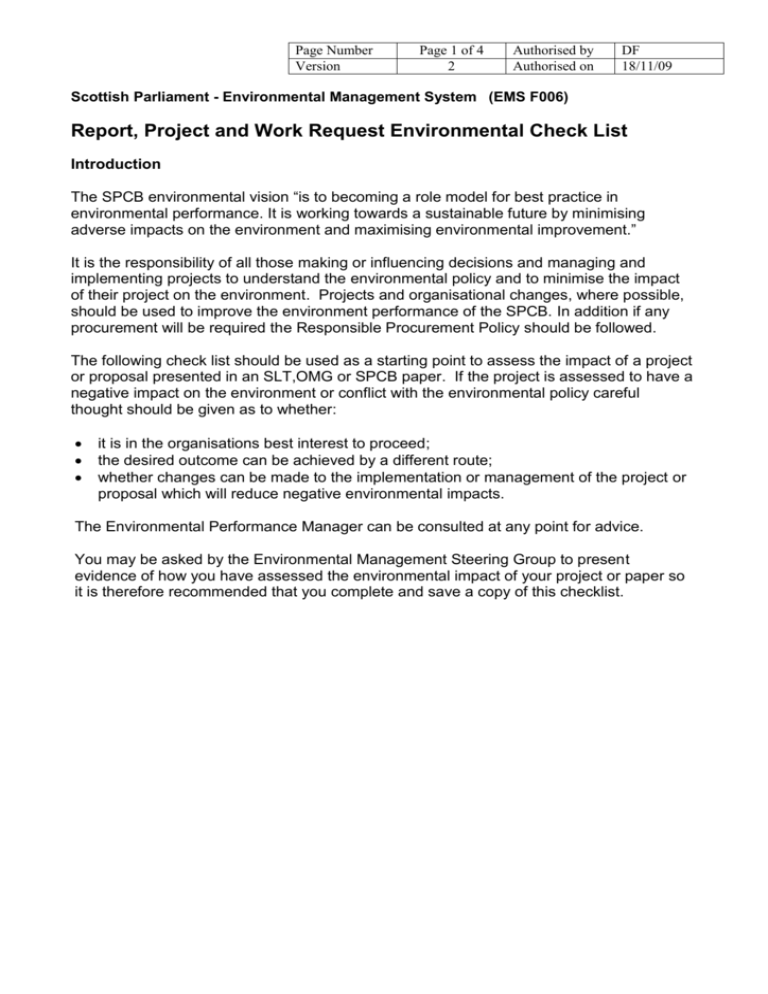 Page Number
Version
Page 1 of 4
2
Authorised by
Authorised on
DF
18/11/09
Scottish Parliament - Environmental Management System (EMS F006)
Report, Project and Work Request Environmental Check List
Introduction
The SPCB environmental vision "is to becoming a role model for best practice in
environmental performance. It is working towards a sustainable future by minimising
adverse impacts on the environment and maximising environmental improvement."
It is the responsibility of all those making or influencing decisions and managing and
implementing projects to understand the environmental policy and to minimise the impact
of their project on the environment. Projects and organisational changes, where possible,
should be used to improve the environment performance of the SPCB. In addition if any
procurement will be required the Responsible Procurement Policy should be followed.
The following check list should be used as a starting point to assess the impact of a project
or proposal presented in an SLT,OMG or SPCB paper. If the project is assessed to have a
negative impact on the environment or conflict with the environmental policy careful
thought should be given as to whether:



it is in the organisations best interest to proceed;
the desired outcome can be achieved by a different route;
whether changes can be made to the implementation or management of the project or
proposal which will reduce negative environmental impacts.
The Environmental Performance Manager can be consulted at any point for advice.
You may be asked by the Environmental Management Steering Group to present
evidence of how you have assessed the environmental impact of your project or paper so
it is therefore recommended that you complete and save a copy of this checklist.
Page Number
Version
Page 2 of 4
2
Authorised by
Authorised on
DF
18/11/09
Project / Paper Title or Ref number:
ENVIRONMENTAL ISSUE
Resource / Materials Use What physical resources will be required to complete the project?
Will implementing the change use significant resources?
(building materials, IT equipment etc)
Will resource use be effected long term?
Can the use of resources be reduced through a different
approach?
Can sustainably sourced materials be used? e.g second hand or
recycled materials, FSC timber.
When purchasing the Responsible Procurement Strategy must
be followed.
Comments
Energy use
Will energy use will be affected? Will new appliances be required
such as TVs, additional lighting or more IT equipment? The
change may replace existing equipment with more efficient ones.
Will significant quantities of electricity be used during the
implementation phase? If so how can this be reduced?
Comments
Travel / Transport
Will significant travel or transport be required? Will materials /
products be sourced locally or be required to be imported? Will
contractors or consultants be required to travel to site? If so
within the bounds of procurement rules can local suppliers be
used if not can they be encourage to travel sustainably?
Comments
Climate change
Will the change result in the release of green houses such as
volatile organic compounds or increase the quantity of
refrigerants on site? Paints, varnishes and furniture often
contain VOCs.
Comments
ENVIRONMENTAL
IMPACT
(Tick relevant box)
N/A
+
-
Page Number
Version
Page 3 of 4
2
Authorised by
Authorised on
Water use
Will water use be affected? Can borehole water be used? Will
significant quantities of water be required during the
implementation phase? If so can this be reduced through good
practice?
Comments
General waste generation
Will implementing the change generate significant quantities of
waste? Will waste quantities be effected long term? All
contractors are responsible for removing waste generated during
works and for ensuring it is disposed of following duty of care
regulations and maximising the amount recovered for reuse and
recycling..
Comments
DF
18/11/09
Page Number
Version
Page 4 of 4
2
Authorised by
Authorised on
DF
18/11/09
Special waste
Will implementing the change generate special waste? Will
special waste be generated regularly as a result of the change?
Comments
Noise
Will the request result in a permanent change to noise levels
across the campus?
Comments
Bio-diversity
Will on site bio-diversity (wildlife and plants) be effected as a
result of the change?
Comments
Conclusion:
Please provide a summary of the environmental impacts both positive and negative of this
project and how the project will be implemented and managed to reduce negative impacts.