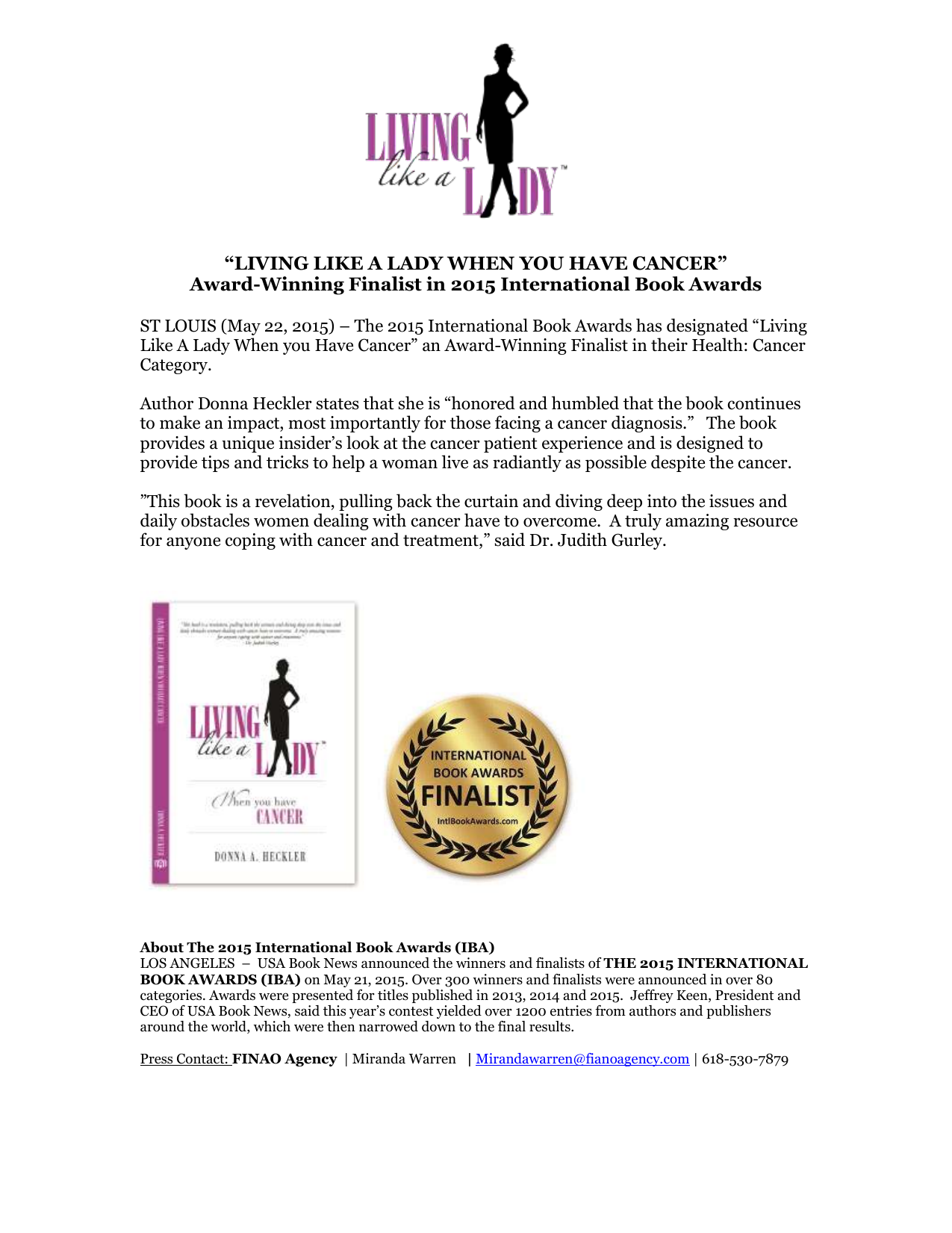 "LIVING LIKE A LADY WHEN YOU HAVE CANCER"
Award-Winning Finalist in 2015 International Book Awards
ST LOUIS (May 22, 2015) – The 2015 International Book Awards has designated "Living
Like A Lady When you Have Cancer" an Award-Winning Finalist in their Health: Cancer
Category.
Author Donna Heckler states that she is "honored and humbled that the book continues to make an impact, most importantly for those facing a cancer diagnosis." The book provides a unique insider's look at the cancer patient experience and is designed to provide tips and tricks to help a woman live as radiantly as possible despite the cancer.
"This book is a revelation, pulling back the curtain and diving deep into the issues and daily obstacles women dealing with cancer have to overcome. A truly amazing resource for anyone coping with cancer and treatment," said Dr. Judith Gurley.
About The 2015 International Book Awards (IBA)
LOS ANGELES – USA Book News announced the winners and finalists of THE 2015 INTERNATIONAL
BOOK AWARDS (IBA) on May 21, 2015. Over 300 winners and finalists were announced in over 80 categories. Awards were presented for titles published in 2013, 2014 and 2015. Jeffrey Keen, President and
CEO of USA Book News, said this year's contest yielded over 1200 entries from authors and publishers around the world, which were then narrowed down to the final results.
Press Contact: FINAO Agency | Miranda Warren | [email protected]
| 618-530-7879