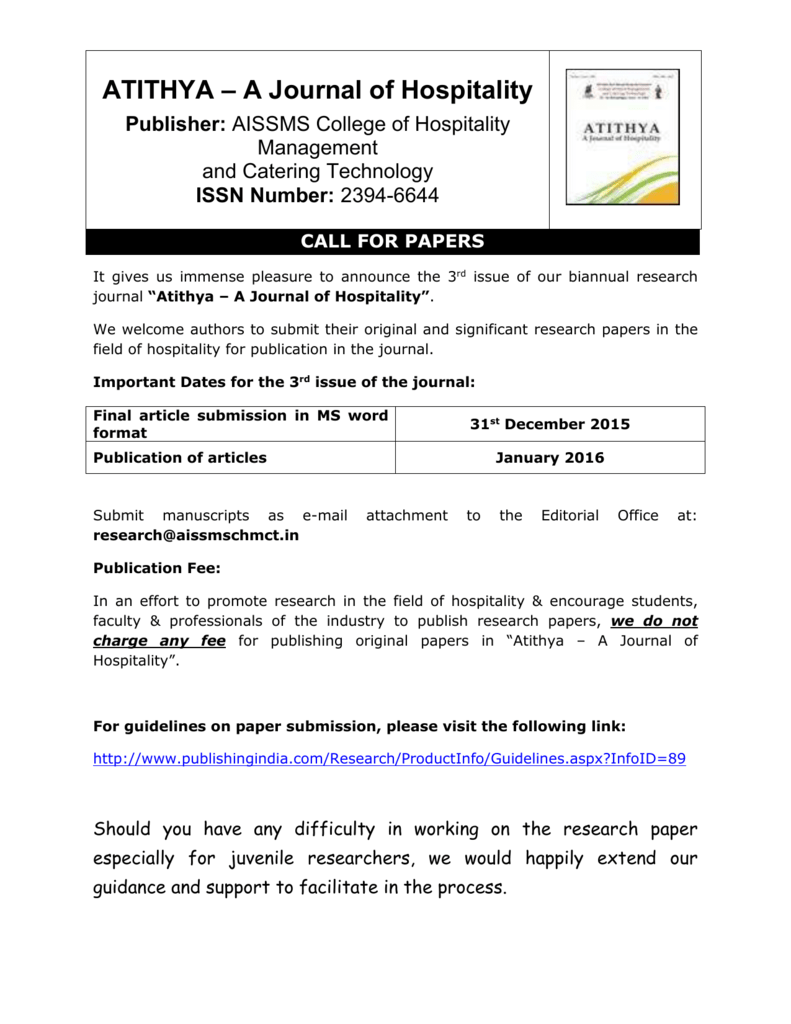 ATITHYA – A Journal of Hospitality
Publisher: AISSMS College of Hospitality
Management
and Catering Technology
ISSN Number: 2394-6644
CALL FOR PAPERS
It gives us immense pleasure to announce the 3rd issue of our biannual research
journal "Atithya – A Journal of Hospitality".
We welcome authors to submit their original and significant research papers in the
field of hospitality for publication in the journal.
Important Dates for the 3rd issue of the journal:
Final article submission in MS word
format
31st December 2015
Publication of articles
Submit manuscripts as e-mail
[email protected]
January 2016
attachment
to
the
Editorial
Office
at:
Publication Fee:
In an effort to promote research in the field of hospitality & encourage students,
faculty & professionals of the industry to publish research papers, we do not
charge any fee for publishing original papers in "Atithya – A Journal of
Hospitality".
For guidelines on paper submission, please visit the following link:
http://www.publishingindia.com/Research/ProductInfo/Guidelines.aspx?InfoID=89
Should you have any difficulty in working on the research paper
especially for juvenile researchers, we would happily extend our
guidance and support to facilitate in the process.