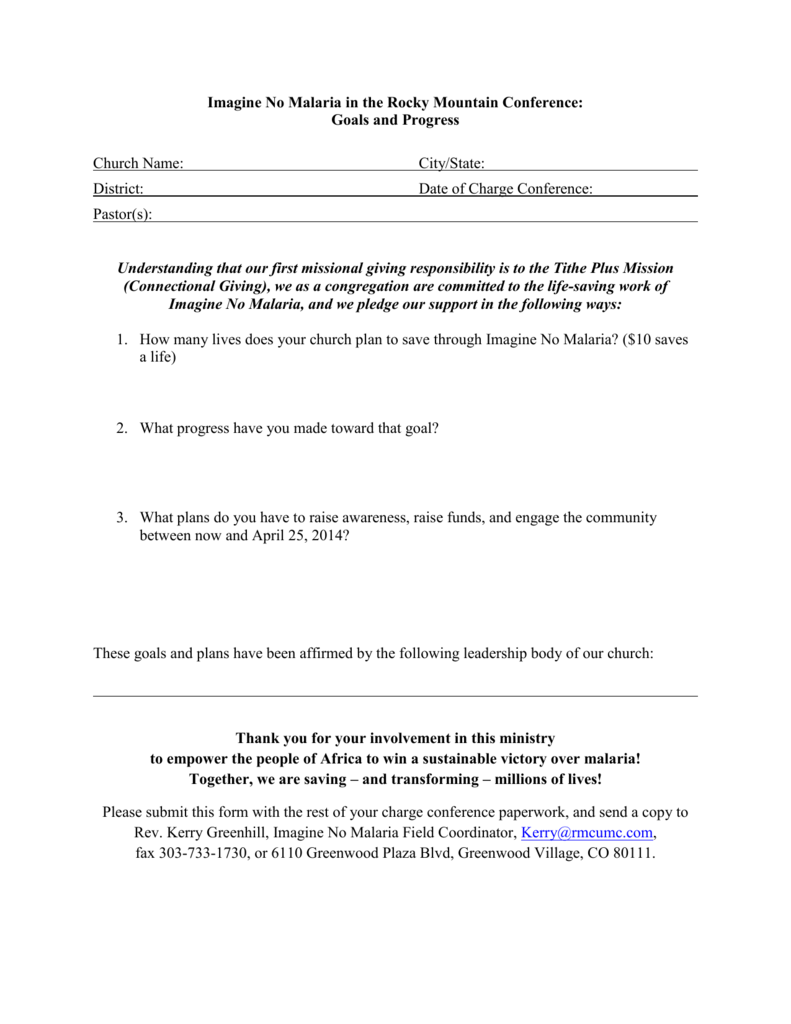 Imagine No Malaria in the Rocky Mountain Conference:
Goals and Progress
Church Name:
City/State:
District:
Date of Charge Conference:
Pastor(s):
Understanding that our first missional giving responsibility is to the Tithe Plus Mission
(Connectional Giving), we as a congregation are committed to the life-saving work of
Imagine No Malaria, and we pledge our support in the following ways:
1. How many lives does your church plan to save through Imagine No Malaria? ($10 saves
a life)
2. What progress have you made toward that goal?
3. What plans do you have to raise awareness, raise funds, and engage the community
between now and April 25, 2014?
These goals and plans have been affirmed by the following leadership body of our church:
Thank you for your involvement in this ministry
to empower the people of Africa to win a sustainable victory over malaria!
Together, we are saving – and transforming – millions of lives!
Please submit this form with the rest of your charge conference paperwork, and send a copy to
Rev. Kerry Greenhill, Imagine No Malaria Field Coordinator, [email protected],
fax 303-733-1730, or 6110 Greenwood Plaza Blvd, Greenwood Village, CO 80111.