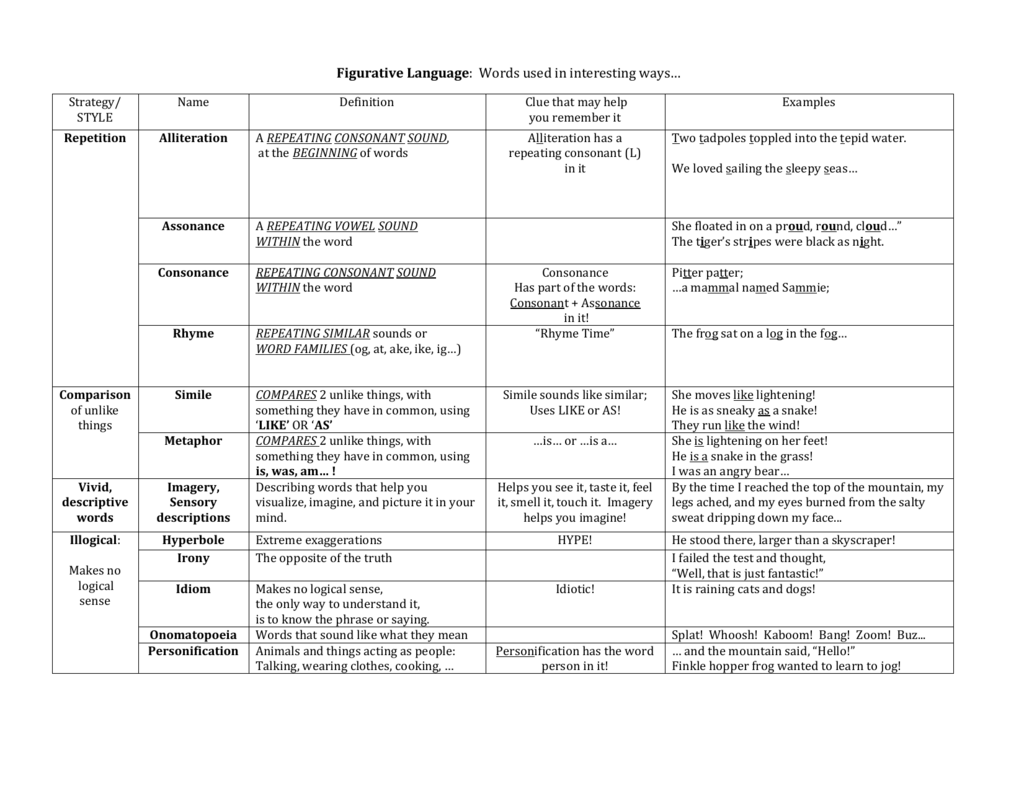 Figurative Language: Words used in interesting ways…
Strategy/
STYLE
Name
Repetition
Alliteration
Assonance
Consonance
Comparison
of unlike
things
A REPEATING CONSONANT SOUND,
at the BEGINNING of words
REPEATING CONSONANT SOUND
WITHIN the word
REPEATING SIMILAR sounds or
WORD FAMILIES (og, at, ake, ike, ig…)
Simile
COMPARES 2 unlike things, with
something they have in common, using
'LIKE' OR 'AS'
COMPARES 2 unlike things, with
something they have in common, using
is, was, am… !
Describing words that help you
visualize, imagine, and picture it in your
mind.
Vivid,
descriptive
words
Imagery,
Sensory
descriptions
Illogical:
Hyperbole
Irony
Idiom
Onomatopoeia
Personification
Clue that may help
you remember it
Alliteration has a
repeating consonant (L)
in it
A REPEATING VOWEL SOUND
WITHIN the word
Rhyme
Metaphor
Makes no
logical
sense
Definition
Examples
Two tadpoles toppled into the tepid water.
We loved sailing the sleepy seas…
She floated in on a proud, round, cloud…"
The tiger's stripes were black as night.
Consonance
Has part of the words:
Consonant + Assonance
in it!
"Rhyme Time"
Simile sounds like similar;
Uses LIKE or AS!
…is… or …is a…
Helps you see it, taste it, feel
it, smell it, touch it. Imagery
helps you imagine!
Extreme exaggerations
The opposite of the truth
HYPE!
Makes no logical sense,
the only way to understand it,
is to know the phrase or saying.
Words that sound like what they mean
Animals and things acting as people:
Talking, wearing clothes, cooking, …
Idiotic!
Personification has the word
person in it!
Pitter patter;
…a mammal named Sammie;
The frog sat on a log in the fog…
She moves like lightening!
He is as sneaky as a snake!
They run like the wind!
She is lightening on her feet!
He is a snake in the grass!
I was an angry bear…
By the time I reached the top of the mountain, my
legs ached, and my eyes burned from the salty
sweat dripping down my face...
He stood there, larger than a skyscraper!
I failed the test and thought,
"Well, that is just fantastic!"
It is raining cats and dogs!
Splat! Whoosh! Kaboom! Bang! Zoom! Buz...
… and the mountain said, "Hello!"
Finkle hopper frog wanted to learn to jog!