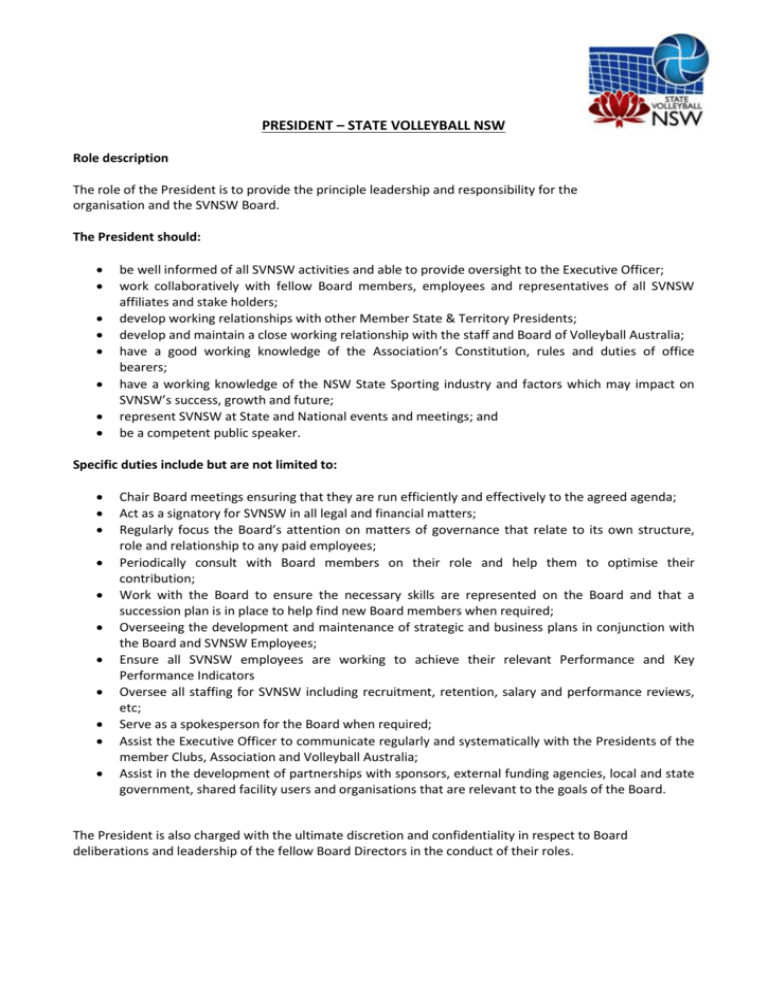 PRESIDENT – STATE VOLLEYBALL NSW
Role description
The role of the President is to provide the principle leadership and responsibility for the
organisation and the SVNSW Board.
The President should:








be well informed of all SVNSW activities and able to provide oversight to the Executive Officer;
work collaboratively with fellow Board members, employees and representatives of all SVNSW
affiliates and stake holders;
develop working relationships with other Member State & Territory Presidents;
develop and maintain a close working relationship with the staff and Board of Volleyball Australia;
have a good working knowledge of the Association's Constitution, rules and duties of office
bearers;
have a working knowledge of the NSW State Sporting industry and factors which may impact on
SVNSW's success, growth and future;
represent SVNSW at State and National events and meetings; and
be a competent public speaker.
Specific duties include but are not limited to:











Chair Board meetings ensuring that they are run efficiently and effectively to the agreed agenda;
Act as a signatory for SVNSW in all legal and financial matters;
Regularly focus the Board's attention on matters of governance that relate to its own structure,
role and relationship to any paid employees;
Periodically consult with Board members on their role and help them to optimise their
contribution;
Work with the Board to ensure the necessary skills are represented on the Board and that a
succession plan is in place to help find new Board members when required;
Overseeing the development and maintenance of strategic and business plans in conjunction with
the Board and SVNSW Employees;
Ensure all SVNSW employees are working to achieve their relevant Performance and Key
Performance Indicators
Oversee all staffing for SVNSW including recruitment, retention, salary and performance reviews,
etc;
Serve as a spokesperson for the Board when required;
Assist the Executive Officer to communicate regularly and systematically with the Presidents of the
member Clubs, Association and Volleyball Australia;
Assist in the development of partnerships with sponsors, external funding agencies, local and state
government, shared facility users and organisations that are relevant to the goals of the Board.
The President is also charged with the ultimate discretion and confidentiality in respect to Board
deliberations and leadership of the fellow Board Directors in the conduct of their roles.