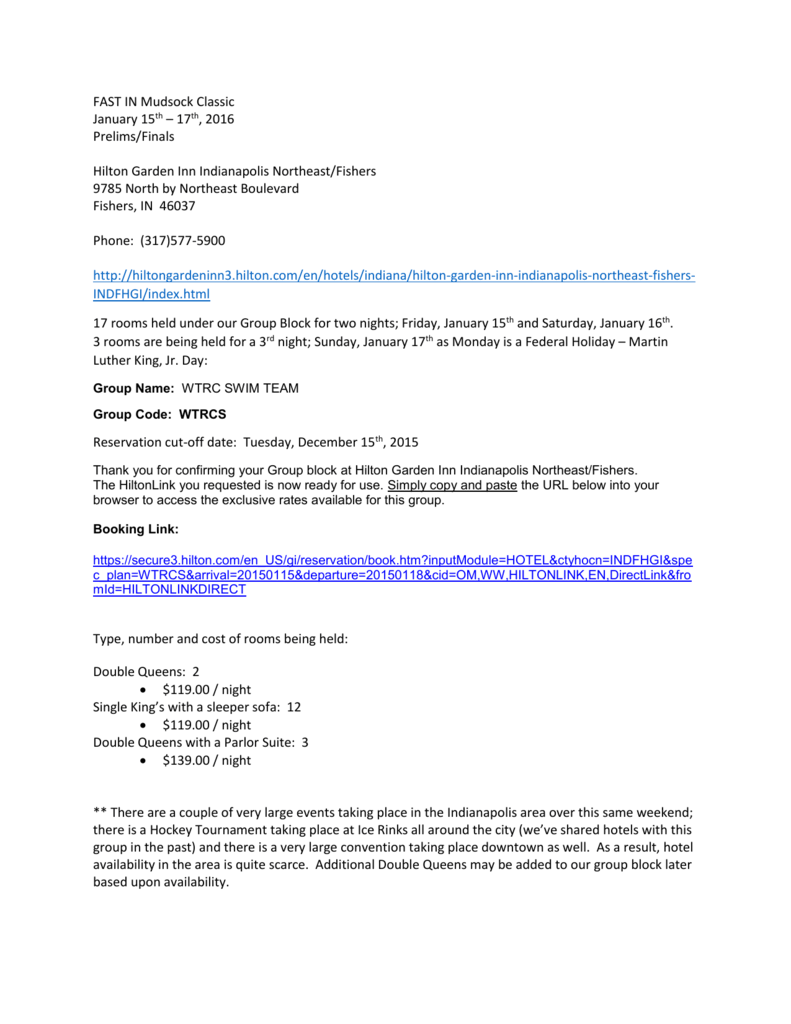 FAST IN Mudsock Classic
January 15th – 17th, 2016
Prelims/Finals
Hilton Garden Inn Indianapolis Northeast/Fishers
9785 North by Northeast Boulevard
Fishers, IN 46037
Phone: (317)577-5900
http://hiltongardeninn3.hilton.com/en/hotels/indiana/hilton-garden-inn-indianapolis-northeast-fishersINDFHGI/index.html
17 rooms held under our Group Block for two nights; Friday, January 15th and Saturday, January 16th.
3 rooms are being held for a 3rd night; Sunday, January 17th as Monday is a Federal Holiday – Martin
Luther King, Jr. Day:
Group Name: WTRC SWIM TEAM
Group Code: WTRCS
Reservation cut-off date: Tuesday, December 15th, 2015
Thank you for confirming your Group block at Hilton Garden Inn Indianapolis Northeast/Fishers.
The HiltonLink you requested is now ready for use. Simply copy and paste the URL below into your
browser to access the exclusive rates available for this group.
Booking Link:
https://secure3.hilton.com/en_US/gi/reservation/book.htm?inputModule=HOTEL&ctyhocn=INDFHGI&spe
c_plan=WTRCS&arrival=20150115&departure=20150118&cid=OM,WW,HILTONLINK,EN,DirectLink&fro
mId=HILTONLINKDIRECT
Type, number and cost of rooms being held:
Double Queens: 2
 $119.00 / night
Single King's with a sleeper sofa: 12
 $119.00 / night
Double Queens with a Parlor Suite: 3
 $139.00 / night
** There are a couple of very large events taking place in the Indianapolis area over this same weekend;
there is a Hockey Tournament taking place at Ice Rinks all around the city (we've shared hotels with this
group in the past) and there is a very large convention taking place downtown as well. As a result, hotel
availability in the area is quite scarce. Additional Double Queens may be added to our group block later
based upon availability.