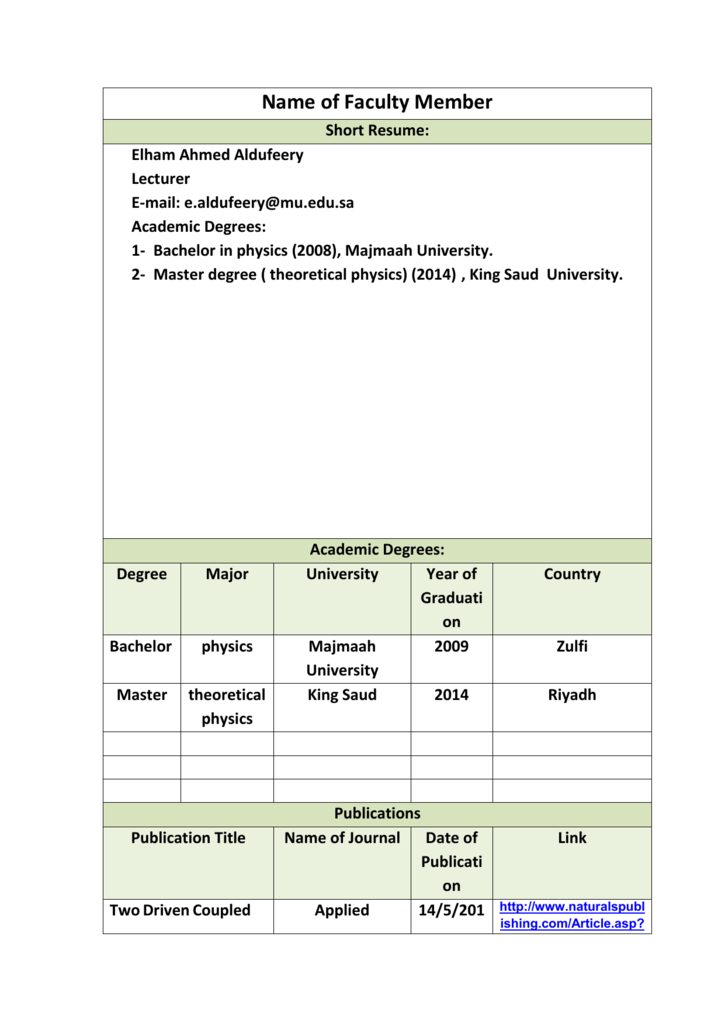 Name of Faculty Member
Short Resume:
Elham Ahmed Aldufeery
Lecturer
E-mail: [email protected]
Academic Degrees:
1- Bachelor in physics (2008), Majmaah University.
2- Master degree ( theoretical physics) (2014) , King Saud University.
Degree
Major
Bachelor
physics
Master
theoretical
physics
Publication Title
Two Driven Coupled
Academic Degrees:
University
Year of
Graduati
on
Majmaah
2009
University
King Saud
2014
Publications
Name of Journal Date of
Publicati
on
Applied
14/5/201
Country
Zulfi
Riyadh
Link
http://www.naturalspubl
ishing.com/Article.asp?
Qubits in a Time
Varying Magnetic
Field: Exact and
Approximate
Solutions
Mathematics &
Information
Sciences
4
ArtcID=5364
Administrative Designations, Committees and Units
College
Designatio
Department Units &
Designation (head,
Units &
n (head,
Committees
coordinator,
Committee coordinator
member)
s
, member)
Graduates committee
coordinator
Excellence committee
member
Quality commitee
member
Academic Advising
member
committee
Scientific research
member
committee
Administrative Designations
Administrative
Period of Time
Designation
Course
Code &
Number
Phys 111
Phys 324
Courses (Current Semester)
Course
Actual Hours
Name
General
physics 1
(lab)
Electronics
2
Credit Hours
2
1
2
1
(lab)
Phys 315
Electronics
2
1
1
(lab)
Phys 121
Mathemati
2
1
cs for
physics 1
(exercise)
Phys 212
Mathemati
2
1
cs for
physics 2
(exercise)
Phys 221
Mathemati
2
1
cs for
physics 3
(exercise)
Phys 122
Classical
4
3
Mechanics
1
(Theoretica
l + exercise)
Phys 223
Wave
4
3
motion and
vibration
(Theoretica
l + exercise)
Administrative & Academic Experience (Former Administrative & Academic
Designations)
Former Administrative
Period of Time
Designations
Academic Ranks
Period of Time
Demonstrator
Lecturer
Name
Course
Type
Activity
Quantum Computer
(lecture)
Day:
Day:
Day:
5 years
Present
Training Courses
Institution
Date
Faculty Members Activities
Link
Contact Information
Office Hours
Monday
Hour:
Hour:
Hour:
Academic Advisory
10-12 a.m.
Day:
Day:
Day:
Sunday
Tuesday
Hour:
Hour:
Hour:
Contact Me
Phone
E-mail:
Faculty University
Website:
Other Website:
Blogs
[email protected]
www.mu.edu.sa
10-12 a.m.
10-12 a.m.