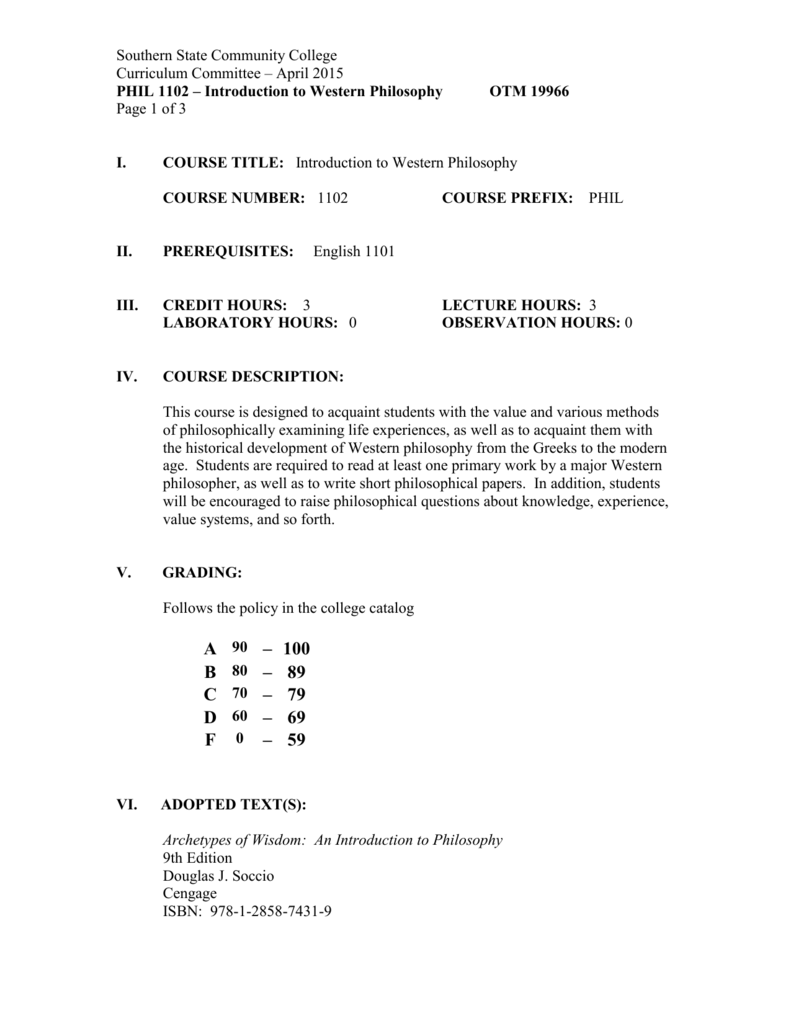 Southern State Community College
Curriculum Committee – April 2015
PHIL 1102 – Introduction to Western Philosophy
Page 1 of 3
I.
OTM 19966
COURSE TITLE: Introduction to Western Philosophy
COURSE NUMBER: 1102
II.
PREREQUISITES:
III.
CREDIT HOURS: 3
LABORATORY HOURS: 0
IV.
COURSE DESCRIPTION:
COURSE PREFIX:
PHIL
English 1101
LECTURE HOURS: 3
OBSERVATION HOURS: 0
This course is designed to acquaint students with the value and various methods
of philosophically examining life experiences, as well as to acquaint them with
the historical development of Western philosophy from the Greeks to the modern
age. Students are required to read at least one primary work by a major Western
philosopher, as well as to write short philosophical papers. In addition, students
will be encouraged to raise philosophical questions about knowledge, experience,
value systems, and so forth.
V.
GRADING:
Follows the policy in the college catalog
A
B
C
D
F
VI.
90 –
80 –
70 –
60 –
0 –
100
89
79
69
59
ADOPTED TEXT(S):
Archetypes of Wisdom: An Introduction to Philosophy
9th Edition
Douglas J. Soccio
Cengage
ISBN: 978-1-2858-7431-9
PHIL 1102 – Introduction to Western Philosophy
Page 2 of 3
VII.
COURSE OBJECTIVES:
The students will:
(1)
(2)
(3)
(4)
Demonstrate an understanding of basic philosophical inquiry from the
days of Socrates and Plato through the 20th Century;
Demonstrate a general understanding of the development of Western
philosophy;
Demonstrate an understanding of the impact of Judeo-Christian beliefs on
Western philosophy;
Demonstrate an understanding of the relationship of philosophy to other
aspects of society (politics, religion, education, business, medicine, etc.);
(5)
Demonstrate a more detailed understanding of at least one major Western
philosopher
(6)
Demonstrate an understanding of basic philosophical terms.
VIII. COURSE METHODOLOGY:
Classes will consist of lectures, class discussions, small group projects, videos,
outside assignments and supplemental materials. Interactive class discussion is
encouraged and staying current on reading assignments necessary to be able to
actively participate in class discussions.
IX.
SAMPLE COURSE OUTLINE:
The course must include readings and discussions about at least four of the
textbook chapters on the Classical Age and four on the Modern Age of Western
philosophy.
Classical Age chapters
Week 1:
Week 2:
Week 3:
Week 4:
Week 5:
Week 6:
Lao-tzu, Confucius, and Buddha
The Presocratic Sophos
The Sophist: Protagoras
The Wise Man: Socrates
The Philosopher-King: Plato
The Naturalist: Aristotle
The Stoic: Epictetus and Marcus Aurelius
Modern Age chapters
PHIL 1102 – Introduction to Western Philosophy
Page 3 of 3
Week 7:
Week 8:
Week 9:
Week 10:
Week 11:
Week 12:
Week 13:
Week 14:
Week 15:
X.
The Rationalist: Rene Descartes
The Skeptic: David Hume
The Universalist: Immanuel Kant
The Utilitarian: John Stuart Mill
The Materialist: Karl Marx
The Existentialist: Soren Kierkegaard
The Pragmatist: William James
The Anti-Philosopher: Friedrich Nietzsche
The 20th Century: Ludwig Wittgenstein and Martin Heidegger
OTHER REQUIRED BOOKS, SOFTWARE AND MATERIALS:
None
XI.
EVALUATION:
Students will write at least two (2) out of class papers, complete a final exam
project, and complete all other reasonable assignments required by the professor.
Attendance, preparation for class, and participation in class should be considered
in the evaluation of each student's performance in the course.
XII.
SPECIFIC MANAGEMENT REQUIREMENTS:
At the discretion of the instructor
XIII. OTHER INFORMATION:
FERPA: Students need to understand that your work may be seen by others.
Others may see your work when being distributed, during group project work, or
if it is chosen for demonstration purposes.
Students also need to know that there is a strong possibility that your work may
be submitted to other entities for the purpose of plagiarism checks.
DISABILITIES: Students with disabilities may contact the Disabilities Service
Office, Central Campus, at 800-628-7722 or 937-393-3431.