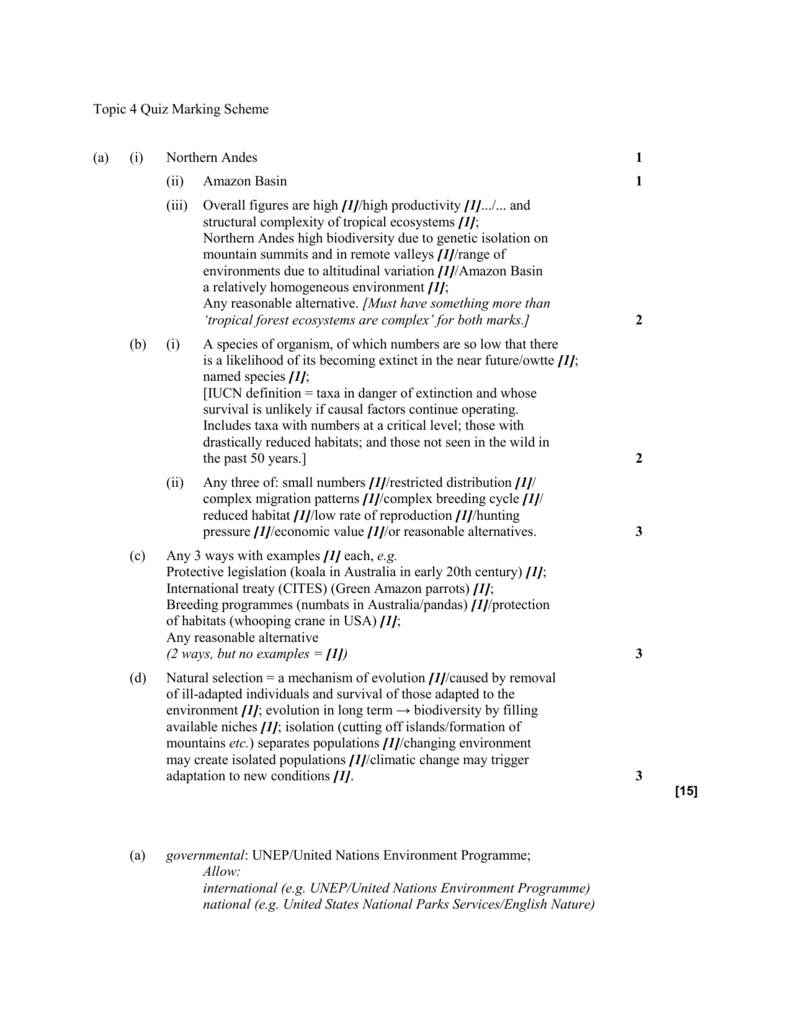 Topic 4 Quiz Marking Scheme
(a)
(i)
(b)
Northern Andes
1
(ii)
Amazon Basin
1
(iii)
Overall figures are high [1]/high productivity [1].../... and
structural complexity of tropical ecosystems [1];
Northern Andes high biodiversity due to genetic isolation on
mountain summits and in remote valleys [1]/range of
environments due to altitudinal variation [1]/Amazon Basin
a relatively homogeneous environment [1];
Any reasonable alternative. [Must have something more than
'tropical forest ecosystems are complex' for both marks.]
2
A species of organism, of which numbers are so low that there
is a likelihood of its becoming extinct in the near future/owtte [1];
named species [1];
[IUCN definition = taxa in danger of extinction and whose
survival is unlikely if causal factors continue operating.
Includes taxa with numbers at a critical level; those with
drastically reduced habitats; and those not seen in the wild in
the past 50 years.]
2
Any three of: small numbers [1]/restricted distribution [1]/
complex migration patterns [1]/complex breeding cycle [1]/
reduced habitat [1]/low rate of reproduction [1]/hunting
pressure [1]/economic value [1]/or reasonable alternatives.
3
(i)
(ii)
(c)
(d)
Any 3 ways with examples [1] each, e.g.
Protective legislation (koala in Australia in early 20th century) [1];
International treaty (CITES) (Green Amazon parrots) [1];
Breeding programmes (numbats in Australia/pandas) [1]/protection
of habitats (whooping crane in USA) [1];
Any reasonable alternative
(2 ways, but no examples = [1])
3
Natural selection = a mechanism of evolution [1]/caused by removal
of ill-adapted individuals and survival of those adapted to the
environment [1]; evolution in long term → biodiversity by filling
available niches [1]; isolation (cutting off islands/formation of
mountains etc.) separates populations [1]/changing environment
may create isolated populations [1]/climatic change may trigger
adaptation to new conditions [1].
3
[15]
(a)
governmental: UNEP/United Nations Environment Programme;
Allow:
international (e.g. UNEP/United Nations Environment Programme)
national (e.g. United States National Parks Services/English Nature)
state (e.g. Victoria Parks and Wildlife Services)
non-governmental: Greenpeace/WWF/Worldwide Fund for Nature;
2
(b)
Governmental
organization
Non-governmental
organization
use of media
media liaison officers
prepare and read a written
statement
use footage of activities
(e.g. chasing whaling boats)
to gains media attention;
speed of response
considered/slow/there must
be consensus between
member governments
rapid;
political/diplomatic considerable/activities are
constraints
hindered by political
decisions/there may be
disagreements between
political parties or member
nations (international
organizations)
unaffected by political
considerations/activities
may be illegal;
enforceability
no power/use public
opinion to pressure
governments to act;
international treaties and
national or state laws can
lead to prosecutions of
offenders
4 max
Allow any other reasonable points.
Comparisons must be made to gain full credit.
[6]