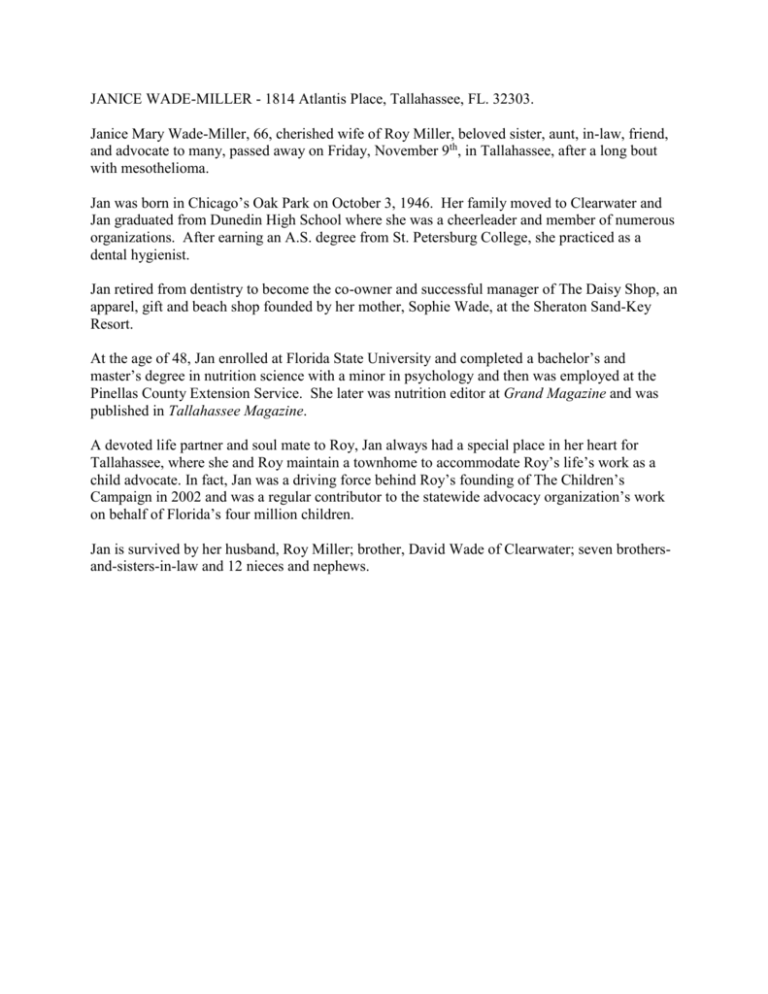 JANICE WADE-MILLER - 1814 Atlantis Place, Tallahassee, FL. 32303.
Janice Mary Wade-Miller, 66, cherished wife of Roy Miller, beloved sister, aunt, in-law, friend,
and advocate to many, passed away on Friday, November 9th, in Tallahassee, after a long bout
with mesothelioma.
Jan was born in Chicago's Oak Park on October 3, 1946. Her family moved to Clearwater and
Jan graduated from Dunedin High School where she was a cheerleader and member of numerous
organizations. After earning an A.S. degree from St. Petersburg College, she practiced as a
dental hygienist.
Jan retired from dentistry to become the co-owner and successful manager of The Daisy Shop, an
apparel, gift and beach shop founded by her mother, Sophie Wade, at the Sheraton Sand-Key
Resort.
At the age of 48, Jan enrolled at Florida State University and completed a bachelor's and
master's degree in nutrition science with a minor in psychology and then was employed at the
Pinellas County Extension Service. She later was nutrition editor at Grand Magazine and was
published in Tallahassee Magazine.
A devoted life partner and soul mate to Roy, Jan always had a special place in her heart for
Tallahassee, where she and Roy maintain a townhome to accommodate Roy's life's work as a
child advocate. In fact, Jan was a driving force behind Roy's founding of The Children's
Campaign in 2002 and was a regular contributor to the statewide advocacy organization's work
on behalf of Florida's four million children.
Jan is survived by her husband, Roy Miller; brother, David Wade of Clearwater; seven brothersand-sisters-in-law and 12 nieces and nephews.