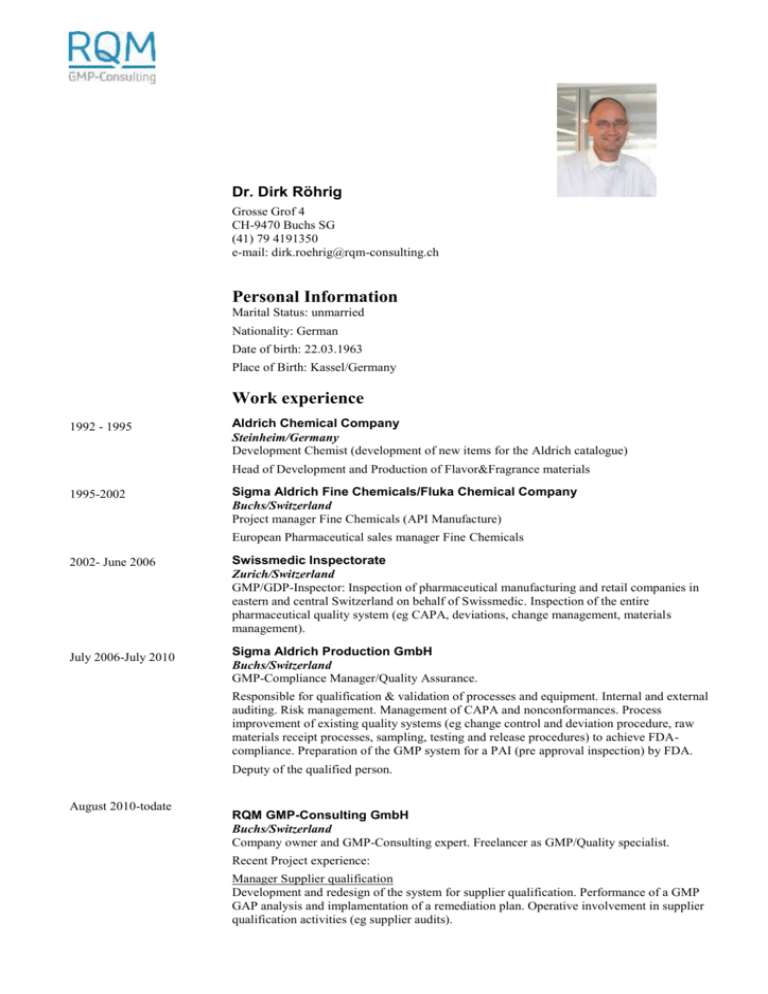 Dr. Dirk Röhrig
Grosse Grof 4
CH-9470 Buchs SG
(41) 79 4191350
e-mail: dirk.roehrig@rqm-consulting.ch
Personal Information
Marital Status: unmarried
Nationality: German
Date of birth: 22.03.1963
Place of Birth: Kassel/Germany
Work experience
1992 - 1995
Aldrich Chemical Company
Steinheim/Germany
Development Chemist (development of new items for the Aldrich catalogue)
Head of Development and Production of Flavor&Fragrance materials
1995-2002
Sigma Aldrich Fine Chemicals/Fluka Chemical Company
Buchs/Switzerland
Project manager Fine Chemicals (API Manufacture)
European Pharmaceutical sales manager Fine Chemicals
2002- June 2006
July 2006-July 2010
Swissmedic Inspectorate
Zurich/Switzerland
GMP/GDP-Inspector: Inspection of pharmaceutical manufacturing and retail companies in
eastern and central Switzerland on behalf of Swissmedic. Inspection of the entire
pharmaceutical quality system (eg CAPA, deviations, change management, materials
management).
Sigma Aldrich Production GmbH
Buchs/Switzerland
GMP-Compliance Manager/Quality Assurance.
Responsible for qualification & validation of processes and equipment. Internal and external
auditing. Risk management. Management of CAPA and nonconformances. Process
improvement of existing quality systems (eg change control and deviation procedure, raw
materials receipt processes, sampling, testing and release procedures) to achieve FDAcompliance. Preparation of the GMP system for a PAI (pre approval inspection) by FDA.
Deputy of the qualified person.
August 2010-todate
RQM GMP-Consulting GmbH
Buchs/Switzerland
Company owner and GMP-Consulting expert. Freelancer as GMP/Quality specialist.
Recent Project experience:
Manager Supplier qualification
Development and redesign of the system for supplier qualification. Performance of a GMP
GAP analysis and implamentation of a remediation plan. Operative involvement in supplier
qualification activities (eg supplier audits).
Quality assurance manager (interim)
Management of the QA group of a pharmaceutical wholesale organisation, operative day to
day business as interim Manager for 6 months
Qualification engineer: qualification of pharmaceutical cold storage areas. Transport
validation
Consultant for the redesign of a qualification and validation system of a pharmaceutical
manufacturing organization (vaccine manufacturing)
Consultant for the redesign of the system for risk management of a pharmaceutical
manufacturing organization (vaccine manufacturing)
Operative support in the reduction of open CAPAs of a pharmaceutical manufacturing
organization (vaccine manufacturing)
Consultant for the FDA compliance of logistic processes (materials receipt and storage) of a
pharmaceutical manufacturer
Qualified Person (fachtechnisch verantwortliche Person) for the Swiss affiliate of an
international pharmaceutical company
Education
1969 - 1973
Elementary school
Kassel/Germany
1973-1982
Grammar school "Wilhelmsgymnasium"
Kassel/Germany
Abitur
1982-1992
University
Marburg/Germany
Diplom 1987
Ph. D. Chemistry 1991
Languages
German (native), English (fluent), Spanish (fluent), French (basic)
Private activities
Philosophy, Hiking&Biking, Skiing, Carpentry/ Renovation of old furniture
Active member in the swiss vegetarian union
August – October 2008
Sabbatical/volunteer stay in Guatemala. Work for NGO-Organisation UPROBON.
Reforestration and wild life conservation in a cloud forest reserve. Intercultural exchange with
native Maya people.