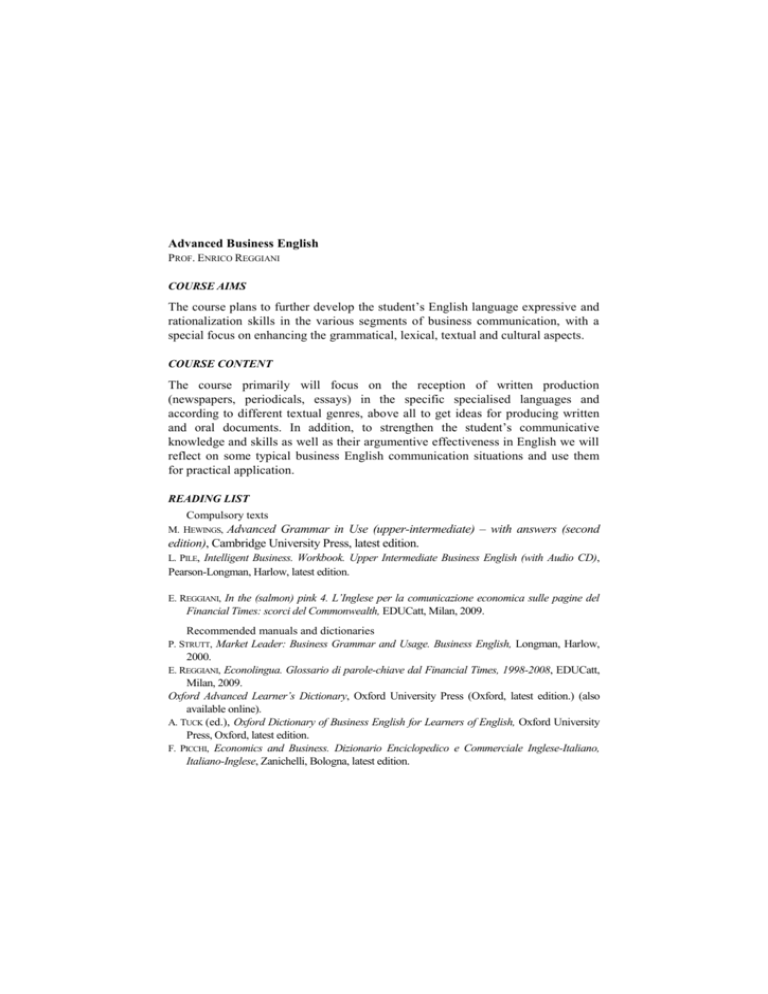 Advanced Business English
PROF. ENRICO REGGIANI
COURSE AIMS
The course plans to further develop the student's English language expressive and
rationalization skills in the various segments of business communication, with a
special focus on enhancing the grammatical, lexical, textual and cultural aspects.
COURSE CONTENT
The course primarily will focus on the reception of written production
(newspapers, periodicals, essays) in the specific specialised languages and
according to different textual genres, above all to get ideas for producing written
and oral documents. In addition, to strengthen the student's communicative
knowledge and skills as well as their argumentive effectiveness in English we will
reflect on some typical business English communication situations and use them
for practical application.
READING LIST
Compulsory texts
Advanced Grammar in Use (upper-intermediate) – with answers (second
edition), Cambridge University Press, latest edition.
M. HEWINGS,
L. PILE, Intelligent Business. Workbook. Upper Intermediate Business English (with Audio CD),
Pearson-Longman, Harlow, latest edition.
E. REGGIANI, In the (salmon) pink 4. L'Inglese per la comunicazione economica sulle pagine del
Financial Times: scorci del Commonwealth, EDUCatt, Milan, 2009.
Recommended manuals and dictionaries
P. STRUTT, Market Leader: Business Grammar and Usage. Business English, Longman, Harlow,
2000.
E. REGGIANI, Econolingua. Glossario di parole-chiave dal Financial Times, 1998-2008, EDUCatt,
Milan, 2009.
Oxford Advanced Learner's Dictionary, Oxford University Press (Oxford, latest edition.) (also
available online).
A. TUCK (ed.), Oxford Dictionary of Business English for Learners of English, Oxford University
Press, Oxford, latest edition.
F. PICCHI, Economics and Business. Dizionario Enciclopedico e Commerciale Inglese-Italiano,
Italiano-Inglese, Zanichelli, Bologna, latest edition.
TEACHING METHOD
Lectures with the use of multimedia aids.
ASSESSMENT METHOD
Oral exam based on the reading, translation and commentary in English of the contents
of all the compulsory reading list texts.
NOTES
The course information published herein could be subject to change should special
didactic needs arise; any such changes will be published in the online version of this
programme, which can be found in the course section of the coordinator's Blackboard page.
Students must check each section of this latter regularly and learn its contents.
The Advanced Business English course is open also to those students whose study
programme includes English Language (Advanced Course) or English Language for
Business Communication (Advanced Course) and for long-cycle (pre-reform) degree
students whose study programme includes English Language.
Further information can be found on the lecturer's webpage at
http://docenti.unicatt.it/web/searchByName.do?language=ENG, or on the Faculty notice
board.