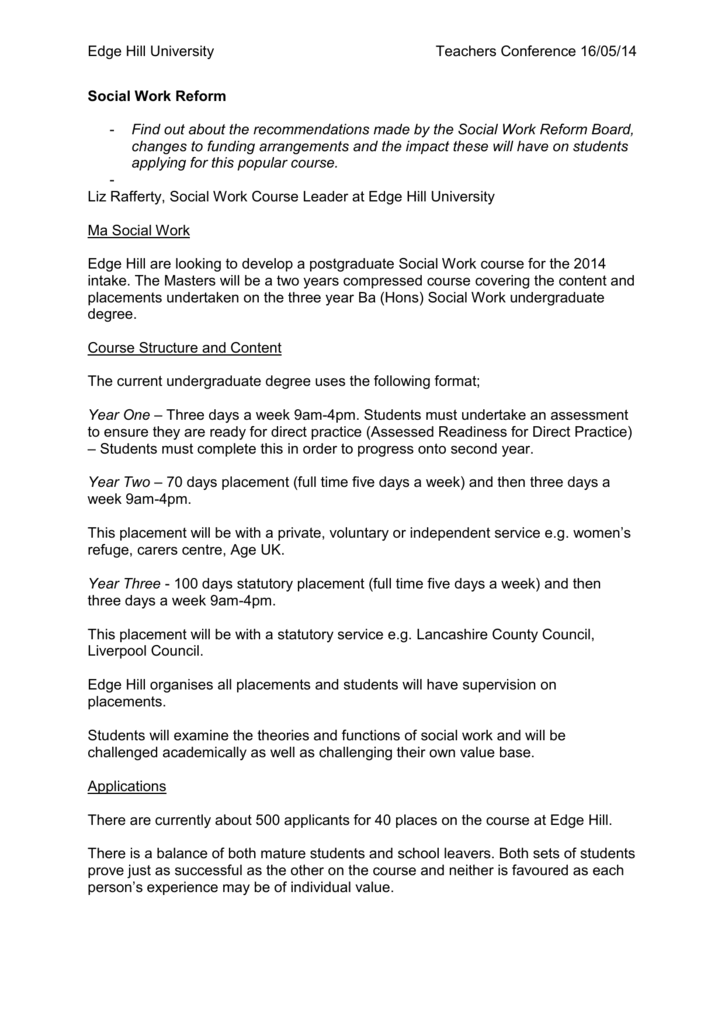 Edge Hill University
Teachers Conference 16/05/14
Social Work Reform
-
Find out about the recommendations made by the Social Work Reform Board,
changes to funding arrangements and the impact these will have on students
applying for this popular course.
Liz Rafferty, Social Work Course Leader at Edge Hill University
Ma Social Work
Edge Hill are looking to develop a postgraduate Social Work course for the 2014
intake. The Masters will be a two years compressed course covering the content and
placements undertaken on the three year Ba (Hons) Social Work undergraduate
degree.
Course Structure and Content
The current undergraduate degree uses the following format;
Year One – Three days a week 9am-4pm. Students must undertake an assessment
to ensure they are ready for direct practice (Assessed Readiness for Direct Practice)
– Students must complete this in order to progress onto second year.
Year Two – 70 days placement (full time five days a week) and then three days a
week 9am-4pm.
This placement will be with a private, voluntary or independent service e.g. women's
refuge, carers centre, Age UK.
Year Three - 100 days statutory placement (full time five days a week) and then
three days a week 9am-4pm.
This placement will be with a statutory service e.g. Lancashire County Council,
Liverpool Council.
Edge Hill organises all placements and students will have supervision on
placements.
Students will examine the theories and functions of social work and will be
challenged academically as well as challenging their own value base.
Applications
There are currently about 500 applicants for 40 places on the course at Edge Hill.
There is a balance of both mature students and school leavers. Both sets of students
prove just as successful as the other on the course and neither is favoured as each
person's experience may be of individual value.
Edge Hill University
Teachers Conference 16/05/14
Some students submit applications closer to the January deadline than others as
they may have work experience to complete before the deadline.
Personal Statement
When writing a personal statement students must demonstrate passion and a desire
to make a change. If they wish to include personal experiences, as many social work
students do, they must keep it relevant and professional. Students should also
include; clarity of purpose, an understanding of Social Work as a statutory function
and an understanding of the role of the service user (working with them, not on
them).
Students must also complete;
-
Occupational Screening
Health Questionnaire
DBS Screening
If a student does have a criminal offence then, in some circumstances, they may
come before a panel to explain the nature of the offence and explain their attitude
towards it.
Interview
-
Intro Talk
Written Task – handwritten to test applicant's competency. Questions change
each year, last years was 'what challenges will you face in your degree'.
Group task – Students must show the abilities to listen, not take over and
work in a group.
Individual interview – Will include a service user or an employer.
Work Experience
Applicants who are under 18 may want to;
-
Get involved with community groups.
Visit older peoples home.
Expose themselves to Social Care situations.
Finance
The fees are currently £9,000 per year and, currently, there are not enough bursaries
for the number of students. To find out more information on this visit
http://www.edgehill.ac.uk/study/courses/social-work#details
Recommended Reading
What is Social Work? – Nigel Horner
Studying for Your Social Work Degree – Hilary Walker
Edge Hill University
Teachers Conference 16/05/14
Social Work, An Introduction – Joyce Lishman, Chris Yuill, Jillian Brannan and
Alistair Gibson.