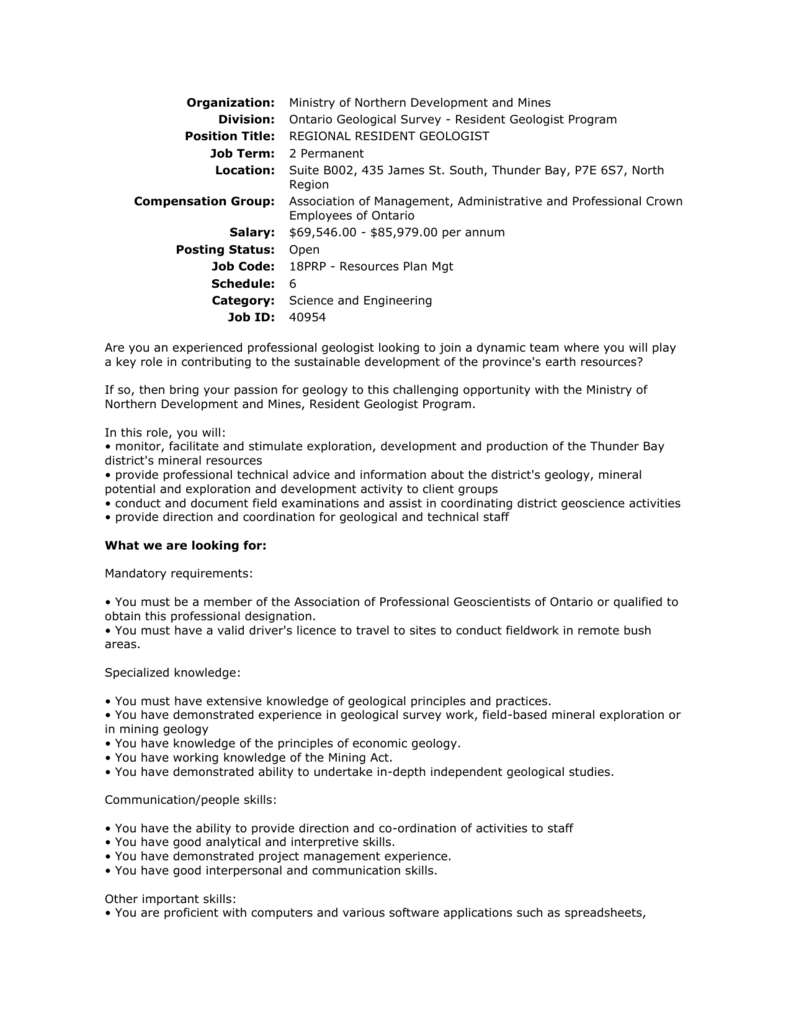 Organization:
Division:
Position Title:
Job Term:
Location:
Compensation Group:
Salary:
Posting Status:
Job Code:
Schedule:
Category:
Job ID:
Ministry of Northern Development and Mines
Ontario Geological Survey - Resident Geologist Program
REGIONAL RESIDENT GEOLOGIST
2 Permanent
Suite B002, 435 James St. South, Thunder Bay, P7E 6S7, North
Region
Association of Management, Administrative and Professional Crown
Employees of Ontario
$69,546.00 - $85,979.00 per annum
Open
18PRP - Resources Plan Mgt
6
Science and Engineering
40954
Are you an experienced professional geologist looking to join a dynamic team where you will play
a key role in contributing to the sustainable development of the province's earth resources?
If so, then bring your passion for geology to this challenging opportunity with the Ministry of
Northern Development and Mines, Resident Geologist Program.
In this role, you will:
• monitor, facilitate and stimulate exploration, development and production of the Thunder Bay
district's mineral resources
• provide professional technical advice and information about the district's geology, mineral
potential and exploration and development activity to client groups
• conduct and document field examinations and assist in coordinating district geoscience activities
• provide direction and coordination for geological and technical staff
What we are looking for:
Mandatory requirements:
• You must be a member of the Association of Professional Geoscientists of Ontario or qualified to
obtain this professional designation.
• You must have a valid driver's licence to travel to sites to conduct fieldwork in remote bush
areas.
Specialized knowledge:
• You must have extensive knowledge of geological principles and practices.
• You have demonstrated experience in geological survey work, field-based mineral exploration or
in mining geology
• You have knowledge of the principles of economic geology.
• You have working knowledge of the Mining Act.
• You have demonstrated ability to undertake in-depth independent geological studies.
Communication/people skills:
•
•
•
•
You
You
You
You
have
have
have
have
the ability to provide direction and co-ordination of activities to staff
good analytical and interpretive skills.
demonstrated project management experience.
good interpersonal and communication skills.
Other important skills:
• You are proficient with computers and various software applications such as spreadsheets,
email, database and word-processing.
Posting Date: Wednesday, January 18, 2012
Closing Date: Wednesday, February 8, 2012 11:59 pm EST
How to apply:
1. You must apply online.
2. You must show how you meet what we are looking for clearly, completely and concisely.
We rely on the information you provide to us.
3. Read the job specification to make sure you understand this job.
4. OPS employees are required to quote their WIN EMPLOYEE ID number when applying.
5. If you require a disability related accommodation in order to participate in the
recruitment process, please Contact Us to provide your contact information. Recruitment
Services staff will contact you within 48 hours.
Remember: The deadline to apply is Wednesday, February 8, 2012 11:59 pm EST.
Late applications will not be accepted.
Note: We thank you for your interest; however, we will contact you only if we choose you for
further screening or an interview.
The Ontario Public Service is an equal opportunity employer.
We will accommodate your needs under the Ontario Human Rights Code.