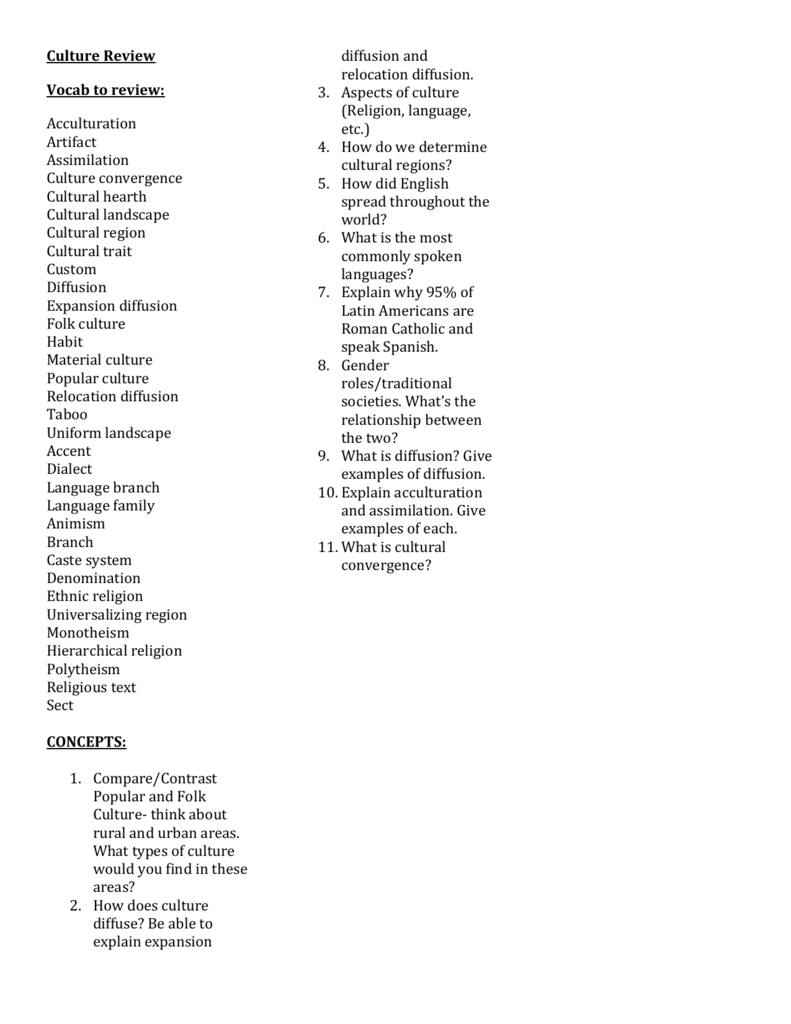 Culture Review
Vocab to review:
Acculturation
Artifact
Assimilation
Culture convergence
Cultural hearth
Cultural landscape
Cultural region
Cultural trait
Custom
Diffusion
Expansion diffusion
Folk culture
Habit
Material culture
Popular culture
Relocation diffusion
Taboo
Uniform landscape
Accent
Dialect
Language branch
Language family
Animism
Branch
Caste system
Denomination
Ethnic religion
Universalizing region
Monotheism
Hierarchical religion
Polytheism
Religious text
Sect
CONCEPTS:
1. Compare/Contrast
Popular and Folk
Culture- think about
rural and urban areas.
What types of culture
would you find in these
areas?
2. How does culture
diffuse? Be able to
explain expansion
diffusion and
relocation diffusion.
3. Aspects of culture
(Religion, language,
etc.)
4. How do we determine
cultural regions?
5. How did English
spread throughout the
world?
6. What is the most
commonly spoken
languages?
7. Explain why 95% of
Latin Americans are
Roman Catholic and
speak Spanish.
8. Gender
roles/traditional
societies. What's the
relationship between
the two?
9. What is diffusion? Give
examples of diffusion.
10. Explain acculturation
and assimilation. Give
examples of each.
11. What is cultural
convergence?