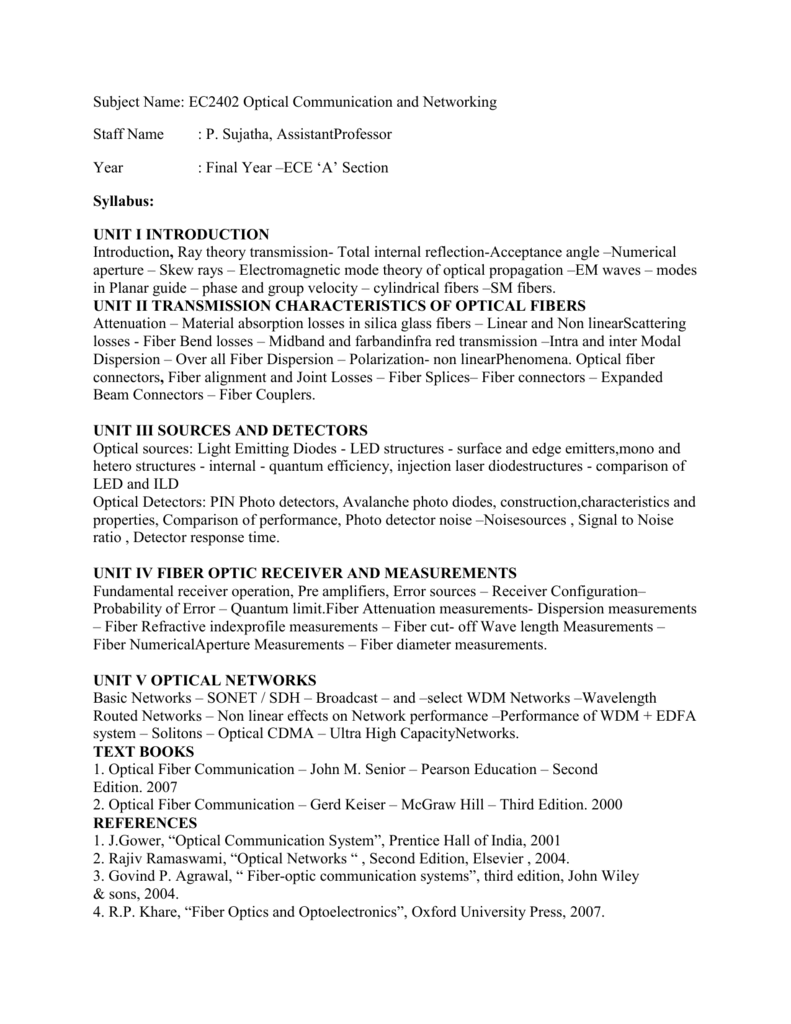 Subject Name: EC2402 Optical Communication and Networking
Staff Name
: P. Sujatha, AssistantProfessor
Year
: Final Year –ECE 'A' Section
Syllabus:
UNIT I INTRODUCTION
Introduction, Ray theory transmission- Total internal reflection-Acceptance angle –Numerical
aperture – Skew rays – Electromagnetic mode theory of optical propagation –EM waves – modes
in Planar guide – phase and group velocity – cylindrical fibers –SM fibers.
UNIT II TRANSMISSION CHARACTERISTICS OF OPTICAL FIBERS
Attenuation – Material absorption losses in silica glass fibers – Linear and Non linearScattering
losses - Fiber Bend losses – Midband and farbandinfra red transmission –Intra and inter Modal
Dispersion – Over all Fiber Dispersion – Polarization- non linearPhenomena. Optical fiber
connectors, Fiber alignment and Joint Losses – Fiber Splices– Fiber connectors – Expanded
Beam Connectors – Fiber Couplers.
UNIT III SOURCES AND DETECTORS
Optical sources: Light Emitting Diodes - LED structures - surface and edge emitters,mono and
hetero structures - internal - quantum efficiency, injection laser diodestructures - comparison of
LED and ILD
Optical Detectors: PIN Photo detectors, Avalanche photo diodes, construction,characteristics and
properties, Comparison of performance, Photo detector noise –Noisesources , Signal to Noise
ratio , Detector response time.
UNIT IV FIBER OPTIC RECEIVER AND MEASUREMENTS
Fundamental receiver operation, Pre amplifiers, Error sources – Receiver Configuration–
Probability of Error – Quantum limit.Fiber Attenuation measurements- Dispersion measurements
– Fiber Refractive indexprofile measurements – Fiber cut- off Wave length Measurements –
Fiber NumericalAperture Measurements – Fiber diameter measurements.
UNIT V OPTICAL NETWORKS
Basic Networks – SONET / SDH – Broadcast – and –select WDM Networks –Wavelength
Routed Networks – Non linear effects on Network performance –Performance of WDM + EDFA
system – Solitons – Optical CDMA – Ultra High CapacityNetworks.
TEXT BOOKS
1. Optical Fiber Communication – John M. Senior – Pearson Education – Second
Edition. 2007
2. Optical Fiber Communication – Gerd Keiser – McGraw Hill – Third Edition. 2000
REFERENCES
1. J.Gower, "Optical Communication System", Prentice Hall of India, 2001
2. Rajiv Ramaswami, "Optical Networks " , Second Edition, Elsevier , 2004.
3. Govind P. Agrawal, " Fiber-optic communication systems", third edition, John Wiley
& sons, 2004.
4. R.P. Khare, "Fiber Optics and Optoelectronics", Oxford University Press, 2007.