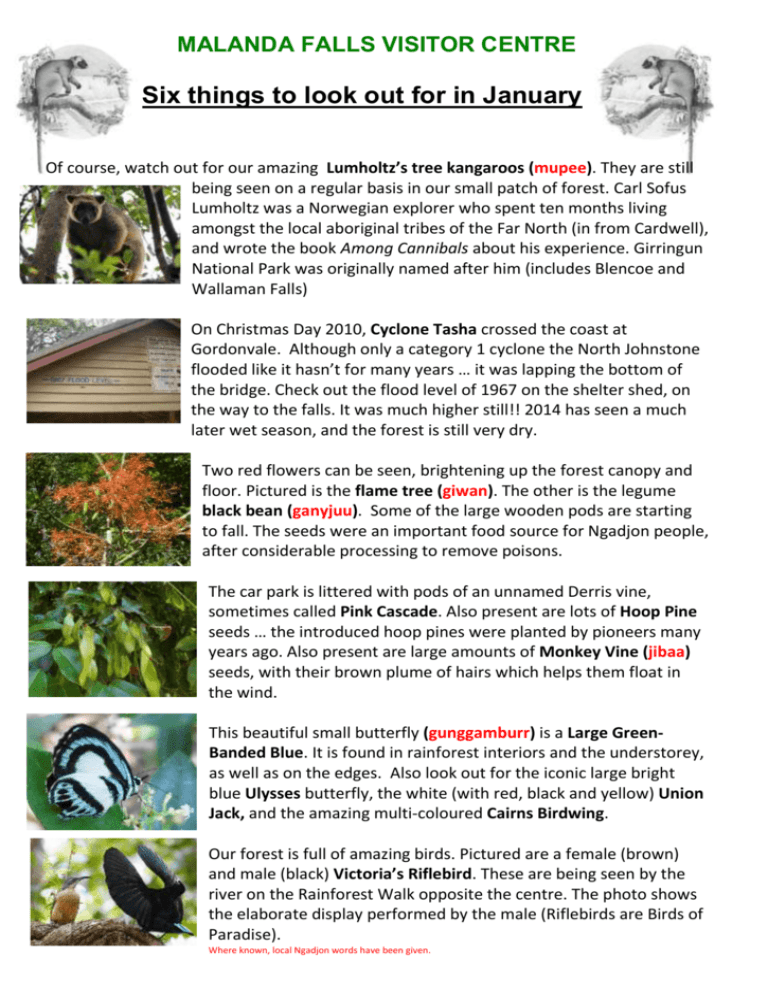 MALANDA FALLS VISITOR CENTRE
Six things to look out for in January
Of course, watch out for our amazing Lumholtz's tree kangaroos (mupee). They are still
being seen on a regular basis in our small patch of forest. Carl Sofus
Lumholtz was a Norwegian explorer who spent ten months living
amongst the local aboriginal tribes of the Far North (in from Cardwell),
and wrote the book Among Cannibals about his experience. Girringun
National Park was originally named after him (includes Blencoe and
Wallaman Falls)
On Christmas Day 2010, Cyclone Tasha crossed the coast at
Gordonvale. Although only a category 1 cyclone the North Johnstone
flooded like it hasn't for many years … it was lapping the bottom of
the bridge. Check out the flood level of 1967 on the shelter shed, on
the way to the falls. It was much higher still!! 2014 has seen a much
later wet season, and the forest is still very dry.
Two red flowers can be seen, brightening up the forest canopy and
floor. Pictured is the flame tree (giwan). The other is the legume
black bean (ganyjuu). Some of the large wooden pods are starting
to fall. The seeds were an important food source for Ngadjon people,
after considerable processing to remove poisons.
The car park is littered with pods of an unnamed Derris vine,
sometimes called Pink Cascade. Also present are lots of Hoop Pine
seeds … the introduced hoop pines were planted by pioneers many
years ago. Also present are large amounts of Monkey Vine (jibaa)
seeds, with their brown plume of hairs which helps them float in
the wind.
This beautiful small butterfly (gunggamburr) is a Large GreenBanded Blue. It is found in rainforest interiors and the understorey,
as well as on the edges. Also look out for the iconic large bright
blue Ulysses butterfly, the white (with red, black and yellow) Union
Jack, and the amazing multi-coloured Cairns Birdwing.
Our forest is full of amazing birds. Pictured are a female (brown)
and male (black) Victoria's Riflebird. These are being seen by the
river on the Rainforest Walk opposite the centre. The photo shows
the elaborate display performed by the male (Riflebirds are Birds of
Paradise).
Where known, local Ngadjon words have been given.