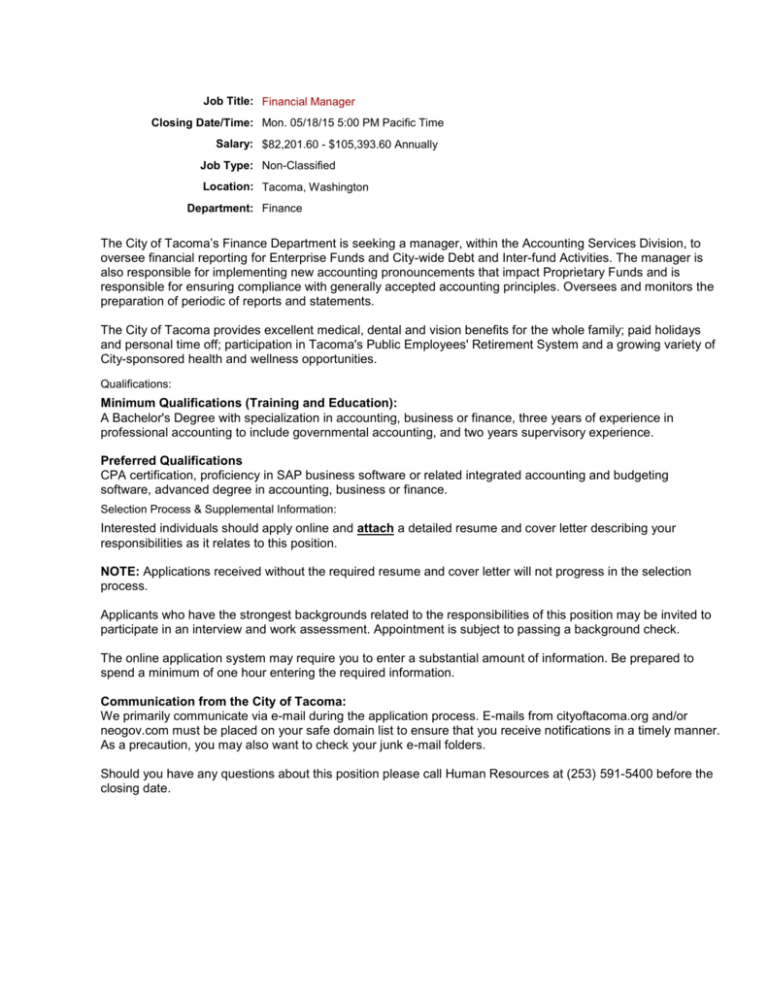 Job Title: Financial Manager
Closing Date/Time: Mon. 05/18/15 5:00 PM Pacific Time
Salary: $82,201.60 - $105,393.60 Annually
Job Type: Non-Classified
Location: Tacoma, Washington
Department: Finance
The City of Tacoma's Finance Department is seeking a manager, within the Accounting Services Division, to
oversee financial reporting for Enterprise Funds and City-wide Debt and Inter-fund Activities. The manager is
also responsible for implementing new accounting pronouncements that impact Proprietary Funds and is
responsible for ensuring compliance with generally accepted accounting principles. Oversees and monitors the
preparation of periodic of reports and statements.
The City of Tacoma provides excellent medical, dental and vision benefits for the whole family; paid holidays
and personal time off; participation in Tacoma's Public Employees' Retirement System and a growing variety of
City-sponsored health and wellness opportunities.
Qualifications:
Minimum Qualifications (Training and Education):
A Bachelor's Degree with specialization in accounting, business or finance, three years of experience in
professional accounting to include governmental accounting, and two years supervisory experience.
Preferred Qualifications
CPA certification, proficiency in SAP business software or related integrated accounting and budgeting
software, advanced degree in accounting, business or finance.
Selection Process & Supplemental Information:
Interested individuals should apply online and attach a detailed resume and cover letter describing your
responsibilities as it relates to this position.
NOTE: Applications received without the required resume and cover letter will not progress in the selection
process.
Applicants who have the strongest backgrounds related to the responsibilities of this position may be invited to
participate in an interview and work assessment. Appointment is subject to passing a background check.
The online application system may require you to enter a substantial amount of information. Be prepared to
spend a minimum of one hour entering the required information.
Communication from the City of Tacoma:
We primarily communicate via e-mail during the application process. E-mails from cityoftacoma.org and/or
neogov.com must be placed on your safe domain list to ensure that you receive notifications in a timely manner.
As a precaution, you may also want to check your junk e-mail folders.
Should you have any questions about this position please call Human Resources at (253) 591-5400 before the
closing date.