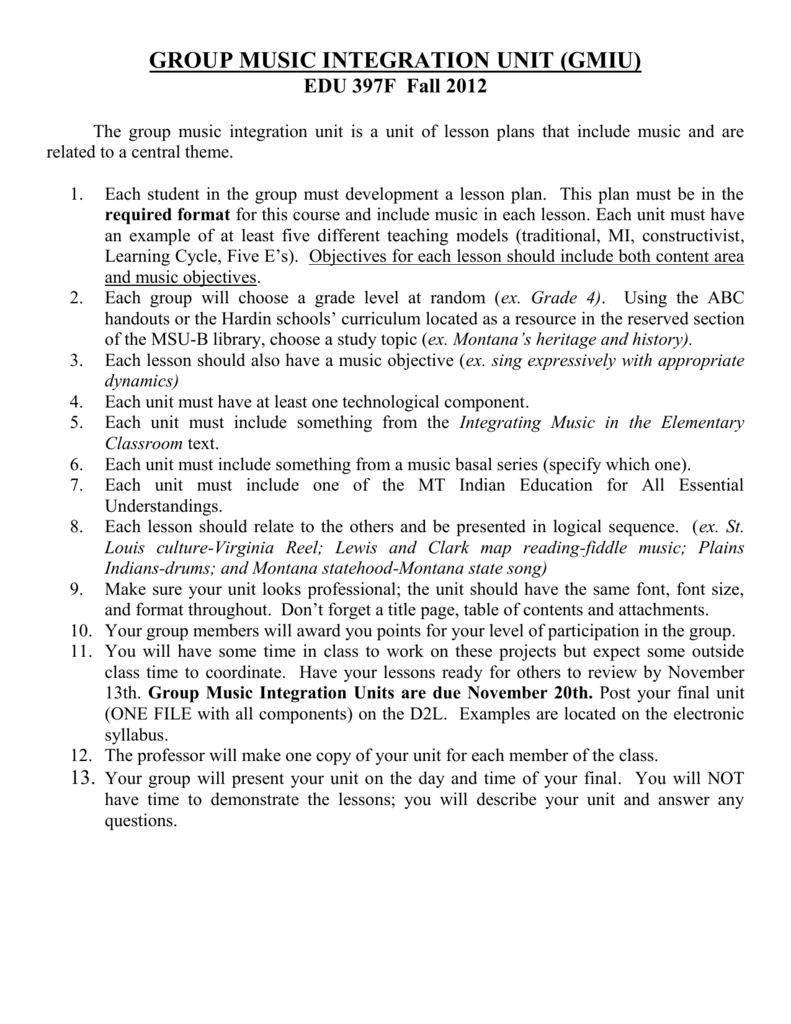 GROUP MUSIC INTEGRATION UNIT (GMIU)
EDU 397F Fall 2012
The group music integration unit is a unit of lesson plans that include music and are
related to a central theme.
1.
2.
3.
4.
5.
6.
7.
8.
9.
10.
11.
12.
13.
Each student in the group must development a lesson plan. This plan must be in the
required format for this course and include music in each lesson. Each unit must have
an example of at least five different teaching models (traditional, MI, constructivist,
Learning Cycle, Five E's). Objectives for each lesson should include both content area
and music objectives.
Each group will choose a grade level at random (ex. Grade 4). Using the ABC
handouts or the Hardin schools' curriculum located as a resource in the reserved section
of the MSU-B library, choose a study topic (ex. Montana's heritage and history).
Each lesson should also have a music objective (ex. sing expressively with appropriate
dynamics)
Each unit must have at least one technological component.
Each unit must include something from the Integrating Music in the Elementary
Classroom text.
Each unit must include something from a music basal series (specify which one).
Each unit must include one of the MT Indian Education for All Essential
Understandings.
Each lesson should relate to the others and be presented in logical sequence. (ex. St.
Louis culture-Virginia Reel; Lewis and Clark map reading-fiddle music; Plains
Indians-drums; and Montana statehood-Montana state song)
Make sure your unit looks professional; the unit should have the same font, font size,
and format throughout. Don't forget a title page, table of contents and attachments.
Your group members will award you points for your level of participation in the group.
You will have some time in class to work on these projects but expect some outside
class time to coordinate. Have your lessons ready for others to review by November
13th. Group Music Integration Units are due November 20th. Post your final unit
(ONE FILE with all components) on the D2L. Examples are located on the electronic
syllabus.
The professor will make one copy of your unit for each member of the class.
Your group will present your unit on the day and time of your final. You will NOT
have time to demonstrate the lessons; you will describe your unit and answer any
questions.