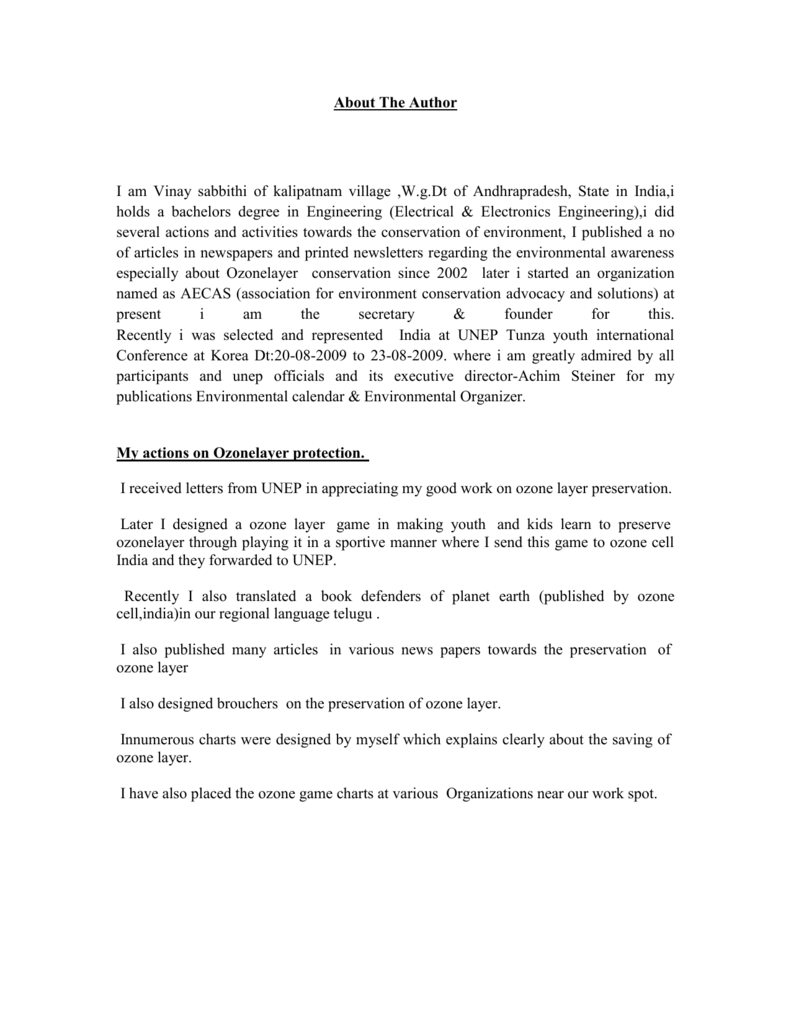 About The Author
I am Vinay sabbithi of kalipatnam village ,W.g.Dt of Andhrapradesh, State in India,i
holds a bachelors degree in Engineering (Electrical & Electronics Engineering),i did
several actions and activities towards the conservation of environment, I published a no
of articles in newspapers and printed newsletters regarding the environmental awareness
especially about Ozonelayer conservation since 2002 later i started an organization
named as AECAS (association for environment conservation advocacy and solutions) at
present
i
am
the
secretary
&
founder
for
this.
Recently i was selected and represented India at UNEP Tunza youth international
Conference at Korea Dt:20-08-2009 to 23-08-2009. where i am greatly admired by all
participants and unep officials and its executive director-Achim Steiner for my
publications Environmental calendar & Environmental Organizer.
My actions on Ozonelayer protection.
I received letters from UNEP in appreciating my good work on ozone layer preservation.
Later I designed a ozone layer game in making youth and kids learn to preserve
ozonelayer through playing it in a sportive manner where I send this game to ozone cell
India and they forwarded to UNEP.
Recently I also translated a book defenders of planet earth (published by ozone
cell,india)in our regional language telugu .
I also published many articles in various news papers towards the preservation of
ozone layer
I also designed brouchers on the preservation of ozone layer.
Innumerous charts were designed by myself which explains clearly about the saving of
ozone layer.
I have also placed the ozone game charts at various Organizations near our work spot.