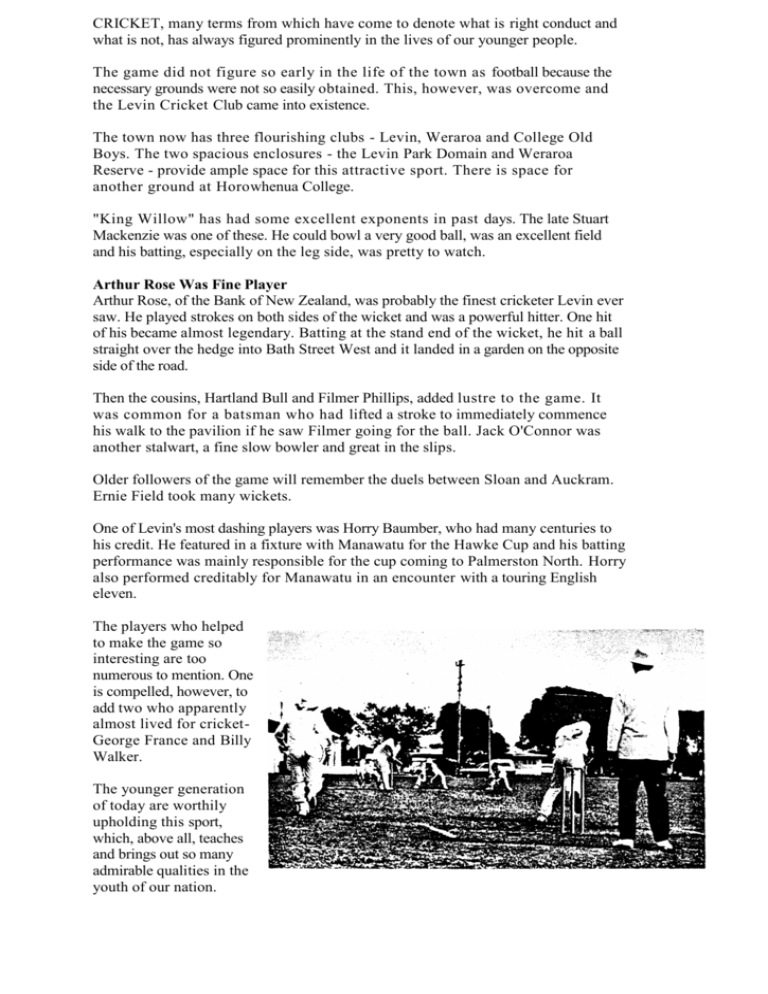 CRICKET, many terms from which have come to denote what is right conduct and
what is not, has always figured prominently in the lives of our younger people.
The game did not figure so early in the life of the town as football because the
necessary grounds were not so easily obtained. This, however, was overcome and
the Levin Cricket Club came into existence.
The town now has three flourishing clubs - Levin, Weraroa and College Old
Boys. The two spacious enclosures - the Levin Park Domain and Weraroa
Reserve - provide ample space for this attractive sport. There is space for
another ground at Horowhenua College.
"King Willow" has had some excellent exponents in past days. The late Stuart
Mackenzie was one of these. He could bowl a very good ball, was an excellent field
and his batting, especially on the leg side, was pretty to watch.
Arthur Rose Was Fine Player
Arthur Rose, of the Bank of New Zealand, was probably the finest cricketer Levin ever
saw. He played strokes on both sides of the wicket and was a powerful hitter. One hit
of his became almost legendary. Batting at the stand end of the wicket, he hit a ball
straight over the hedge into Bath Street West and it landed in a garden on the opposite
side of the road.
Then the cousins, Hartland Bull and Filmer Phillips, added lustre to the game. It
was common for a batsman who had lifted a stroke to immediately commence
his walk to the pavilion if he saw Filmer going for the ball. Jack O'Connor was
another stalwart, a fine slow bowler and great in the slips.
Older followers of the game will remember the duels between Sloan and Auckram.
Ernie Field took many wickets.
One of Levin's most dashing players was Horry Baumber, who had many centuries to
his credit. He featured in a fixture with Manawatu for the Hawke Cup and his batting
performance was mainly responsible for the cup coming to Palmerston North. Horry
also performed creditably for Manawatu in an encounter with a touring English
eleven.
The players who helped
to make the game so
interesting are too
numerous to mention. One
is compelled, however, to
add two who apparently
almost lived for cricketGeorge France and Billy
Walker.
The younger generation
of today are worthily
upholding this sport,
which, above all, teaches
and brings out so many
admirable qualities in the
youth of our nation.