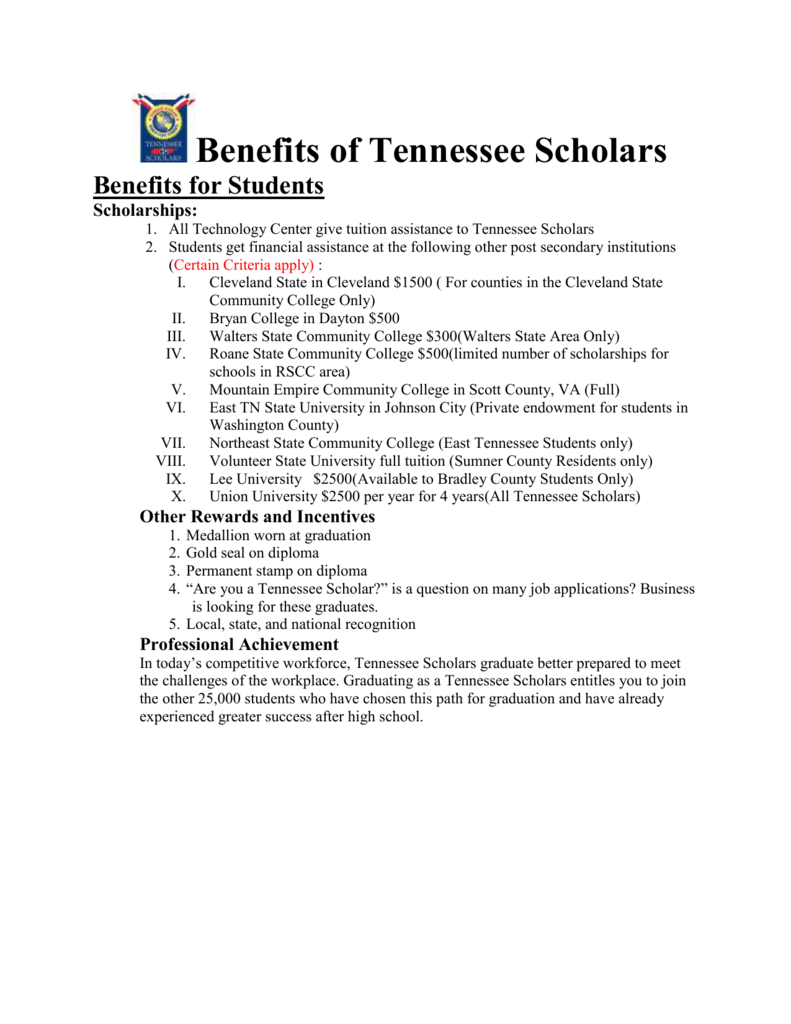 Benefits of Tennessee Scholars
Benefits for Students
Scholarships:
1. All Technology Center give tuition assistance to Tennessee Scholars
2. Students get financial assistance at the following other post secondary institutions
(Certain Criteria apply) :
I.
Cleveland State in Cleveland $1500 ( For counties in the Cleveland State
Community College Only)
II.
Bryan College in Dayton $500
III.
Walters State Community College $300(Walters State Area Only)
IV.
Roane State Community College $500(limited number of scholarships for
schools in RSCC area)
V. Mountain Empire Community College in Scott County, VA (Full)
VI.
East TN State University in Johnson City (Private endowment for students in
Washington County)
VII.
Northeast State Community College (East Tennessee Students only)
VIII.
Volunteer State University full tuition (Sumner County Residents only)
IX.
Lee University $2500(Available to Bradley County Students Only)
X. Union University $2500 per year for 4 years(All Tennessee Scholars)
Other Rewards and Incentives
1.
2.
3.
4.
Medallion worn at graduation
Gold seal on diploma
Permanent stamp on diploma
"Are you a Tennessee Scholar?" is a question on many job applications? Business
is looking for these graduates.
5. Local, state, and national recognition
Professional Achievement
In today's competitive workforce, Tennessee Scholars graduate better prepared to meet
the challenges of the workplace. Graduating as a Tennessee Scholars entitles you to join
the other 25,000 students who have chosen this path for graduation and have already
experienced greater success after high school.