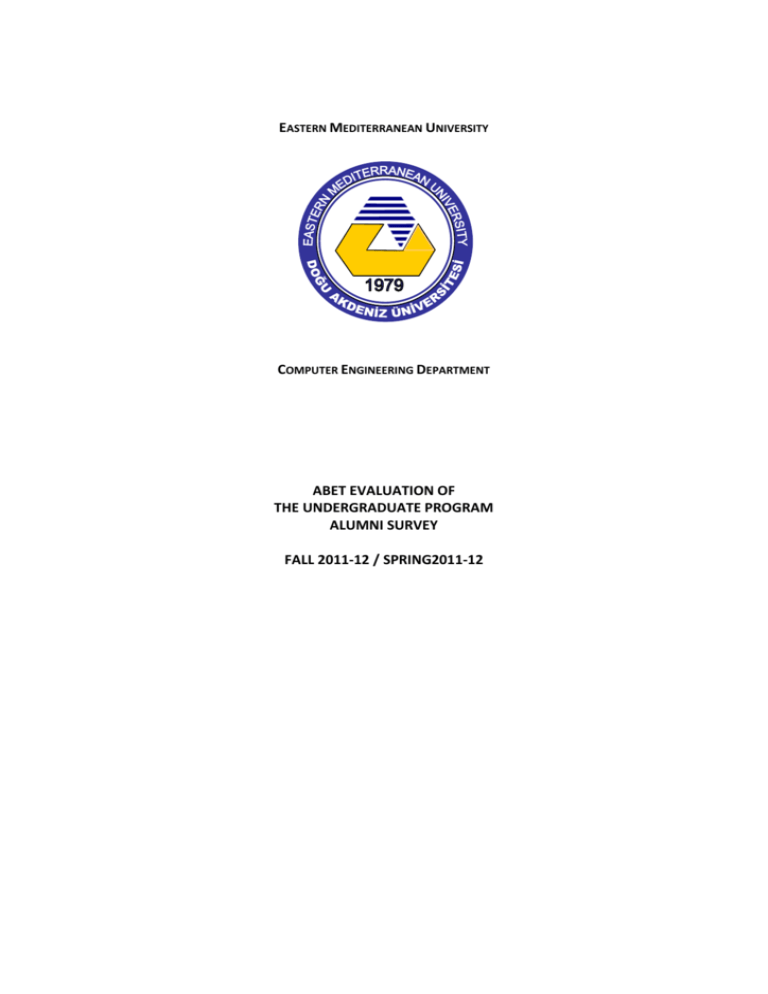 EASTERN MEDITERRANEAN UNIVERSITY
COMPUTER ENGINEERING DEPARTMENT
ABET EVALUATION OF
THE UNDERGRADUATE PROGRAM
ALUMNI SURVEY
FALL 2011-12 / SPRING2011-12
Alumni Survey Report
Questions 1-4:
Program Educational Objectives in the alumni survey questionary.
1. Excel in industrial or graduate work in computer engineering and related fields.
2. Practice in computer engineering in both national and international settings, conforming to
ethical values and environmentally friendly policies.
3. Have sufficient professional competence allowing them to assume leadership roles in their
organization.
4. Successfully adapt the new technologies and stay current with their professions.
PO
1
2
3
4
Table of support of Alumni survey to Program Educational Objectives.
Exit Survey
Exit Survey
Alumni Survey
Survey
Average % in
Average % in
Average % in
Comments
Questions
favor
favor
favor
Fall-2010-11
Spring-2010-11
2011-12
1
85
81
69.6
Satisfactory
2
85
83
83.2
Satisfactory
3
85
85
77.5
Satisfactory
4
86
81
86.1
Satisfactory
In conclusion, alumni survey evaluation indicates that Computer Engineering Program currently
satisfies all Program Educational Objectives. Only the first item is at the margin and it has hardly
collected 70 percent in favor answers. The first PEO item is about excellence in industrial or graduate
work in computer engineering, and it is highly appreciated by exit survey. Therefore we do not
propose any modification on its current wording.
Question 5
Suggestions to Current Program Educational Objectives
From 55 suggestions to Current PEO, the followings have been found outstanding:
1- Adaptation to new technologies successfully(1,33,38,50,54,55)
2- To have leadership position in team projects (13,14,15,16,17,22,43,42,43,46).
3- Develop ability in solving problems (22).
4- Present high ethical values along with successful project experience and develop good human
relations who communicate skillfully and highly presentable (26,52).
5- Successful in analysis, production, and testing(34,35 ).
6- Have strong social relations to climb up to director level (9,45,49).
The first item that already exists in our PEO confirms its place. Items 3 and 5 appears like an issue of
program outcomes, rather than the objectives. In conclusion we propose to consider items 2, 4, and 6
to be discussed in future to be included into PEO. However, we do not recommend any change since
the third item of our current PEO contains leadership roles and ethical values which is mentioned in
item-4, and our outcomes contain communicative and social skills at items (g) and (h).
Question 6: It is about Personal Information (Name, Address, etc.)
Question 7. What year did you graduate? [Mezuniyet Yılınız]
Full range of this data could not be retrieved from the Excell File.
Question 8. Have you completed any additional training since your graduation?
Ratio of Yes : 49.5%
Ratio of No : 50.5% (A detailed analysis of these answers is given below)
Graduate Studies (M.S)
Bilkent Univ.
Unknown Univ.
Cantebury Christ Church Univ.
Graduate Studies Ph.D
Bilkent Univ.
University of Alabama, at
Birmingham
University of Kent
Programming
Oracle and Microsoft
MCSE, CCNP
Advanced OOP
Oxford Brooks Univ.
Bahçeşehir Univ.
Marmara Univ. , Accounting
Dept.
Gazi Univ., Management Sci.
Atatürk Öğretmen Acad.
Unknown University
Unknown University
Sakarya Univ., Management
Sci.
Unknown University, Business
Administration
EMU Computer Eng.
Middlesex University, Software
Eng.
Unknown University
Unknown University,
Operations Research
RWTH Achen Technical Univ.
Sabancı Univ., IT Management
Unknown University
Unknown University
EMU Computer Eng.
Unknown University
Unknown University
EMU Electrical and Electronic
Eng.
ZXR10 T1200/T900/T8900
ISTQB
SW Project Management
Cisco CCNA-CCNP
Microsoft MCITP, CEH, CRM
2011, Sharepoint 2010, Project
Server 2010.
Miscellaneous SW and System
Administration
Microsoft Dynamics CRM
RPG Programming
PHP Programming
Microsoft
SOA, Cobit V4.1, Microsoft
Windows Server, Microsoft
Sharepoint, Excel
UNIX and LINUX Security
Cisco Network Academy
MCITP
OPNET Modeler,
Microsoft.Net
OOP Principles
Oracle RDBMS
ASELSAN MONİTÖR
SYSTEM TRAINING
Bilge Adam IT Academy - OCP
Project management
System specialist
Cisco CCIE, Microsoft MSCE
VMWare
Summary: No training =1;
Sales Manager = 1;
M.S Degree = 22;
Ph.D. Degree =5;
Others
=26, mostly on Microsoft systems and applications, Oracle, and Web programming
languages. A few of them took job-specific training in their companies.
Q.9. What skills would you like to see added to the curriculum that would help you better
achieve your carrier objectives? (Total Number of Answers=79)
More programming + OOP + Internet
Xxxxxxxxxxxxxxxxx
(17)
Programming Courses + Java
Microsoft Sharepoint + SAP + Oracle
Xxx
(3)
Embedded Systems
Xxxxx
(5)
Leadership and Risk Management
Xxx
(3)
Engineering Ethics
X
(1)
Engineering Management
Xxxxxxxxx
(9)
Software Project Management
Xxxxxxxxxxxx
(12)
Environment Protection
X
(1)
MCSE
X
(1)
More Engineering Courses
X
(1)
Linux, Unix
Xx
(2)
Mobile Communications
Xxx
(3)
ISTQB
X
(1)
Give elective courses earlier than 4th year
X
(1)
Business Intelligence
X
(1)
More Thoretical Courses
X
(1)
Bioinformatics
X
(1)
More Network Courses
Xx
(2)
Image Processing
X
(1)
ERB
X
(1)
DSP
X
(1)
Labview
X
(1)
Summary: The two mostly desired courses (subjects) that are demanded to be added to our
curriculum are OOP + Internet Programming Courses + Java and Software Project
Management. On the other hand, Engineering Management, Embedded Systems, Leadership and
Risk Management are the other subject that our graduates pointed as the topics to be included in the
curriculum.
Question 10. Are you self-employed? [Kendi işinizin patronu musunuz?]
YES: 10.1 % (# Answers 11)
NO: 89.9 % (# Answers 98)
Question 11. When did you get your fist job after graduation (if employed)?
Unemployed :
5.6 % ( # Answers 6)
Less then 1 year:
84.3% ( # Answers 11)
Longer then 1 year: 10.2% ( # Answers 11)
Q.12 Which company do you work for? (# Answers 102)
University
X xxxxxxxxxxxxxxxx
Medical
Xx
Banking
X xxxxxxxxxx
Telecommunications +
X xxxxxxx
Media
Software Developer
X xxxxxxxxxxxxxxxxxx
Hardware Developer
X xxxxxx
Self Employed
Xx
Industrial (other than IT) X xxxxxxxx
Mobile Communications X xxxxxx
Service sector +
X xxxxxxxxxx
Maintenance
Military
X xx
Consulting
Xx
Unemployed
X xx
Summary: Our graduates are mostly employed in Universities as academic staff, Software
developing comanies, and Banks (Mostly as software developers and system operators/managers). It
is also seen that, Telecommunications/Media, Hadware development, Mobile Communications,
Industrial fields other than IT, and Maintenace/Service sector companies are the other fileds of
companies that employ our graduates.
Question 13. This is about name and e-mail addresses of employers.
Question 14. What is your present job title (if employed)?
Question 14 and 15. What are your present job duties?
(# Answers for Question 14 is 98)
(# Answers for Question 14 is 86)
Director/Manager
Research
Software Development
XXXXXXXXXXXX
XXX
XXXXXXXXXXXXXXXXXXXX
XXXXXXX
Academician
XXXXXXXXX
Sales Department
XX
Analysis and Testing
XXX
Web Programmer
XX
System/Network Operator
XXXXXXXXX
Physibility Studies
X
Production Engineer
X
Air Traffic Control
X
Consultant
XX
Report Writing
X
Payment/Card Sytems Expert
X
Customer Relations
XXX
Fund Management
X
Entire Affairs
XX
Unemployed
X
Summary: As seen on this tabel, our graduates are employed mostly as software developers. Other
three duties of significant consideration are Director/Manager, Academician, and System/Network
Operator.
Question 16. Are you currently enrolled in a graduate program?
YES
NO:
: 13.8% (# Answers 15)
: 86.2% (# Answers 94)
Question 17. Have you completed a graduate program?
YES
NO:
: 28.2% (# Answers 29)
: 71.8% (# Answers 74)
Employer survey Report
All program educational objectives are satisfied by a degree of satisfaction of 70% (>3.5/5.0).
It may be noted that 100% of the employers are from the private sector and 77.8% state
that they are willing to employ EMU graduates in the future. However, one employee
indicates that the company is looking for people with higher profiles, which means that the
graduates of EMU are perceived as having lower profiles. Currently, there are no serious
policies to improve the public's perception of EMU.
Industrial Advisory board meeting report
An Industrial Advisory Board Meeting was held on May 30, 2012 at the Computer
Engineering Department, Room: 113. Five representatives from the industry have
participated in the meeting, together with five academicians from the Computer Engineering
Department. The industrial representatives were from four different companies or
organizations.
The focal point of the discussion was what kind of a computer engineers the industry is
looking for, how further improvements can be done, and the state of the computer industry
in the country. Holding further meetings in the future was decided.
The programs at the EMU Computer Engineering Department were introduced to the
industrial representatives. Two of the representatives who are graduates of this department
stated their opinions on the recent changes of the Computer Engineering program and on
the more recent Software Engineering program. Overall, they stated opinion that the EMU
Computer Engineering graduates are, in general, work as successful engineers in the
industry. The representatives emphasized that they are looking for engineers who are
prepared to learning new things by themselves and able to take initiative in the projects.
One representative pointed at the severe shortage of computer security experts.
The minutes of the meeting was well-documented in a report.