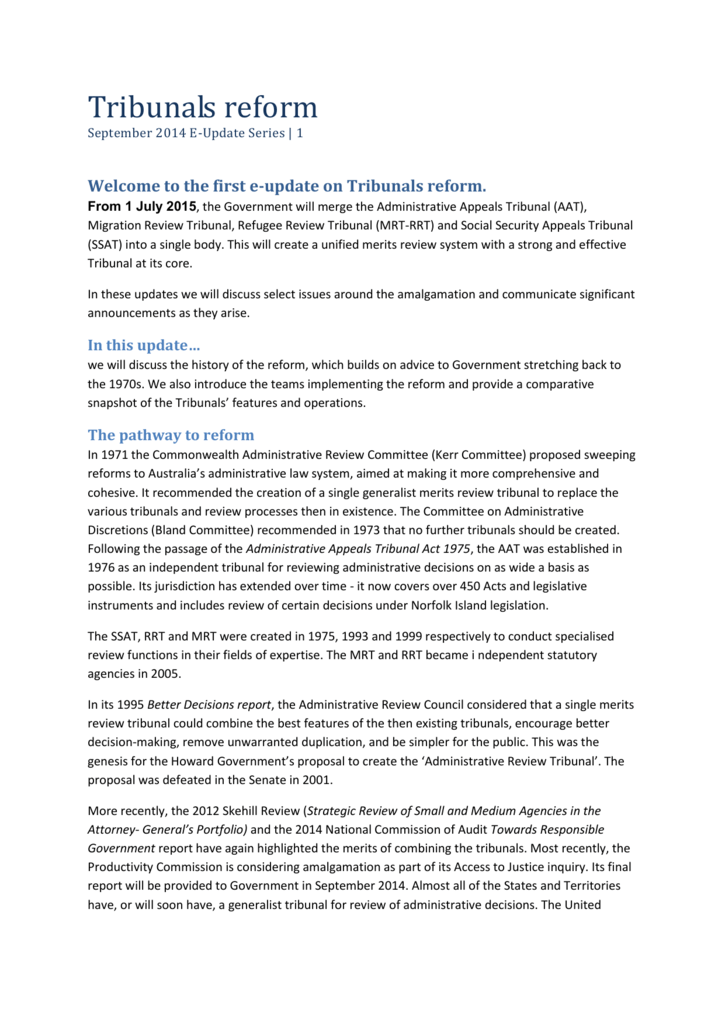 Tribunals reform
September 2014 E-Update Series | 1
Welcome to the first e-update on Tribunals reform.
From 1 July 2015, the Government will merge the Administrative Appeals Tribunal (AAT),
Migration Review Tribunal, Refugee Review Tribunal (MRT-RRT) and Social Security Appeals Tribunal
(SSAT) into a single body. This will create a unified merits review system with a strong and effective
Tribunal at its core.
In these updates we will discuss select issues around the amalgamation and communicate significant
announcements as they arise.
In this update…
we will discuss the history of the reform, which builds on advice to Government stretching back to
the 1970s. We also introduce the teams implementing the reform and provide a comparative
snapshot of the Tribunals' features and operations.
The pathway to reform
In 1971 the Commonwealth Administrative Review Committee (Kerr Committee) proposed sweeping
reforms to Australia's administrative law system, aimed at making it more comprehensive and
cohesive. It recommended the creation of a single generalist merits review tribunal to replace the
various tribunals and review processes then in existence. The Committee on Administrative
Discretions (Bland Committee) recommended in 1973 that no further tribunals should be created.
Following the passage of the Administrative Appeals Tribunal Act 1975, the AAT was established in
1976 as an independent tribunal for reviewing administrative decisions on as wide a basis as
possible. Its jurisdiction has extended over time - it now covers over 450 Acts and legislative
instruments and includes review of certain decisions under Norfolk Island legislation.
The SSAT, RRT and MRT were created in 1975, 1993 and 1999 respectively to conduct specialised
review functions in their fields of expertise. The MRT and RRT became i ndependent statutory
agencies in 2005.
In its 1995 Better Decisions report, the Administrative Review Council considered that a single merits
review tribunal could combine the best features of the then existing tribunals, encourage better
decision-making, remove unwarranted duplication, and be simpler for the public. This was the
genesis for the Howard Government's proposal to create the 'Administrative Review Tribunal'. The
proposal was defeated in the Senate in 2001.
More recently, the 2012 Skehill Review (Strategic Review of Small and Medium Agencies in the
Attorney- General's Portfolio) and the 2014 National Commission of Audit Towards Responsible
Government report have again highlighted the merits of combining the tribunals. Most recently, the
Productivity Commission is considering amalgamation as part of its Access to Justice inquiry. Its final
report will be provided to Government in September 2014. Almost all of the States and Territories
have, or will soon have, a generalist tribunal for review of administrative decisions. The United
Kingdom created a unified Tribunal system in 2007 and in Ontario in Canada a "cluster" model for
tribunals has been adopted to facilitate sharing of resources and best practices.
The Government's decision to amalgamate the AAT, SSAT and MRT-RRT signals a return to the
original intention of our administrative law system, re-creating a preeminent Australian merits
review tribunal.
Implementing the reform
The Tribunals Amalgamation Taskforce, which sits within the Attorney-General's Department, is
coordinating the reform. It comprises lawyers and policy officers with diverse experience in public
administration and law reform, including secondees from the AAT, MRT-RRT, the Department of
Immigration and Border Protection and the Department of Social Services. The Taskforce works
closely with the Tribunals and other Government Departments to ensure their expertise and
perspectives are incorporated in the reform process.
Policy development is governed by a Committee of Deputy Secretaries from relevant Government
Departments, reporting to their respective Ministers. High level policy advice is provided by the
Heads of Jurisdiction Workshop, which comprises the Principal Members of the MRT-RRT and SSAT,
the President of the AAT and senior executives from relevant Government Departments.
The implementation of the reform is governed by a Steering Committee that includes Registrars
from the Tribunals and senior management from the Attorney-General's Department and the
Departments of Social Services, Immigration and Border Protection, Finance and Prime Minister and
Cabinet. The Steering Committee has established four Implementation Working Groups with
specialist representatives from each agency to ensure that human resources, finance, information
technology and property issues are handled smoothly during the amalgamation.
The Tribunals: a snapshot
The AAT, MRT-RRT and SSAT all have expertise in merits review and bringing them together will
facilitate the sharing of best practices and provide them with heightened visibility in the community.
However, the Government is committed to ensuring that the amalgamation should not lead to a
one-size-fits-all approach to merits review. Within and across the Tribunals, procedures differ
depending on the type of matter under review. This variation is in some cases provided for in
legislation; in other cases, the Tribunals have developed specialised practices appropriate to their
jurisdictions over time, based on experience. The snapshot below provides a broad sense of the
similarities and differences between the Tribunals.
AAT





Reviews decisions made under more than 450 Acts and legislative instruments by various
departmental and agency officers, Ministers, other merits review bodies, some state
government and private sector bodies
Tribunal's decisions may be reviewed by Federal Court or Federal Circuit Court
Five divisions: General Administrative, National Disability Insurance Scheme, Security
Appeals, Taxation Appeals / Small Taxation Claims Tribunal and Veterans' Appeals
6,042 reviews finalised in 2012-13
75% of caseload relates to social security, workers' compensation and taxation












Applications made by application form, letter or email
Conference(s) with parties usually held prior to a hearing to discuss issues, the possibility of
settlement and the conduct of the review.
Hearings can be dispensed with if parties agree.
79% of cases finalised other than by way of a decision following a hearing in 2012-13.
Alternative Dispute Resolution used extensively.
85% of reviews are by single member panels.
Usually public hearings except in security appeals
Representation of applicants at hearings permitted
Original decision makers may be represented at hearings and have a duty to assist the
Tribunal.
Decisions published
Interpreters provided
About 90 statutory office holders (some are part-time) and 161 staff members
MRT-RRT
 Reviews decisions made under migration legislation by officers of the Department of
Immigration and Border Protection
 Tribunal's decisions may be reviewed by High Court or Federal Circuit Court
 No divisions. The MRT and RRT are two separate statutory tribunals but operate
administratively as a single agency. RRT reviews protection visa decisions and MRT reviews
other visa decisions.
 19,347 reviews finalised in 2012-13
 About 80% of caseload is MRT matters.
 Applications made by hard copy or online application
 Applicants must be invited to a hearing unless they agree to proceed without hearing, fail to
comply with a request or a favourable decision can be made on the papers.
 More than 99% of reviews are by single member panels.
 Usually public hearings in MRT; private hearings in RRT
 Legislative restrictions on representation of applicants at hearings – generally permitted in
practice
 Department not represented at hearings
 4611 decisions published in 2013-14
 Interpreters provided
 About 135 statutory office holders (more than half are part-time) and 335 staff members
SSAT
 Reviews decisions made under 11 Acts – relating to social security entitlements, child
support, paid parental leave and other matters – by officers from the Department of Human
Services
 Tribunal's decisions on different types of matters may be reviewed by AAT or various courts
 No divisions – however manages its workload on jurisdictional (divisional) lines. Three
categories of applications: paid parental leave, other Centrelink, and child support.
 12,412 reviews finalised in 2012-13










About 83% of caseload relates to Centrelink decisions
Applications made by phone, application form, online or in-person
Hearings must be scheduled and may be held without oral submissions if parties consent or
fail to attend.
86% of reviews heard by single member panels in 2012-13.
Private hearings
Representation of applicants at hearings permitted with permission
Department not represented at hearings (unless ordered by the Tribunal to attend)
Decisions not published
Interpreters provided
About 122 Statutory Officers (majority part-time) and 87 staff members
Future updates
Have questions or ideas for topics you would like to see covered in future updates? Please email
[email protected] We will answer a selection of questions received.