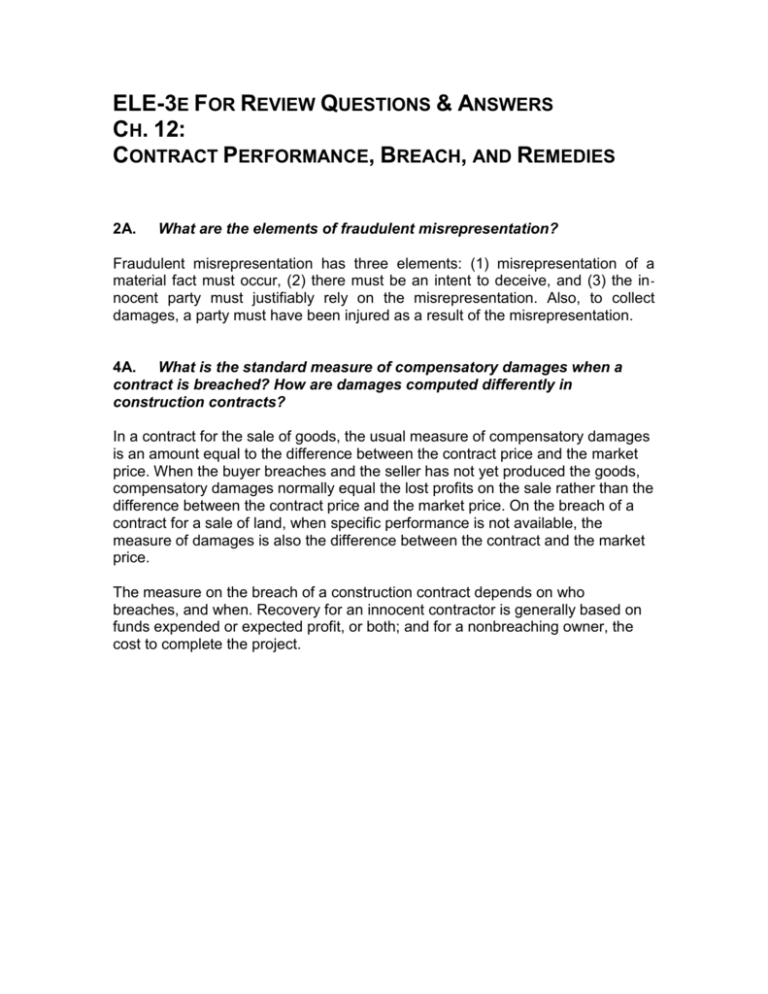 ELE-3E FOR REVIEW QUESTIONS & ANSWERS
CH. 12:
CONTRACT PERFORMANCE, BREACH, AND REMEDIES
2A.
What are the elements of fraudulent misrepresentation?
Fraudulent misrepresentation has three elements: (1) misrepresentation of a
material fact must occur, (2) there must be an intent to deceive, and (3) the innocent party must justifiably rely on the misrepresentation. Also, to collect
damages, a party must have been injured as a result of the misrepresentation.
4A. What is the standard measure of compensatory damages when a
contract is breached? How are damages computed differently in
construction contracts?
In a contract for the sale of goods, the usual measure of compensatory damages
is an amount equal to the difference between the contract price and the market
price. When the buyer breaches and the seller has not yet produced the goods,
compensatory damages normally equal the lost profits on the sale rather than the
difference between the contract price and the market price. On the breach of a
contract for a sale of land, when specific performance is not available, the
measure of damages is also the difference between the contract and the market
price.
The measure on the breach of a construction contract depends on who
breaches, and when. Recovery for an innocent contractor is generally based on
funds expended or expected profit, or both; and for a nonbreaching owner, the
cost to complete the project.