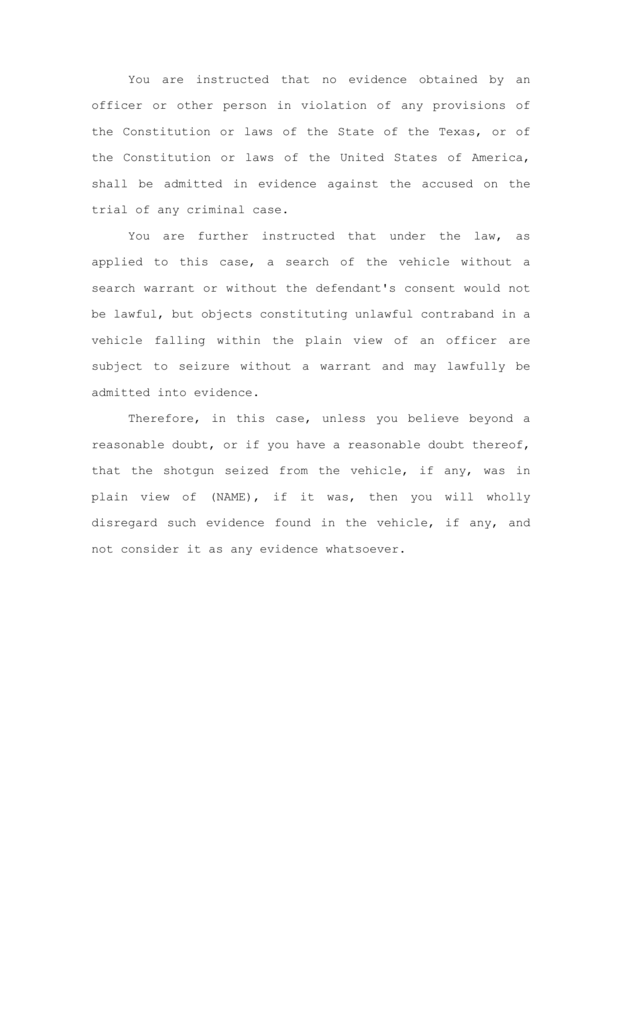 You are instructed that no evidence obtained by an
officer or other person in violation of any provisions of
the Constitution or laws of the State of the Texas, or of
the Constitution or laws of the United States of America,
shall be admitted in evidence against the accused on the
trial of any criminal case.
You
are
further
instructed
that
under
the
law,
as
applied to this case, a search of the vehicle without a
search warrant or without the defendant's consent would not
be lawful, but objects constituting unlawful contraband in a
vehicle falling within the plain view of an officer are
subject to seizure without a warrant and may lawfully be
admitted into evidence.
Therefore, in this case, unless you believe beyond a
reasonable doubt, or if you have a reasonable doubt thereof,
that the shotgun seized from the vehicle, if any, was in
plain
view
of
(NAME),
if
it
was,
then
you
will
wholly
disregard such evidence found in the vehicle, if any, and
not consider it as any evidence whatsoever.