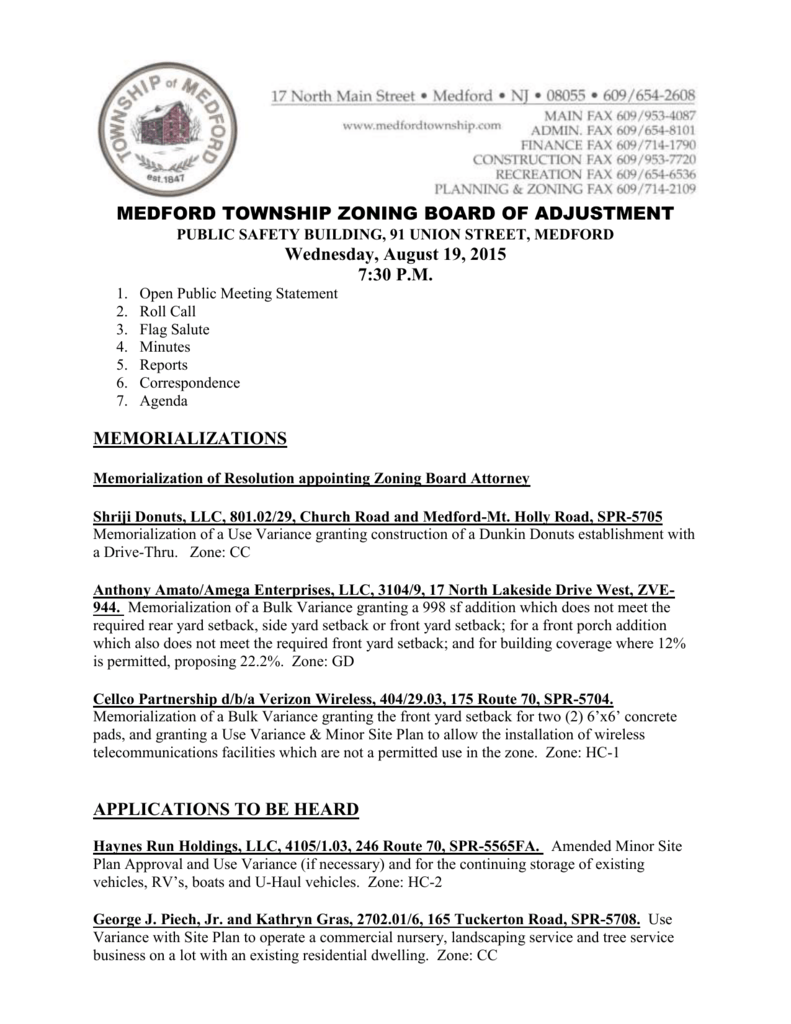 MEDFORD TOWNSHIP ZONING BOARD OF ADJUSTMENT
PUBLIC SAFETY BUILDING, 91 UNION STREET, MEDFORD
Wednesday, August 19, 2015
7:30 P.M.
1.
2.
3.
4.
5.
6.
7.
Open Public Meeting Statement
Roll Call
Flag Salute
Minutes
Reports
Correspondence
Agenda
MEMORIALIZATIONS
Memorialization of Resolution appointing Zoning Board Attorney
Shriji Donuts, LLC, 801.02/29, Church Road and Medford-Mt. Holly Road, SPR-5705
Memorialization of a Use Variance granting construction of a Dunkin Donuts establishment with
a Drive-Thru. Zone: CC
Anthony Amato/Amega Enterprises, LLC, 3104/9, 17 North Lakeside Drive West, ZVE944. Memorialization of a Bulk Variance granting a 998 sf addition which does not meet the
required rear yard setback, side yard setback or front yard setback; for a front porch addition
which also does not meet the required front yard setback; and for building coverage where 12%
is permitted, proposing 22.2%. Zone: GD
Cellco Partnership d/b/a Verizon Wireless, 404/29.03, 175 Route 70, SPR-5704.
Memorialization of a Bulk Variance granting the front yard setback for two (2) 6'x6' concrete
pads, and granting a Use Variance & Minor Site Plan to allow the installation of wireless
telecommunications facilities which are not a permitted use in the zone. Zone: HC-1
APPLICATIONS TO BE HEARD
Haynes Run Holdings, LLC, 4105/1.03, 246 Route 70, SPR-5565FA. Amended Minor Site
Plan Approval and Use Variance (if necessary) and for the continuing storage of existing
vehicles, RV's, boats and U-Haul vehicles. Zone: HC-2
George J. Piech, Jr. and Kathryn Gras, 2702.01/6, 165 Tuckerton Road, SPR-5708. Use
Variance with Site Plan to operate a commercial nursery, landscaping service and tree service
business on a lot with an existing residential dwelling. Zone: CC
Mark D. Padden, 1803/2, 62 Branch Street, SPR-5709. Use Variance to allow a Carriage
House which is not a permitted use. Bulk Variance to construct a 15'x35' carriage
house/detached garage with a second floor in-law suite. Permitted depth for a garage is 24',
proposing 35'; permitted height for detached garage is 20', proposing 21'6". No accessory use
shall be situated within twenty-five feet (25') of any lot line, proposing 3'; required front yard
setback is 50', proposing 22'. Zone: PPE
Paul Roth Garrett and Charlene Smith, 3204/4.09, 19 Fairview Road, ZVE-947. Certificate
of Pre-Existing Non-Conforming Use and Bulk Variance for an existing driveway gate.
Zone: GD
Colleen and Glenn D. Morrill, 302/23.02, 219 Church Road, ZVE-945. Bulk Variance for a
second garage (detached) where only one garage is permitted per residential lot. Permitted depth
for a garage is 24', proposing 40'. Zone: AR
Michael and Stephanie Cooker, 6501.02/61, 8 Somerton Square, ZVE-946. Bulk Variance
for a 1,290 sf in-ground swimming pool including decking and pool code fence which is over the
permitted lot coverage of 20%, proposing 23%. Zone: RGD-1
8. General public
9. Additional action by Board
10. Executive Session (if required)
11. Motion for Adjournment
Darlene Carrell
Zoning Board Secretary
Please be advised that this public meeting of the Medford Township Zoning Board of Adjustment will be videotaped
by the municipality (for recording purposes) as authorized by the Open Public Meetings Act and the New Jersey
Supreme Court Opinion in Taurus v. Borough of Pine Hill, 189 N.J. 497 (2007). The recorded videotape of the
meeting will be available for public viewing on the Medford Township website, as soon as practicable after the
public meeting has concluded.