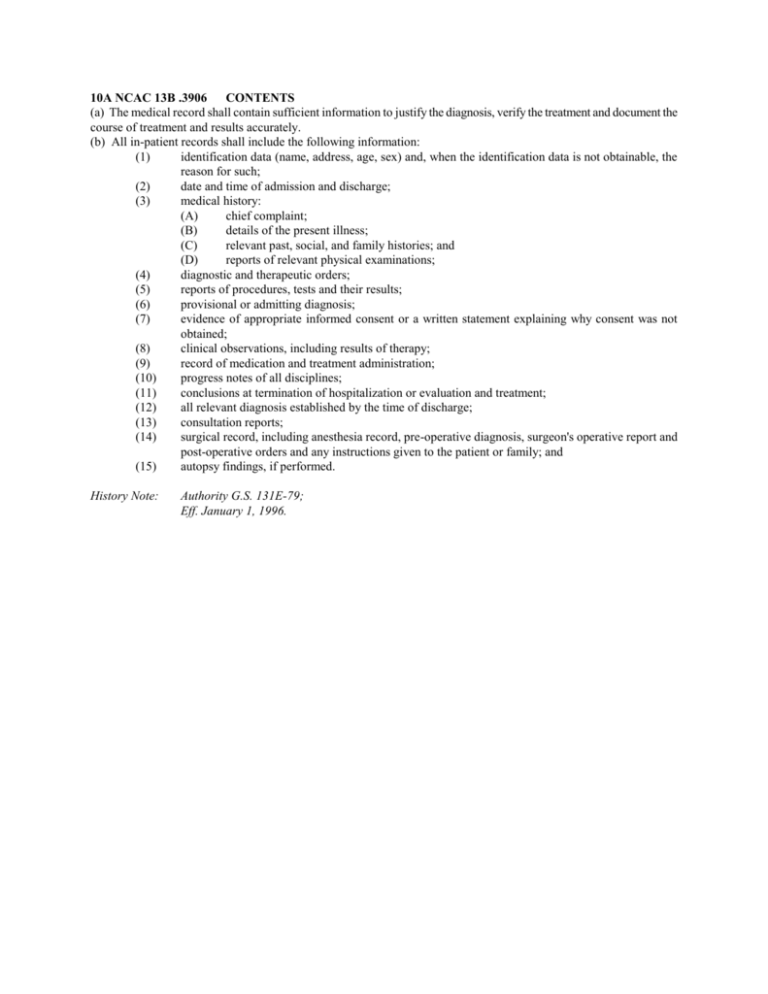 10A NCAC 13B .3906
CONTENTS
(a) The medical record shall contain sufficient information to justify the diagnosis, verify the treatment and document the
course of treatment and results accurately.
(b) All in-patient records shall include the following information:
(1)
identification data (name, address, age, sex) and, when the identification data is not obtainable, the
reason for such;
(2)
date and time of admission and discharge;
(3)
medical history:
(A)
chief complaint;
(B)
details of the present illness;
(C)
relevant past, social, and family histories; and
(D)
reports of relevant physical examinations;
(4)
diagnostic and therapeutic orders;
(5)
reports of procedures, tests and their results;
(6)
provisional or admitting diagnosis;
(7)
evidence of appropriate informed consent or a written statement explaining why consent was not
obtained;
(8)
clinical observations, including results of therapy;
(9)
record of medication and treatment administration;
(10)
progress notes of all disciplines;
(11)
conclusions at termination of hospitalization or evaluation and treatment;
(12)
all relevant diagnosis established by the time of discharge;
(13)
consultation reports;
(14)
surgical record, including anesthesia record, pre-operative diagnosis, surgeon's operative report and
post-operative orders and any instructions given to the patient or family; and
(15)
autopsy findings, if performed.
History Note:
Authority G.S. 131E-79;
Eff. January 1, 1996.