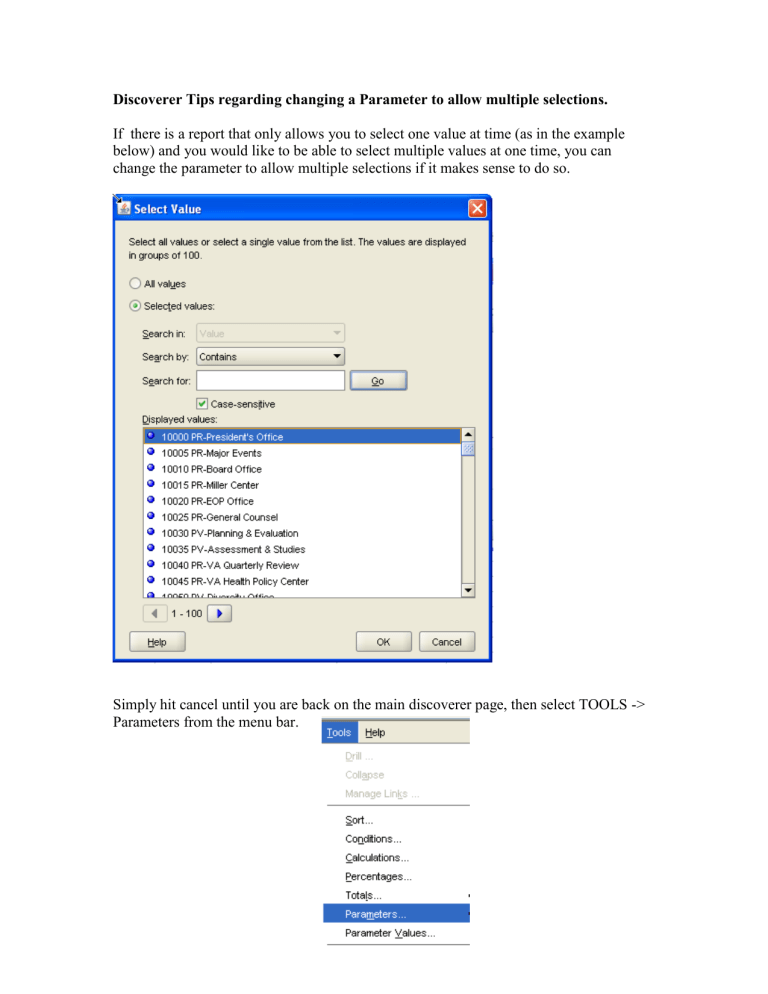 Discoverer Tips regarding changing a Parameter to allow multiple selections.
If there is a report that only allows you to select one value at time (as in the example below) and you would like to be able to select multiple values at one time, you can change the parameter to allow multiple selections if it makes sense to do so.
Simply hit cancel until you are back on the main discoverer page, then select TOOLS ->
Parameters from the menu bar.
Click on the parameter you want to change. Then Click Edit.
NOTE: Parameters with a "n/a" in the Order column are not used in the current worksheet, therefore editing them will have no affect on the current worksheet opened.
Then click to check the box that says "Enable users to select multiple values".
Click OK
Click OK
The report parameter box will reappear and you will then be able to select multiple values.
NOTE: If the original parameter included the wild card character, you will also need to change the condition related to the parameter.
1. TOOLS -> Conditions
2. Select the condition associated with the parameter you just changed and click
"Edit".
3. Change the "Like" condition to "=".
4. Click OK
Click OK
The report will rerun.
If you want to keep the revised report to use again in the future, save the report to your local PC.