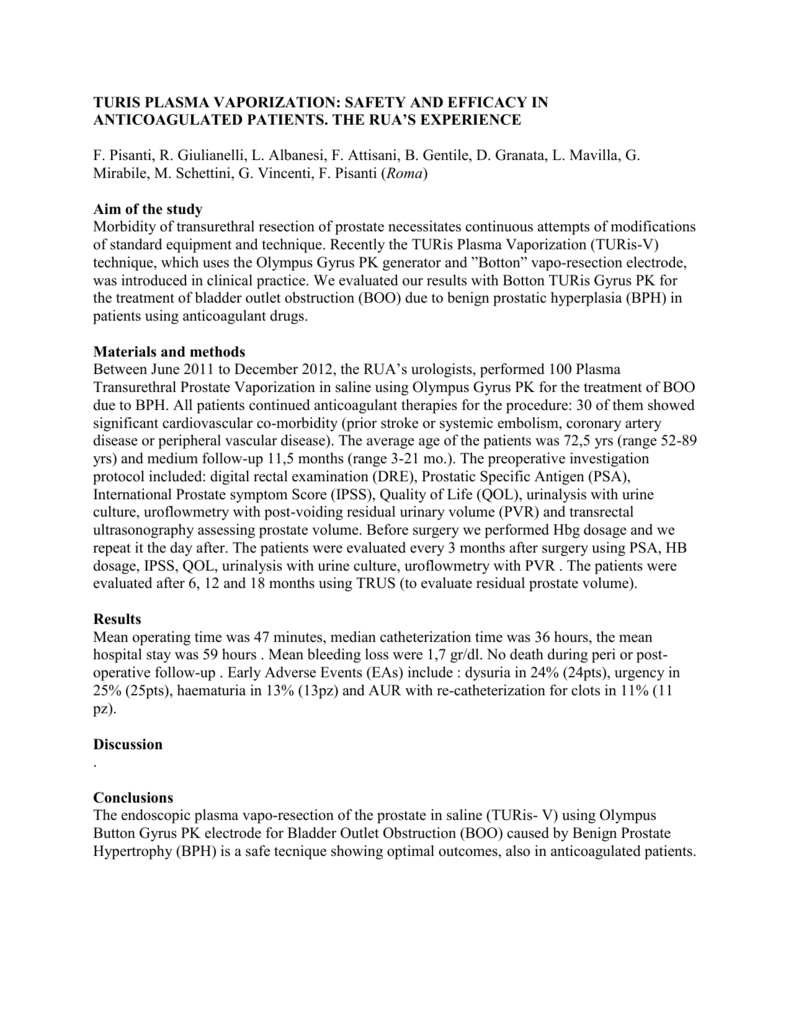 TURIS PLASMA VAPORIZATION: SAFETY AND EFFICACY IN
ANTICOAGULATED PATIENTS. THE RUA'S EXPERIENCE
F. Pisanti, R. Giulianelli, L. Albanesi, F. Attisani, B. Gentile, D. Granata, L. Mavilla, G.
Mirabile, M. Schettini, G. Vincenti, F. Pisanti (Roma)
Aim of the study
Morbidity of transurethral resection of prostate necessitates continuous attempts of modifications
of standard equipment and technique. Recently the TURis Plasma Vaporization (TURis-V)
technique, which uses the Olympus Gyrus PK generator and "Botton" vapo-resection electrode,
was introduced in clinical practice. We evaluated our results with Botton TURis Gyrus PK for
the treatment of bladder outlet obstruction (BOO) due to benign prostatic hyperplasia (BPH) in
patients using anticoagulant drugs.
Materials and methods
Between June 2011 to December 2012, the RUA's urologists, performed 100 Plasma
Transurethral Prostate Vaporization in saline using Olympus Gyrus PK for the treatment of BOO
due to BPH. All patients continued anticoagulant therapies for the procedure: 30 of them showed
significant cardiovascular co-morbidity (prior stroke or systemic embolism, coronary artery
disease or peripheral vascular disease). The average age of the patients was 72,5 yrs (range 52-89
yrs) and medium follow-up 11,5 months (range 3-21 mo.). The preoperative investigation
protocol included: digital rectal examination (DRE), Prostatic Specific Antigen (PSA),
International Prostate symptom Score (IPSS), Quality of Life (QOL), urinalysis with urine
culture, uroflowmetry with post-voiding residual urinary volume (PVR) and transrectal
ultrasonography assessing prostate volume. Before surgery we performed Hbg dosage and we
repeat it the day after. The patients were evaluated every 3 months after surgery using PSA, HB
dosage, IPSS, QOL, urinalysis with urine culture, uroflowmetry with PVR . The patients were
evaluated after 6, 12 and 18 months using TRUS (to evaluate residual prostate volume).
Results
Mean operating time was 47 minutes, median catheterization time was 36 hours, the mean
hospital stay was 59 hours . Mean bleeding loss were 1,7 gr/dl. No death during peri or postoperative follow-up . Early Adverse Events (EAs) include : dysuria in 24% (24pts), urgency in
25% (25pts), haematuria in 13% (13pz) and AUR with re-catheterization for clots in 11% (11
pz).
Discussion
.
Conclusions
The endoscopic plasma vapo-resection of the prostate in saline (TURis- V) using Olympus
Button Gyrus PK electrode for Bladder Outlet Obstruction (BOO) caused by Benign Prostate
Hypertrophy (BPH) is a safe tecnique showing optimal outcomes, also in anticoagulated patients.