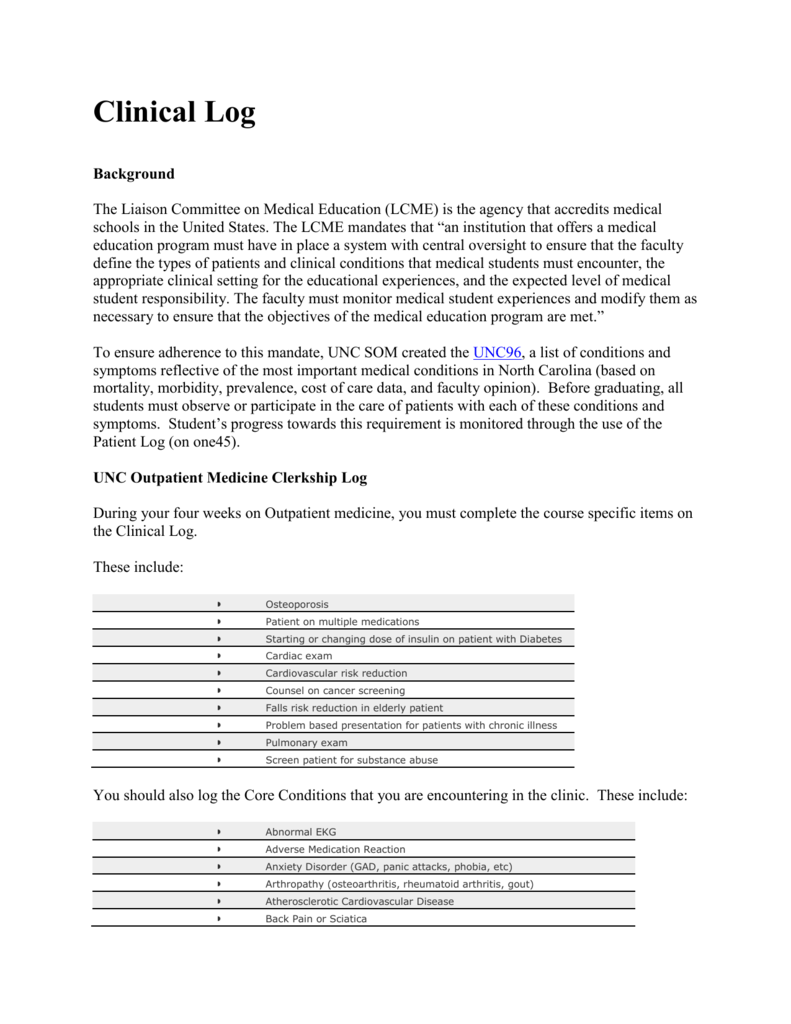 Clinical Log
Background
The Liaison Committee on Medical Education (LCME) is the agency that accredits medical
schools in the United States. The LCME mandates that "an institution that offers a medical
education program must have in place a system with central oversight to ensure that the faculty
define the types of patients and clinical conditions that medical students must encounter, the
appropriate clinical setting for the educational experiences, and the expected level of medical
student responsibility. The faculty must monitor medical student experiences and modify them as
necessary to ensure that the objectives of the medical education program are met."
To ensure adherence to this mandate, UNC SOM created the UNC96, a list of conditions and
symptoms reflective of the most important medical conditions in North Carolina (based on
mortality, morbidity, prevalence, cost of care data, and faculty opinion). Before graduating, all
students must observe or participate in the care of patients with each of these conditions and
symptoms. Student's progress towards this requirement is monitored through the use of the
Patient Log (on one45).
UNC Outpatient Medicine Clerkship Log
During your four weeks on Outpatient medicine, you must complete the course specific items on
the Clinical Log.
These include:










Osteoporosis
Patient on multiple medications
Starting or changing dose of insulin on patient with Diabetes
Cardiac exam
Cardiovascular risk reduction
Counsel on cancer screening
Falls risk reduction in elderly patient
Problem based presentation for patients with chronic illness
Pulmonary exam
Screen patient for substance abuse
You should also log the Core Conditions that you are encountering in the clinic. These include:






Abnormal EKG
Adverse Medication Reaction
Anxiety Disorder (GAD, panic attacks, phobia, etc)
Arthropathy (osteoarthritis, rheumatoid arthritis, gout)
Atherosclerotic Cardiovascular Disease
Back Pain or Sciatica














































Bite, Sting, or Envenomation
Bronchitis, acute
Cancer
Cancer-Breast mass or cancer
Cancer-GU cancer
Cancer-Lung or Head and Neck cancer
Cancer-Skin cancer
Cellulitis
Chest Pain
Chronic Obstructive Pulmonary Disease
Congestive Heart Failure
Cough, chronic
Depression or Suicidal Ideation
Dermatitis
Diarrhea, acute or chronic
Diarrhea, acute or chronic
Diverticular Disease or LLQ Abdominal Pain
Dizziness or Vertigo
Domestic Violence/Abuse
Dyspepsia (GERD, peptic ulcer, etc)
Dyspnea or Shortness of Breath
Edema
End of Life Discussion or Palliative Care Discussion
Fall
Fatigue
Fever
Headache (including migraine)
Hemorrhoid
HIV Disease
Hyperlipidemia
Hypertension
Influenza
Irritable Bowel Syndrome
Ischemic Heart Disease, chronic
Liver Disease, chronic or Cirrhosis
Lymphadenopathy
Nausea and/or Vomiting
Neuropathy (diabetic, carpal tunnel)
Obesity
Pneumonia
Sexually Transmitted Infection (excluding HIV)
Substance Abuse
Syncope or Pre-Syncope
Thyroid Dysfunction
Tobacco Abuse
Upper Respiratory Infection (acute)/Sinusitis
Urinary Tract Infection or Dysuria
Monitoring
As noted above, patient encounters will be monitored by completion of the Patient Log (on
one45). The extent of the interaction will be documented in the Patient Log.
At the midpoint of the four week rotation (at the Dayback session), students will review the
Patient Log with one of the clerkship directors during the midclerkship feedback session.
During that meeting each student's overall clinical experiences will be discussed, including a
review of the Patient Log and the midclerkship evaluation that the student and preceptor
complete.
If needed, the student's clinical experience will be modified to the extent possible to maximize
the chance of direct clinical experiences with patients with the conditions listed above.