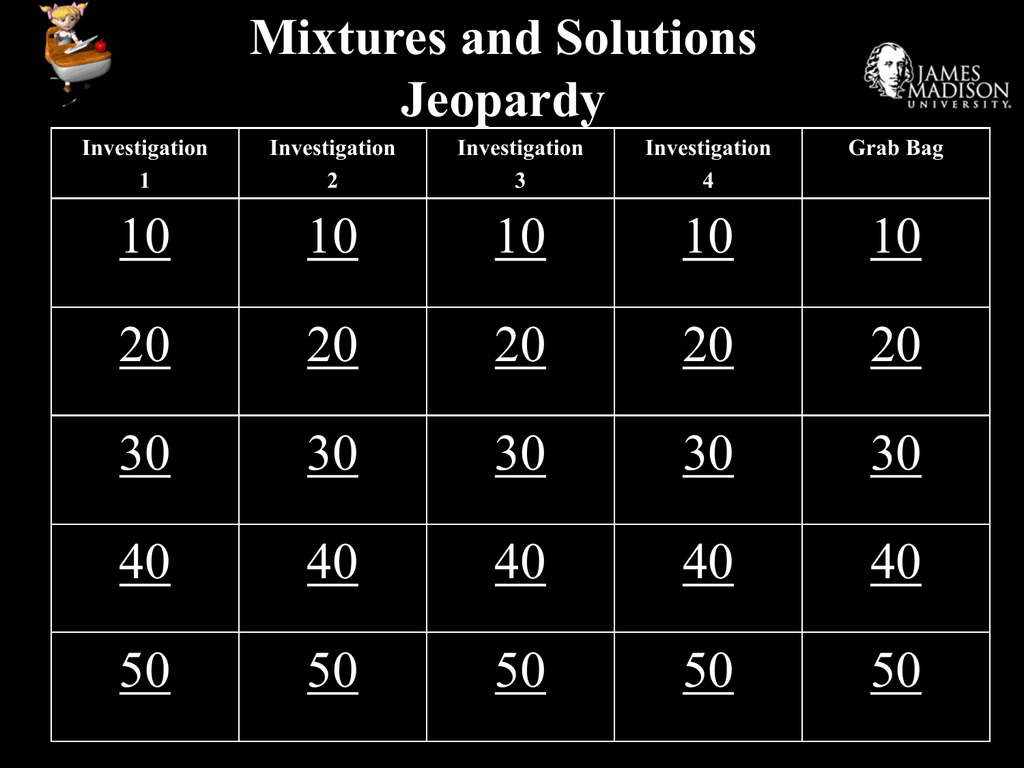 Mixtures and Solutions
Jeopardy
Investigation
1
Investigation
2
Investigation
3
Investigation
4
Grab Bag
10
10
10
10
10
20
20
20
20
20
30
30
30
30
30
40
40
40
40
40
50
50
50
50
50
Final Jeopardy
Make your wagers!
In class, we discussed that the concentration of
a solution is also a RATIO (or fraction). Find out
which is more concentrated by using fractions.
•50ml of water and 2 spoons of salt
•100ml water and 4 spoons of salt
•150ml of water and 5 spoons of salt
Define the word "mixture"
What would be the best
method for separating pebbles
from diatomaceous earth?
Which of the following is NOT
a mixture?
•Water and flour
•Water and ice
•Sand and dirt
What is the word for a special
mixture in which one material
dissolves into another?
What characteristics identify
a crystal?
What does it mean to be soluble?
Joe was making iced tea. He noticed
that even though he kept stirring, no more
powdered tea mix would dissolve. What
happened?
Name two ways to dissolve more
solute in a saturated solution.
Which of the following
substances will not make a
solution?
•Salt and water
•Sand and water
•Epsom salts and water
One spoonful of salt weighs 5g.
50 ml of water weighs 50g.
How much does a solution 3 scoops
of salt in 50g of water weigh?
Define the word "concentration"
Name 3 ways you could tell the
concentration of a solution.
Sarah has a cup with 50ml of water
and 10g of salt stirred in. She adds
10ml more of water. The solution is now
__________ because it is less
concentrated.
Which of the following is most
concentrated?
•50ml of water with 10g salt
•50ml of water with 20g salt
•50ml of water with 5g salt
Why would concentration
of ingredients be important
when you are cooking?
Define the word "change"
What is the difference between
dissolving and a chemical
reaction?
Name the 3 signs that a
chemical reaction has occurred.
What is the difference between
a reactant and a product?
You scooped 5g of calcium chloride,
5g of citric acid, and 5g of
baking soda into a cup. Then you
added 50ml of water and the mixture.
The mixture fizzed and 30 minutes later
a white substance formed.
Name the products and reactants.
Why is citric acid added to
foods?
What are some solutes
found in air?
What is pollution?
How many natural elements
are known today?
What is an alloy and why
do we use them?