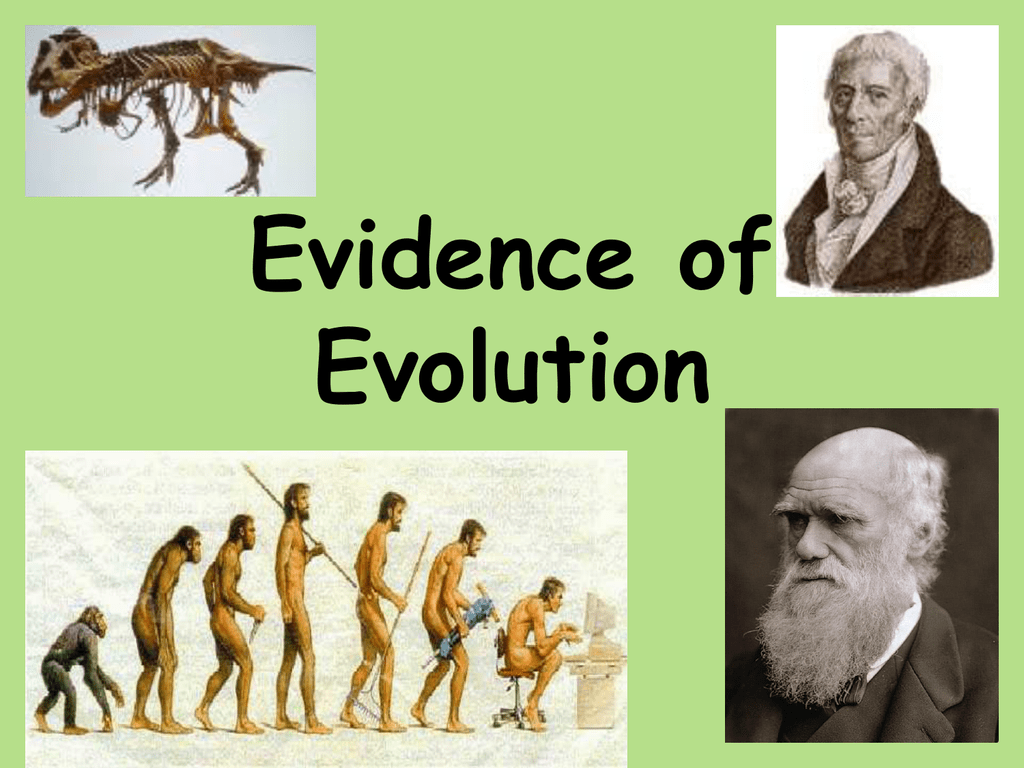 Evidence of
Evolution
Evidence of Evolution
1. Fossil Record
2. Homologous Body structures
3. Similarities in Embryology
4. Biochemical Evidence
Evidence of Evolution:
The Fossil Record
•
Fossil record provides
evidence that living
things have evolved
•
Fossils show the history
of life on earth and how
different groups of
organisms have changed
over time
Relative vs.
Absolute
Dating
Relative Dating
• Can determine a fossil's
relative age
• Performed by estimating
fossil age compared with
that of other fossils
• Drawbacks – provides no
info about age in years
Absolute Dating
• Can determine the
absolute age in numbers
• Is performed by
radioactive dating – based
on the amount of
remaining radioactive
isotopes remain
• Drawbacks - part of the
fossil is destroyed during
the test
• Radiometric dating uses decay of unstable
isotopes.
– Isotopes are atoms of an element that differ in their
number of neutrons.
– A half-life is the amount of time it takes for half of the
isotope to decay.
Primate Fossils
Australopithecus
Homo erectus Homo sapien
Primate Bone Structure
Evidence of Evolution:
Homologous Body Structures
–
Turtle
Structures that have
different mature
forms but develop
from the same
embryonic tissues
Ex: Wing of bat,
human arm, leg of
turtle
Alligator
Bird
Evidence of Evolution:
Homologous Structures
• Features that are similar in structure but appear
in different organisms and have different
functions.
• Strong evidence for common ancestor.
• Ex: forelimbs of humans, bats and moles.
Human hand
Mole foot
Bat wing
Analogous Structures
• Structures that perform a similar
function.
• Not evidence of common ancestry.
Vestigial Structures
• Remnants of organs or structures that had a
function in an early ancestor.
• Ex: Ostrich wings, used for balance but not
flight
• Ex: Humans' appendix
Evidence of Evolution:
Similarities in Embryology
In their early stages of
development, chickens,
turtles and rats look
similar, providing
evidence that they
shared a common
ancestry.
Embryological Development
Evidence of Evolution:
Biochemical Similarities
• Scientists study nucleotide sequences in DNA
and proteins in different organisms to
determine ancestry.
• If the organisms are closely related they will
have similar sequences of nucleotides in their
DNA and arrangement of amino acids in
proteins.
Evidence of Evolution:
Biochemical Similarities
Organism
Amino Acid
Differences
Organism
Amino Acid
Differences
Human beta chain
0
Mouse
27
Gorilla
1
Kangaroo
38
Rhesus monkey
8
Chicken
45
Dog
15
Frog
67
Cow
25
Soy bean
124
The more similar the amino acid sequence, the more closely
related the organisms are.