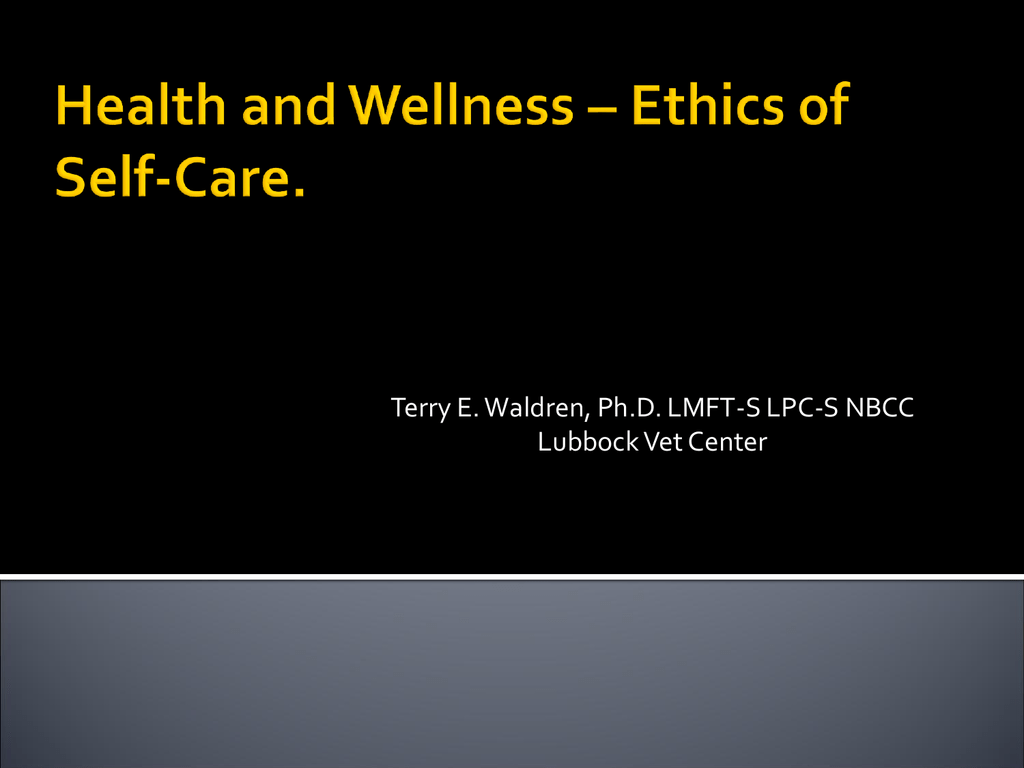 Terry E. Waldren, Ph.D. LMFT-S LPC-S NBCC
Lubbock Vet Center





Wellness concepts are a holistic approach for working
with individuals/couples and families.
Characteristics of healthy individuals and families are
different from our clinical populations – important to
know these differences.
Being physically and emotionally healthy are two key
values for myself.
I see myself as a model for patients and clients – if I'm
not healthy then I believe I lack creditability as a
professional – the ethical connection.
Staying emotionally healthy working as therapist is a
constant challenge – issue of burnout.

Eliminating Self Defeating Behaviors – working with health issues since
1974 – critical issue is transforming identity from self defeating to healthy
patterns/behaviors.
 Personal – going from smoker to smoke free person.
 Research on Academic Procrastination.

Workshops on Burnout for Counselors.
 Workshops on Narcissistic and Borderline personality disorders –
estimate ½ of participants showing signs of burnout.

Interim Chair & Visiting Full Professor: Health Exercise and Sport Sciences
(HESS).
 Became number one degree granted at TTU in 2008.
 Healthcare jobs are growing and are anticipated to grow in future.
 Many courses were focusing on how to build healthy lifestyles with
children and adults.

TTU Honors College Honors Seminar–
Comparative healthcare issues between US and
other countries.
 Critical issues for healthcare – going from procedures
to wellness/prevention.
 Smoking as number one health issue world wide.
 Chronic diseases in the elderly increasing and the
rapid increase of chronic diseases in young people as
major sources of problems/healthcare costs – for
younger people fast foods are a critical issue along
with advertising. Diet/exercise/social support key
ways to address issues of chronic illnesses.

Grace Clinic –
 Working on resources for health prevention/weight loss resources –
 Issue is getting cost effective resources that work –
 Could not afford coaches as insurance pays very little for wellness.

Dr. Bale – CME Ethics workshop about Heart Attack & Stroke
prevention.
 Many physicians leaving practice because of burnout – talking about
alternative ways of practicing medicine.
 Private medicine – concierge
 Once give up smoking and addictions then wellness becomes number
one set of factors for being healthy.
 Physicians talking about not only physician assistants/nurse
practitioners - health/exercise bachelor degree for nutrition/exercise
awareness.

Emotional depletion



Isolation



Working with people in pain is draining and demanding
Confusion


Therapist idealized and then devalued
Repeated distorted projections each 50 minutes
Depression, sadness and vicarious traumatization


Often do not see immediate gains and/or sustained gains.
Have not found user friendly measure of psychotherapy successes.
Grandiosity and omnipotence



Increasing numbers of laws, codes, and regulations regarding confidentiality.
Often work when others are not working.
Helplessness and sense of inefficiency



Mainly working long hours in isolation
Expected to give endlessly while expecting nothing in return except fee.
Going from idealization to devaluation
Constant worry

Working with clients who maybe suicidal is draining

Grief Cycle


One way Intimacy and voyeuristic Attitudes:


Endless cycle of new patients, hard work and then termination when patients are better.
Therapist experiences deep intimacy from patients while not sharing about themselves.
Distraction
 Focusing on others problems and losing track of our own needs/desires.

Inability to Shut off the Therapeutic Stance


Events that Affect Effectiveness


Codes of ethics grow each time new ones are released and more and more there are
contradictions within these codes.
The threat of Lawsuits


Our own life events (e.g. death, divorce, health provide challenges as these effect our
effectiveness
Conflicting Clinical, Ethical, and Legal Considerations:


Therapy is a way of relating and can bring this into family/friend situations.
Living in highly litigious society and working with disturbed people.
Split Personality – Public vs. Private

We have a very rigid separation between work and personal settings around issue of
confidentiality.

Burn out leading cause psychotherapists high
rate of depression, drug and alcohol abuse
and suicide.

Health Indicators












Fatigue and chronic exhaustion
Frequent and prolonged colds
Headaches
Sleep disturbances: insomnia, nightmares, excessive sleeping.
Ulcers
Gastrointestinal disorders
Sudden losses or gains in weight
Flare ups of preexisting medical disorders: diabetes HBP, asthma, etc.
Injuries from high-risk behaviors
Muscular pain, particularly in lower back and heck.
Increased premenstrual tension
Missed menstrual cycles.

Excessive Behavior Indicators
 Increased consumption of caffeine, tobacco, alcohol,




over-the –counter medications, psychoactive
prescription drugs, illicit drugs.
High-risk-taking behavior: auto/cycle accidents, falls,
"high-risk" hobbies, general proneness to accidents
and injuries, gambling, extreme mood and behavior
changes.
Increased propensity for violent and aggressive
behavior.
Over and under eating.
Hyperactivity

Emotional Adjustment Indicators













Emotional distancing
Paranoia
Depression: loss of meaning, loss of hope.
Decreased emotional control.
Martyrdom.
Fear of "going crazy"
Increased daydreaming/fantasizing.
Constant feelings of being trapped.
Nervous ticks.
Undefined fears.
Inability to concentrate.
Intellectualization.
increased tension.

Relationship Indicators Attitude Indicators






Isolation or over bonding with SO/friends.
Responding in mechanical manner.
Isolation from clients.
Increased expression of anger and or mistrust.
Increased interpersonal conflicts.
Increased problems in marital and other interpersonal
relationships.
 Social Isolation.
 Over involvement with clients/patient using clients to meet
social needs.

Value Indicators
 Sudden and often dramatic changes in values and beliefs.

http://www.zurinstitute.com/burnout.html
 Site includes the aspects of counseling that
influence burnout plus it talks about effects on
therapist's family and ways to address burnout.
 Site includes an extensive bibliography of
stress/burnout books and articles.

http://helpguide.or/mental/burn_signs_wym
ptoms.htm
 Additional resources for burnout.


The Wheel of Wellness Counseling for Wellness:
a Holistic Model for Treatment Planning.
 Good overview of utilizing a Wellness Counseling
model with research support.

Wellness Counseling: The Evidence Base for
Practice.
 Reporting and describing research and ways to
approach wellness research.

Wellness of Counselor Educators: an initial Look.
 Study looking a wellness in Counselor Educators.