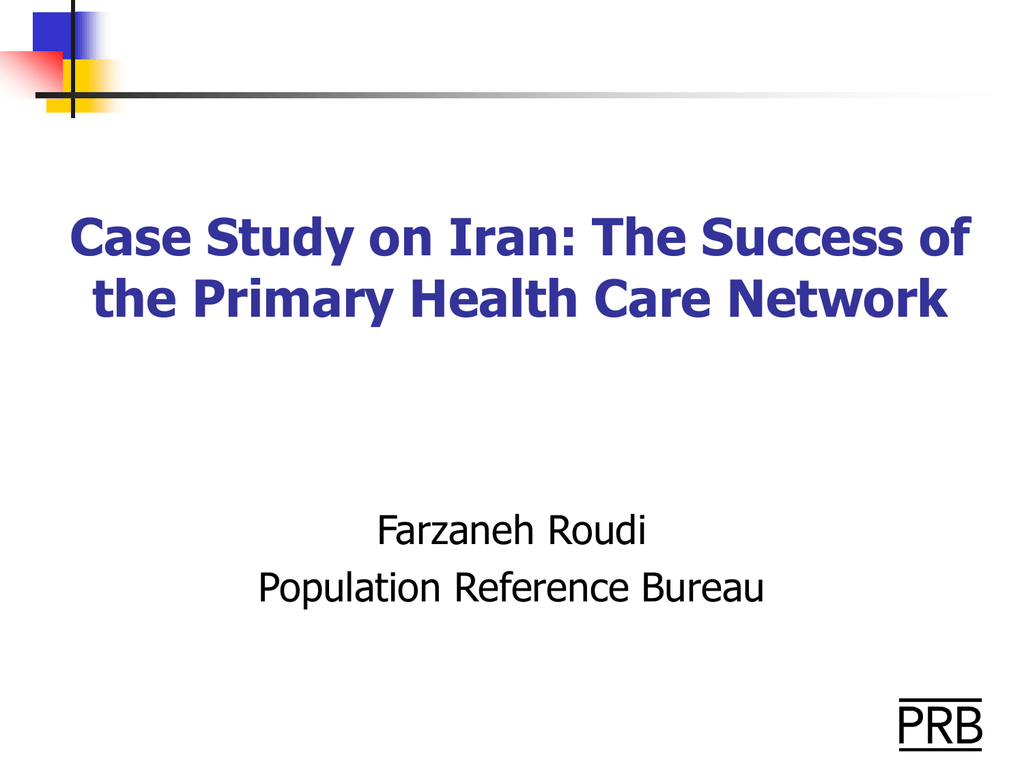 Case Study on Iran: The Success of
the Primary Health Care Network
Farzaneh Roudi
Population Reference Bureau
Global and national efforts

International call: "Health for All" by 2000

Pilot projects in Iran: early 1970s


International Conference on Primary
Health Care: Alma Ata 1978
Iranian revolution: 1979
Major change to the health system
Ministry of Health
+
Office of Higher
Education for
Medicine
Ministry of Health and
Medical Education
Primary Health Care Network
District Health Network
Management
Behvarz
General
Hospital
Training
District Health Center
Urban
Health
Centers
Rural
Health
Centers
Health
House
Health
House
Health
House
Health
Station
Health
Station
Health
Station
Population increasing rapidly
Millions
49
Growing at
3.9% a year
34
1976
1986
National and global efforts

War ended in 1988: reconstruction efforts

Data collected: grim economic outlook

National family planning program: 1989

International Conference on Population
and Development (ICPD): 1994
Fertility by province, 2000
Child mortality declined
5> deaths per 1,000 live-births
70
33
1985
1996
Maternal mortality declined
Maternal deaths per 100,000 live-births
140
37
1985
1996
Family Planning Use
Percent of married women (15-49) using family planning
75
75
74
73
71
63
France
Germany
Iran
United
States
Turkey
Tunisia
60
Egypt
56
Jordan
Family planning use, 2000
Percent married women using contraception
22
10
55
57
Urban
Rural
Modern
Traditional
Women's literacy increased
Percent of rural women who are literate
62
17
1976
1996
Population by sex and age, 2000
Conclusions


Iran's primary health care network is both
elaborate (but not complex!) and simple
at the same time.
Other countries can benefit from the
Iranian experience.