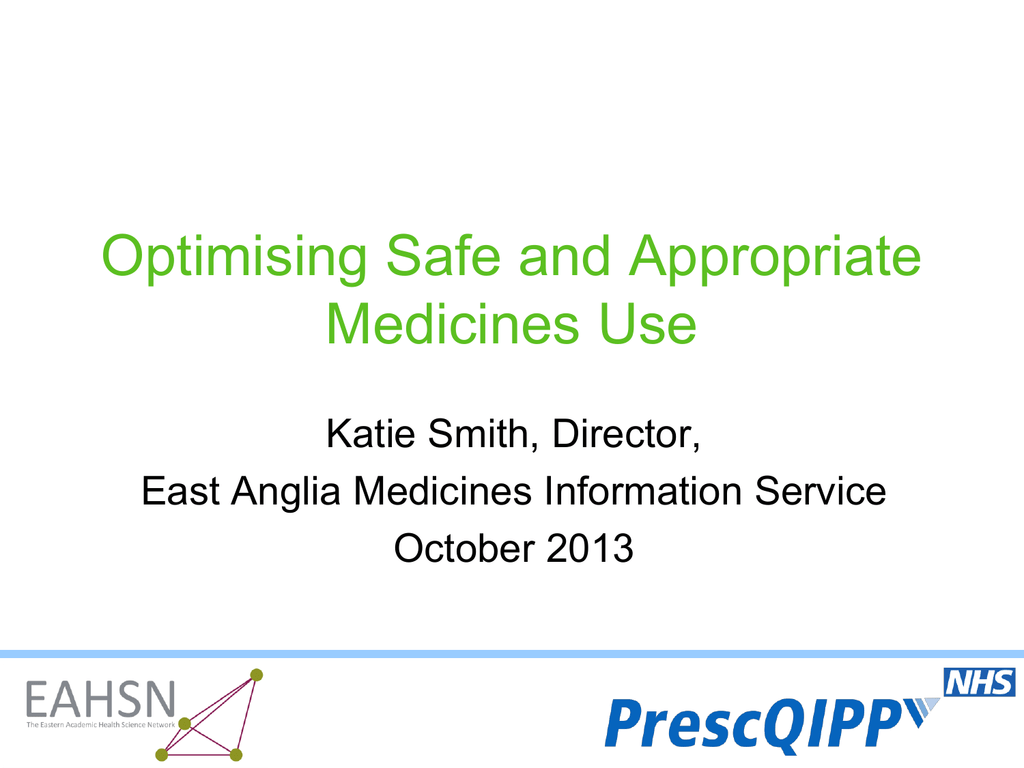 Optimising Safe and Appropriate
Medicines Use
Katie Smith, Director,
East Anglia Medicines Information Service
October 2013
Objectives
• Background
• How & why the OSAMU document was
developed
• Use
• Deprescribing
• Future plans
Not a new concept…
"it is an art of no little importance to
administer medicines properly: but, it is
an art of much greater and more difficult
acquisition to know when to suspend or
altogether to omit them".
Philippe Pinel, psychiatrist (1745-1826)
Background
• WHO, 2010
– 50% of medicines prescribed, sold,
dispensed inappropriately
– 50% of patients don't take medicines
correctly
– 50% of countries have no basic policy
for rational medicines use
Background
• York Health Economics Consortium, 2010
– £8.8 billion spend on primary care medicines
– 900 million prescription items dispensed
– Wasted medicines cost ~ £300 million BUT
half avoidable
– NHS cost of not taking medicines properly
~£500 million
Background
•
•
•
•
Sept 2010 – East of England Medicines Efficiency
Programme meeting
Practical evidence based guidelines to stop
medicines (rational discontinuation?)
– Focus on end of life
– Prescriber support (Large amount of time spent
looking for information)
– Aim to reduce medicines waste in primary care
Focus on statins, bisphosphonates, dipyridamole ..
Build on work done by PCT in Cambridgeshire
Literature search (1)
• Very little info on how to actually stop
• Patients & doctors do agree about stopping
meds
Straand J et al. Stopping long-term drug therapy in general practice. How well do physicians and patients
agree? Fam Practice 2001; 18 (6): 597-601
• Many tools to review PIMs/PIDs/PIP (potentially
inappropriate medicines/drugs/prescribing)
• Beers, IPET, STOPP-START
Beers Criteria
•
•
•
•
•
American
Dr Mark Beers, junior doctor, 1991
Updated 1997, 2003, 2012 (every 3 yrs from now on)
Delphi technique, 11 experts, consensus
Inappropriate prescribing: potential risks outweigh the
benefits
• Focus on medicines to be avoided by the elderly
living in nursing homes
• 1991: 30 classes/meds, 2012 : 53 classes/meds
American Geriatrics Society Updated Beers Criteria for potentially inappropriate medication use
in older adults. J Am Ger Soc 2012; 60: 616-31
Beers Criteria example
Drug class or
disease
Rationale
Recommendation
Quality of
Evidence
Strength of
recommendation
Moderate
Strong
High
Weak
Use with caution in
Low
adults aged ≥ 80 yrs
Weak
PIMs
Antispasmodics
Highly anticholinergic, Avoid
uncertain effectiveness
PIMs due to concomitant diseases/conditions
Syncope &
alpha blockers
Increases risk of
orthostatic
hypotension or
bradycardia
Avoid
PIMs to be used with caution
Aspirin for
primary
prevention of
CVD
Lack of evidence of
benefit vs. risk in ≥
80yrs
IPET
•
•
•
•
Canadian
Improving Prescribing in the Elderly Tool
Published 2000, earlier work 1997
1997: Delphi technique, 32 experts, consensus, 71
inappropriate practices
• Focus on elderly patients in hospital
• IPET = 14 PIP practices to check for on each chart,
<2 mins/chart, reliable
McLeod PJ et al. Defining inappropriate practices in prescribing for elderly people: a national
consensus panel. CMAJ 1997; 156 (3): 385-91
Naughler CT et al. Development and validation of an improving prescribing in the elderly tool
(IPET). Can J Clin Pharmacol 2000; 7: 103-7
IPET examples
Practice
Mean clinical
significance
rating
Beta blocker to
3.83
treat hypertension
in pts with history
of asthma or
COPD
Risk to
patient
Alternative
therapy
% of panel
who agreed
with
alternatives
May
exacerbate
respiratory
disease
Another class of
antihypertensive
94%
IPET statement: beta blocker and chronic obstructive airways disease
Long term
prescription of
NSAIDs for OA
3.22
May cause
gastropathy,
bleeding and
salt & water
retention
Paracetamol
IPET statement: long term use of NSAIDs for osteoarthritis
100%
STOPP-START
•
•
•
•
•
•
•
•
•
UK & Ireland, 2007
Problems with Beers & IPET
Screening Tool of Older Persons Prescriptions
Screening Tool to Alert doctors to Right Treatment – first
document to do this
Focus on patients aged >65 yrs
Delphi technique, 18 experts, consensus
65 STOPP, 22 START
Reliable
Comparison vs. Beers 2012
Gallagher P et al. STOPP and START. Consensus validation. Int J Clin Pharmacol Ther 2008;
46 (2): 72-83
STOPP-START examples
STOPP
• Loop diuretic for ankle
oedema, no clinical signs
of HF (no evidence of
efficacy, compression
hosiery more appropriate)
• PPI for peptic ulcer
disease at full therapeutic
dose for > 8 wks (dose
reduction or earlier
discontinuation indicated)
START
• ACE inhibitor following
acute MI.
• ACE inhibitor for chronic
heart failure.
• Antiplatelet therapy in
diabetes mellitus if
coexisting CVD risk
factors present.
Literature search (2)
• Archives of Internal Medicine – Less is
more series
– Discontinuing multiple medicines study
– Principles of conservative prescribing
• 2011 search vs. 2013 search
• Same classes of PIMs world wide!
Garfinkel D. Feasibility Study of a Systematic Approach for Discontinuation of Multiple Medications
in Older Adults - Addressing Polypharmacy. Arch Intern Med 2010;170 (18):1648-1654
Schiff GD et al. Principles of conservative prescribing. Arch Intern Med 2011; 171 (16): 1433-40
NICE 'do not do' list
Other useful literature
•
•
•
•
•
•
Marcum ZA et al. Commentary on the new American Geriatric Society
Beers Criteria for potentially inappropriate medication use in older adults.
Am J Ger Pharmacother 2012; 10 (2): 151-9
Scott IA et al. Minimising inappropriate medications in older populations:
a 10-step conceptual framework. Am J Med 2012; 125 (6): 529-37
Scott IA et al. Effects of a drug minimisation guide on prescribing
intentions in elderly persons with polypharmacy. Drugs Aging 2012; 29
(8): 659-67
Baqir W et al. Reducing the 'pill burden' – complex multidisciplinary
medication reviews. Int J Pharm Prac 2012; 20 (suppl 2) p31-101
Montastruc F et al. Potentially inappropriate medications in the elderly in
France: a study in community pharmacies in 2011-2012. Eur J Clin
Pharmacol 2013; 69: 741-2
Brahmbhatt M et al. Appropriateness of medication prescribing using the
STOPP/START criteria in veterans receiving home–based primary care.
Consult Pharm 2013; 28: 361-9
Other sources
•
•
•
•
•
BNF / SPCs
CKS
DTB
NPC
Dr Viveca Kirthisingha, Consultant Community
Geriatrician, Cambridgeshire Community Services
• Colleagues with clinical knowledge – GP, PCT
meds management leads, community service
pharmacist, clinical/hospital pharmacists, MI
pharmacist
OSAMU document
•
•
•
•
•
•
•
•
Short – but enough detail/practical info to be useful
All statements referenced & reference list included
BNF order
Groups of medicines rather than each individually
Covering statement
Clinical and cost risk
Accompanying PIL
Briefing (quick read - 2 sides of A4)
Availability & promotion
• Draft document shared – not everyone
positive..
• PJ - NHS Highland/Lothian polypharmacy
guidance
http://www.central.knowledge.scot.nhs.uk/upload/Pol
ypharmacy%20full%20guidance%20v2.pdf
• PrescQIPP website
• Shared across EoE
Results from OSAMU use
• 8 care homes in Norfolk & Cambs
• During 235 medication reviews, 398 medicines safely
and appropriately stopped
• Mainly antihypertensives, bisphosphonates,
laxatives, PPIs, statins
• Not antipsychotics for dementia & antidementia
medicines
• Multidisciplinary education tool
• Poster at the November 2012 Pharmacy
Management National Forum in London
Deprescribing – Dutch view
• New concept – change in culture/thinking
• Stopping medicines: symptomatic or
preventive
• Multimorbid patient = numerous guidelines
• Uncomfortable for prescribers? What is
important to patients? Shared decision making
• Need info on risks & benefits – often lacking..
Schuling J et al. Deprescribing medication in very elderly patients with multimorbidity: the view of
Dutch GPs. A qualitative study. BMC Family Practice 2012; 13: 56
Deprescribing - French view
• Think about how to withdraw when the drug is
first prescribed.
• Process of stopping is not taught at medical
school or researched.
• Not considered as a high priority for clinical
research funding?
• Vast majority of ADRs occur during long term
use.
Montastruc J-L et al. Prescribe, but also know how to "deprescribe". Prescrire Int 2013; 22 (140): 192
Deprescribing – Canadian view
• Ontario pharmacist has a government grant
($430,000) to develop, implement & evaluate clinical
guidelines for deprescribing in primary and long term
care over 3 yrs
• What to stop, how to stop or taper, what to monitor in
elderly patients on polypharmacy
• Promote routine re-evaluation of medicines, how long
something is needed for, changing dose with age
CMAJ 12/08/13. News - Introducing deprescribing into culture of medication.
What next?
• Always seeking feedback from users to improve
• Be aware of new literature to update document
• Promote use across NHS Midlands & East to
prescribers
• Other areas have shown interest in the document
• Community pharmacists / Hospital pharmacists?
• Explore opportunities to demonstrate the
usefulness of the document
Where to find OSAMU
http://www.prescqipp.info/
Go to 'Our bulletins'
Choose 'Safe and Appropriate Medicines Use'
Click on the green text, then the red download
box
Further questions after today?
Please email me at –
[email protected]
Thank you for listening,
I hope you found this useful.
Any questions?